BIOS
On the Extreme4, the board was shipped with BIOS 1.12 - there has since been an update to BIOS 1.30 which has the Meltdown/Spectre updates in them. When we first boot up, the Extreme4 presents us with the "Main" screen in the advanced version of the BIOS first. The Main screen is informational only showing the UEFI version, processor type, speed, and cache amount, total memory, and more.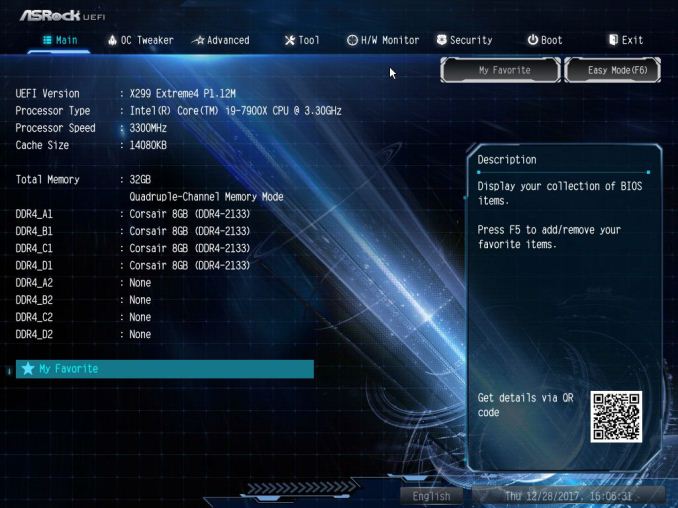 The Ex4 does have an easy mode, which I am surprised that this board doesn't boot into by default. The EZ Mode is also more of an informational screen but does have a few editable options. Like the Main screen, we can see the UEFI version, processor type and speed, DRAM and storage information, fan speed, temperatures, and boot priority. Users are able to enable XMP profiles, RAID modes, adjust boot priority and fan speed control as well. The CPU EZ OC button is for simple, one-touch overclock and enables the first level of Optimized CPU OC settings from the advanced BIOS of 4.2 GHz.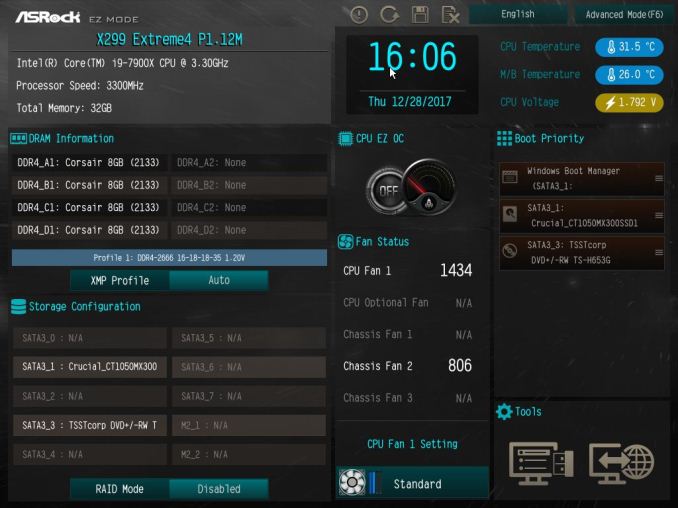 The OC Tweaker section below is where overclockers will spend most of their time. This section holds all the options needed to overclock the CPU and memory. ASRock divides this up into four sections: CPU / DRAM / Voltage / FIVR Configuration. The CPU Configuration section is where the CPU ratio and mesh can be adjusted as well as power saving features like Speedstep. This is also where users can apply AVX offsets. The DRAM configuration section is where users will find the memory options. XMP profiles can be enabled here as well DRAM frequency changes and memory timings changes are all found here. The voltage configuration portion is where users can change options from the Input voltage, Load-Line Calibration, VCCIO and VCCSA, to the DRAM channel voltage. Last, the FIVR configuration is where we are able to control and of the voltage domains such as Vcore, CPU Mesh, System Agent voltage. There are plenty of options available here for overclocking.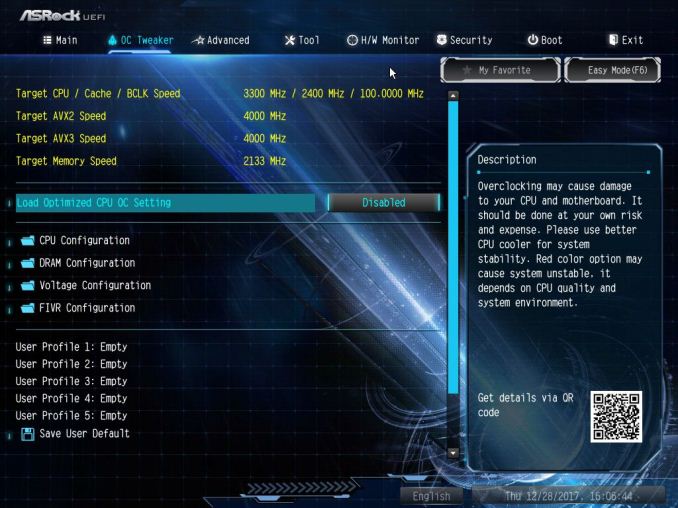 The Advanced section of the BIOS lists several options from CPU configuration (enabling/disabling HT, number of active cores, etc), Chipset configuration (PCIe link speeds, LAN and Audio), Storage Configuration (SATA and M.2), as well as USB configurations. This section is also where users are able to choose their landing page in the BIOS. If a user wants the system to enter EZ Mode first when entering the BIOS, then the OC Tweaker screen, simply adjust the settings.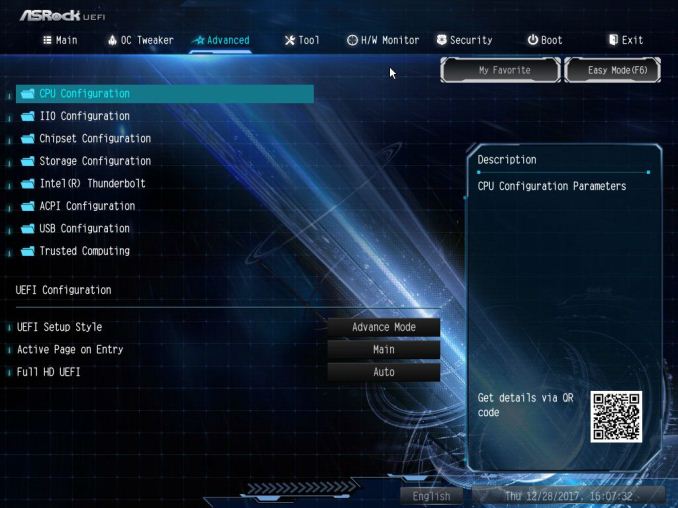 The Tools section groups a few handy items together with their own utilities to control board functionality. RGB LED control, Easy RAID Installer, UEFI update options (Instant Flash and Internet Flash) as well as network configurations.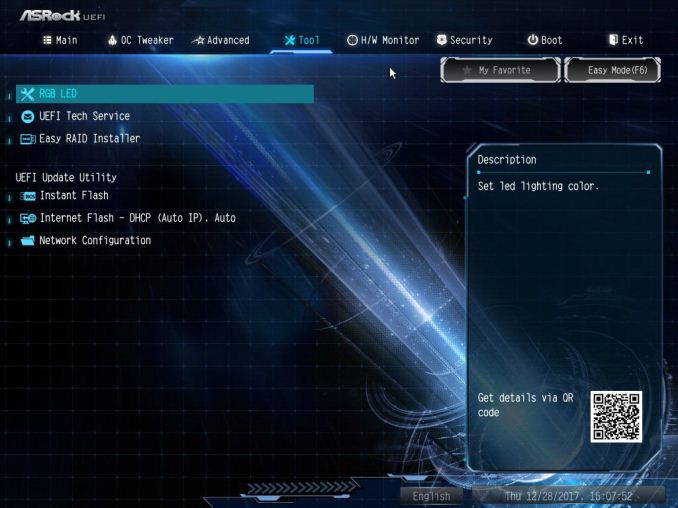 The H/W Monitor section gives users an idea of CPU and motherboard temperatures as well as fan speeds and voltages from the major domains as well as from the power supply. Towards the bottom of this section is where users are able to use ASRock's Fan-Tastic Tuning to adjust fan speeds and use profiles.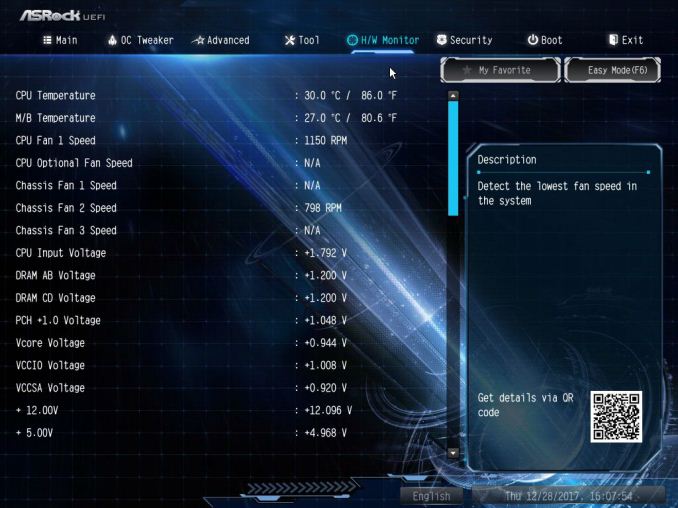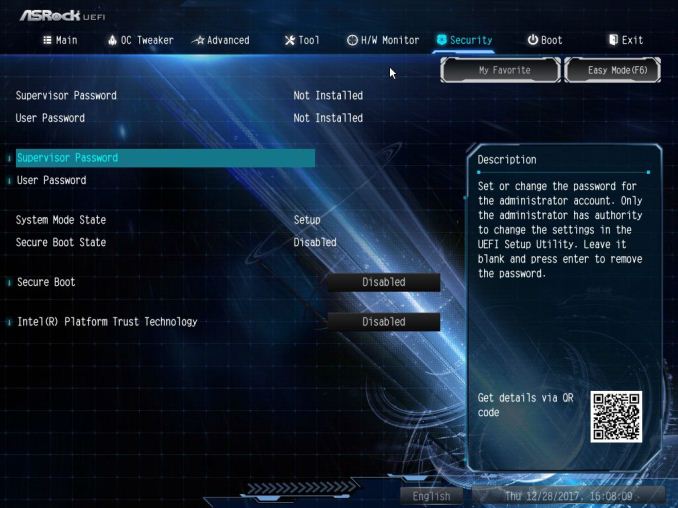 The Boot header contains options to change the boot order as well as change boot options such as HDD priorities for multiple drive boots, fast boot, and other boot-time options.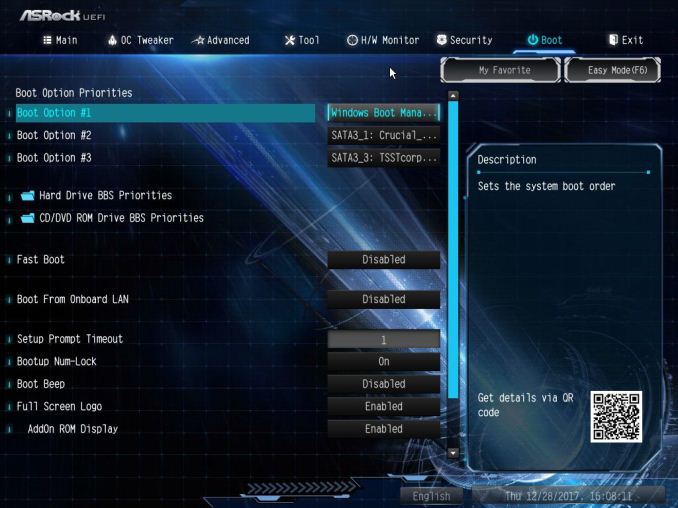 Software
As far as included software goes, the included installation CD gives users what they need to get started for drivers. It includes the INF and ME drivers, Audio, LAN, and the ASRock APP Shop. It also includes utilities such as Restart to UEFI, and ASRock RGB LED to control the integrated and attached LEDs.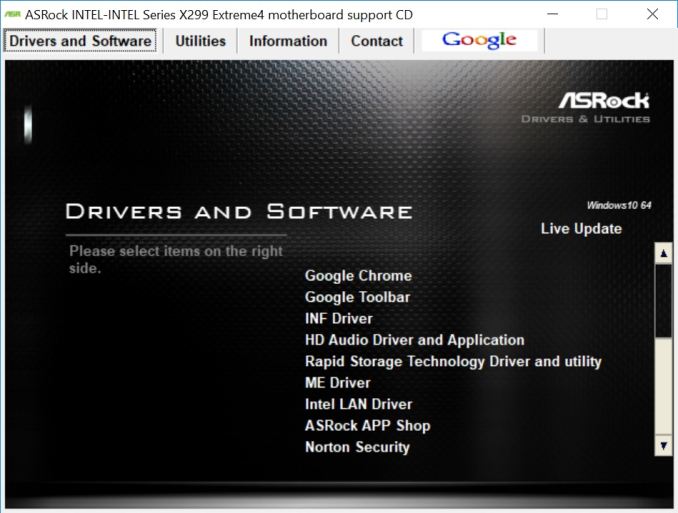 ASRock's Live Update and App Shop application keep tabs on the basic drivers and BIOS versions and notifies users if there is an update to any. This can be a useful application to keep up to date.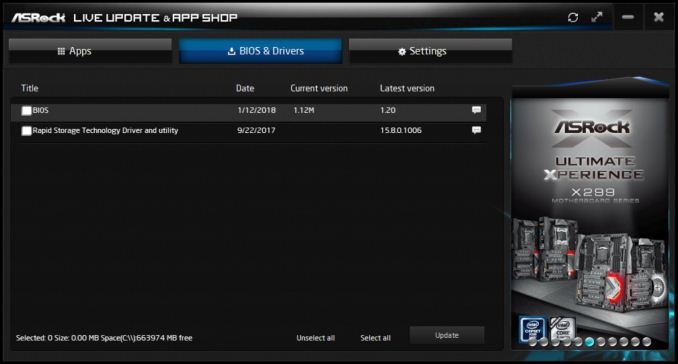 ASRock also has the A-Tuning application which monitors the system and allows for changes to fan speed as well as overclocking. There are not as many options as we find in some other similar applications from their competitors, however, it has what most will need if they wanted to overclock from within Windows. The basics are all there.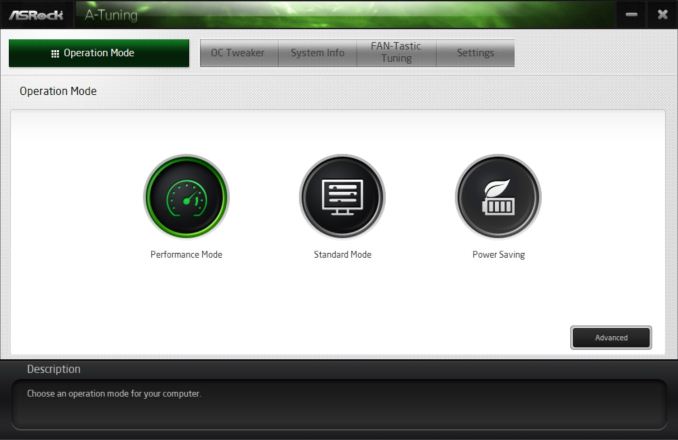 ASRock RGB LED is the application used to adjust any of the system lighting be it the integrated RGB LEDs under the chipset heatsink or any the user may attach to the board via its two headers. It has several styles to choose from as well as being able to make any RGB color.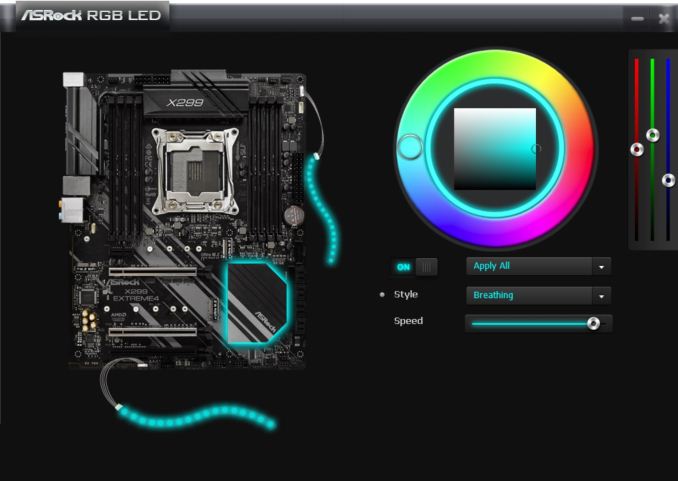 For audio is the Realtek HD Audio Manager. This is a standard interface supplied with many systems, with presets and EQ settings available.