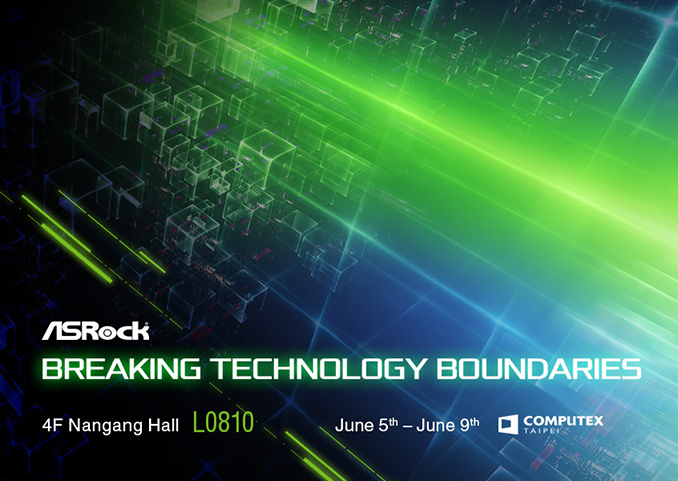 ASRock on Thursday announced plans to demonstrate its new AM4 motherboards based on AMD's yet-unannounced B450 chipset next week at Computex. The new chipset is expected to bring a number of important performance-related enhancements to AMD's mainstream platform and allow upcoming systems to take advantage of faster memory and storage on affordable systems.
While AMD yet has to confirm official specifications of the B450 chipset, we can make an educated guess about what to expect from the new unit. As reported in our Ryzen 2000/AMD X470 coverage, the X470 chipset is identical to the X370 in terms of general functionality, but it brings several important improvements over the predecessor: it consumes a lower amount of power, it enables support for faster memory, it supports improved CPU boosting techniques (XFR2 Enhanced and Precision Boost Overdrive), and it comes with the AMD StoreMI software (re-badged Enmotus FuzeDrive software) to build hybrid storage sub-systems consisting of SSDs and HDDs.
That said, it is logical to expect the B450 to feature the same key advantages over the B350 as the X470 has over the X370: lower power, faster DRAM, and possibly StoreMI (some preliminary leaks prove that, but the information cannot be verified). The B450 is not going to support multi-GPU, it will also support a lower amount of USB 3.1 Gen 1 as well as SATA ports compared to the X470/X370, but it is going to be significantly better than the predecessor.
AMD AM4 Chipsets
AnandTech
DDR4
OC
USB
SATA
PCIe
2.0
GPU
XFR2
PB2
StoreMI
TDP
RAID
SATA
RAID
NVMe
3.1
3.0
2.0
X470
2933
Y
2
6
6
6
8
x8/x8
Y
Y
4.8W
0,1,10
X370
2667
Y
2
6
6
6
8
x8/x8
N
N
6.8W
0,1,10
B450*
2667+
Y
2
2
6
4
6
x16
Y
Y
4.8W?
0,1,10
B350
2667
Y
2
2
6
4
6
x16
N
N
6.8W
0,1,10
A320
2667
N
1
2
6
4
4
x16
N
N
6.8W
0,1,10
-
Embedded
X300
2667
Y
0
4
0
2
4
x8/x8
N
N
?
0,1
-
B300
2667
N
0
4
0
2
4
x16
N
N
?
0,1
-
A300
2667
N
0
4
0
2
4
x16
N
N
?
0,1
-
*Based on unofficial information

One of the key things to remember about the B350/B450 chipsets is that they are designed for reasonably-priced gaming PCs. Therefore, motherboards based on the AMD B450 will be considerably cheaper than platforms featuring the X470, but will support the same key enhancements. Meanwhile, the demonstration at a major trade show means that the launch of the AMD B450 is just around the corner.
ASRock has not disclosed anything technical about the motherboards it plans to showcase at Computex, so stay tuned tuned with us next week as we will be bringing the latest news from the show floor.
Related Reading