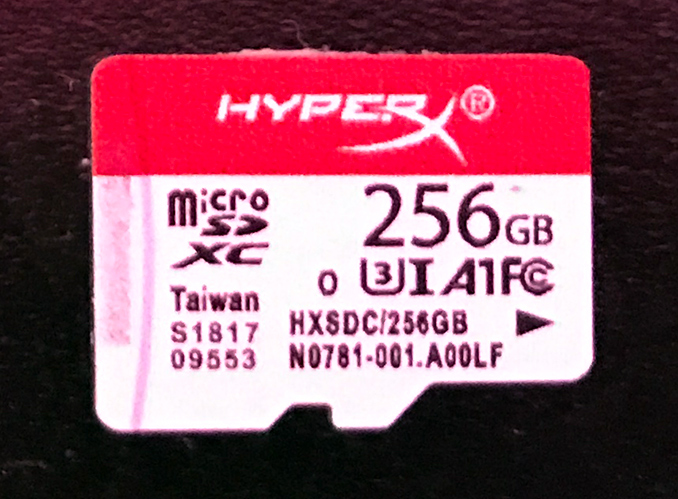 In the recent years Kingston has repositioned its HyperX brand from performance enthusiasts to gamers, thus expanding the range from high-performance memory modules to a wide range of components and peripherals for PCs and even game consoles. As a part of its expansion, Kingston is about to add microSD memory cards into lineup.
Kingston's initial family of HyperX microSD cards will be aimed at price-conscious gamers as well as owners of Nintendo Switch consoles that feature a UHS-I microSD card reader. Therefore, the HyperX microSD cards will be available in up to 256 GB capacities and will offer read/write speeds of up to 80 MB/s. This is slightly lower than 95 MB/s offered by some other UHS-I cards, but lower peak performance may also mean lower pricing.

Kingston showcased its 256 GB microSDXC HyperX card at Computex, its top-of-the-range offering. The card carries the Application Performance Class 1 (A1) and the U3 badges and thus provides a sustained performance of at least 30 MB/s, a performance of 1500 random read IOPS as well as 500 random write IOPS. Sustained performance of at least 30 MB/s along with ability to install applications on the card will ensure consistent user experience and will enable the microSDXC card to address smartphones used for gaming.
Kingston HyperX 256 GB microSDXC Card Specs
Sequential Write Speed
80 MB/s
Sequential Read Speed
80 MB/s
Sustained Speed
30 MB/s
Random Performance
Read
1500 IOPS
Write
500 IOPS
NAND Type
3D NAND
SDA Labels
A1, UHS-I, U3
Kingston's HyperX microSD cards will hit the market this year. Prices are unknown, but expect them to be comparable to the company's Canvas React cards that offer similar levels of performance and capabilities (up to 100 MB/s, U3, A1, V30).
Want to keep up to date with all of our Computex 2018 Coverage?

Laptops

Hardware

Chips
Follow AnandTech's breaking news here!