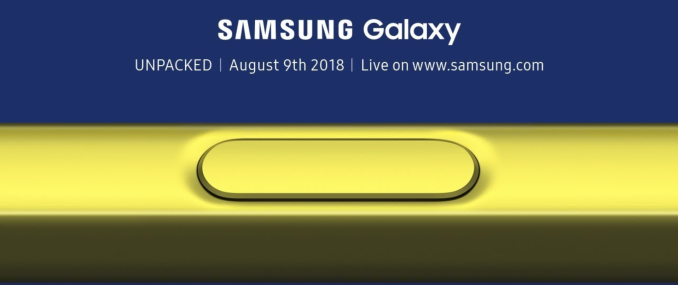 10:28AM EDT - Hello all! Today we'll be covering Samsung's Unpacked event here in at the Barclays Center in New York.
10:29AM EDT - Our editor Nate Oh will be on location, although he's running late on the subway! Andrei is covering remotely from the live stream.
10:30AM EDT - The events starts in half an our at 10am.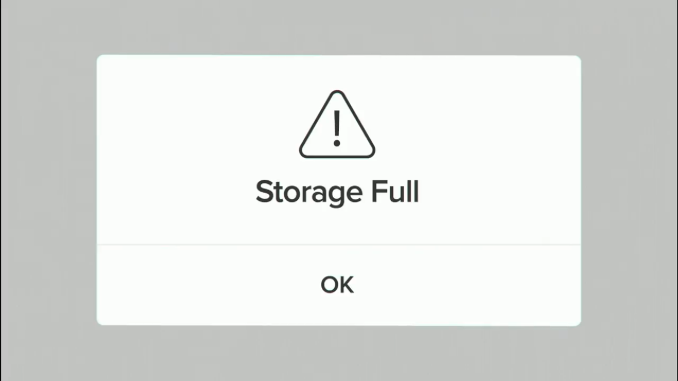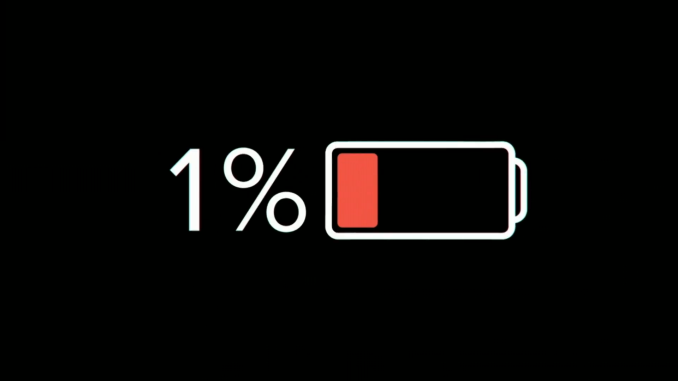 10:37AM EDT - Samsung's pre-release marketing push for the Note 9 this year seems to be focused on improved storage as well as battery life.
10:39AM EDT - In a recently leaked video sourced from one of Samsung's regional YouTube channels it was revealed that the new phone will come with up to 512GB of storage capacity: https://www.anandtech.com/show/13158/galaxy-note-9-leaks-in-officially-uploaded-video
10:40AM EDT - While battery capacity is yet to be confirmed, we're expecting the likelihood of a 4000mAh unit. This would represent a 21% increase over the Note 8's battery capacity.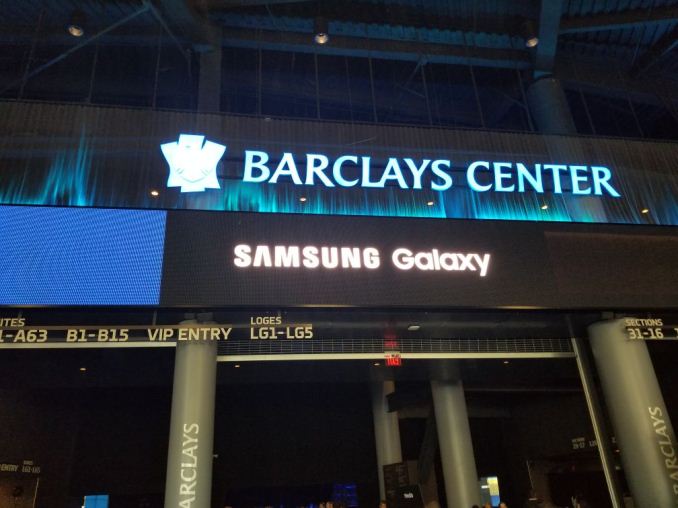 10:50AM EDT - Nate's finally on location!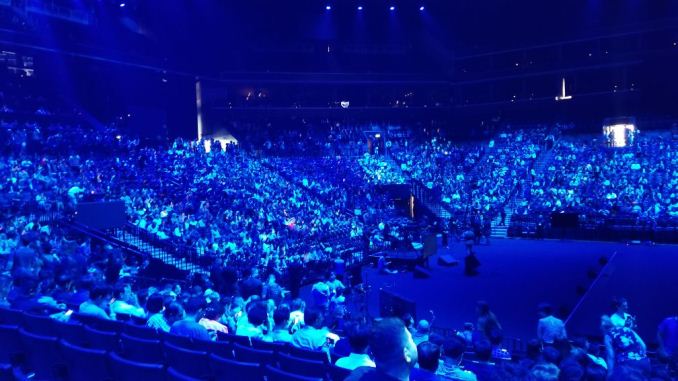 10:52AM EDT - As always quite a crowd - connectivity is always an issue and why we fall back to stream capture. Events such as there is what future 5G as well as 802.11ax deployment will vastly improve dramatically.
11:01AM EDT - The event's starting.
11:01AM EDT - Again the theme here today seems to be battery level anxiety as well as storage worries.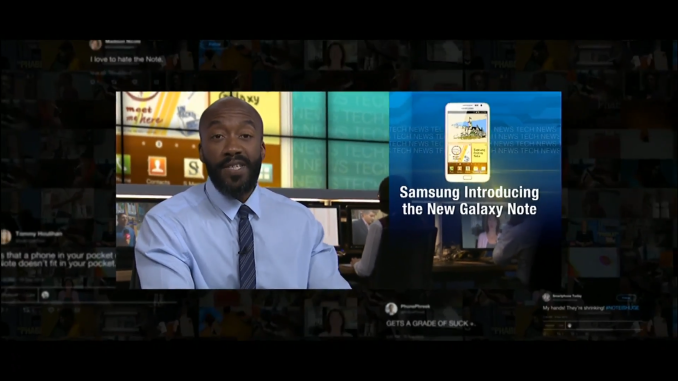 11:02AM EDT - Introductory video looking at the history of the Note lineup. Back when the original was released a lot of people were joking at the size.
11:03AM EDT - Naturally over the coming years we saw wide-spread success of the lineup as people saw real value in the bigger screen.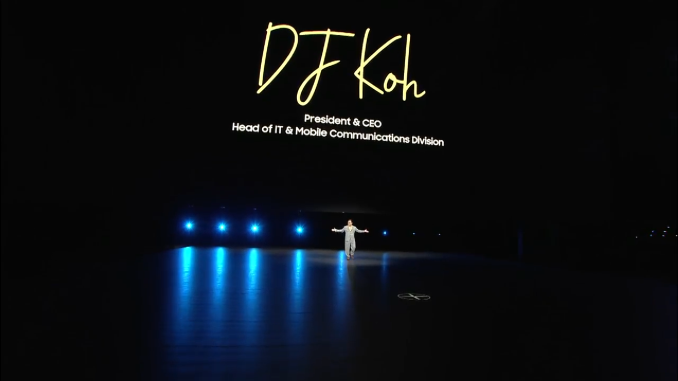 11:04AM EDT - DJ Koh, head of Samsung Electronics taking the stage.
11:05AM EDT - Mr Koh expressing his gratitude for the loyalty of Note users and his enthusiasm for creating the new generation.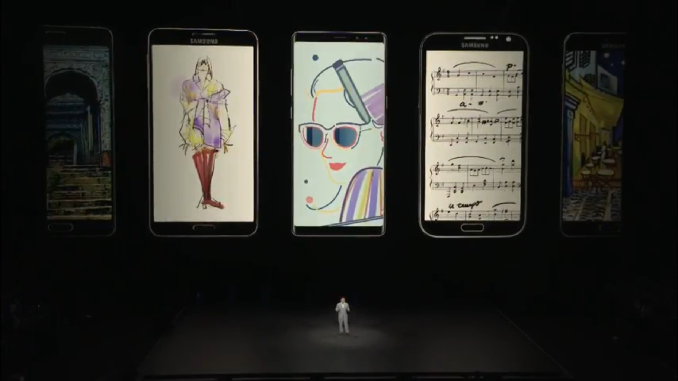 11:06AM EDT - The Note series has been the leading smartphone for creative users.
11:06AM EDT - Samsung envisions a future of seamlessly connected devices.
11:07AM EDT - "No company is in a better position to achieve this vision than Samsung"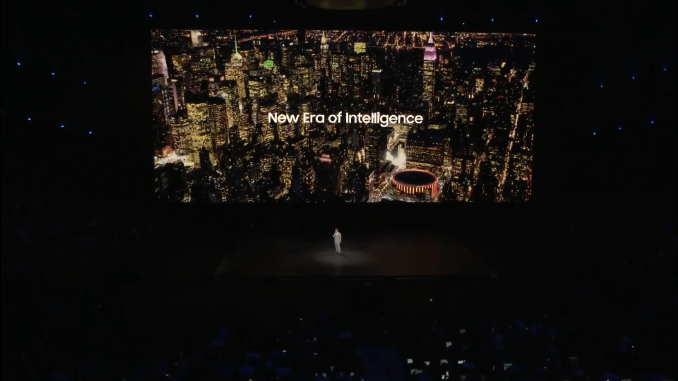 11:08AM EDT - As we've seen with a lot of other vendors this year, Samsung's talking about artificial intelligence and how it will expand the possibilities.
11:09AM EDT - Samsung explains that experiences are interrupted - AI is said to help you to anticipate your needs and make your usage more seamless.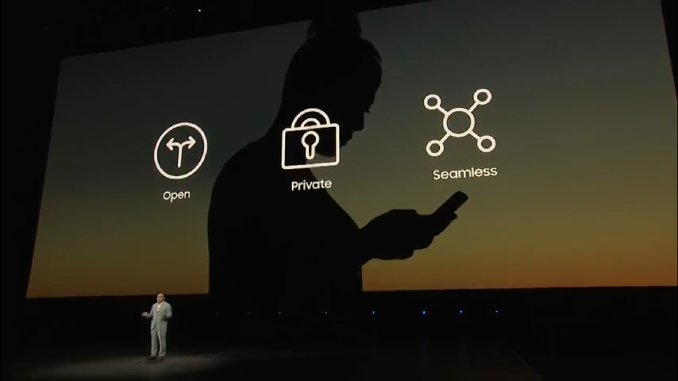 11:10AM EDT - "Only Samsung is able to achieve this" - through its wide range of products - in a scale no other company can match.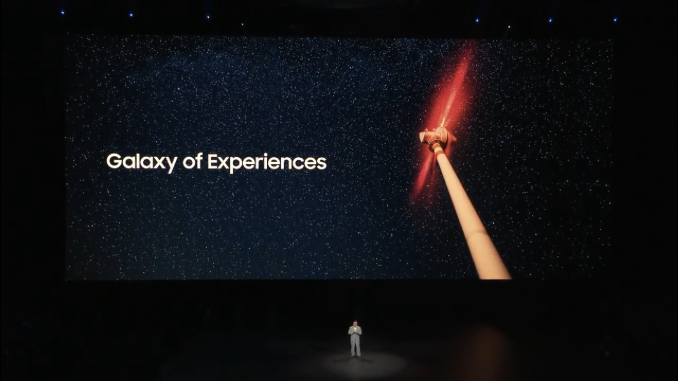 11:11AM EDT - "A Galaxy of Experiences" for future devices.
11:13AM EDT - New products and services to enable connected living today.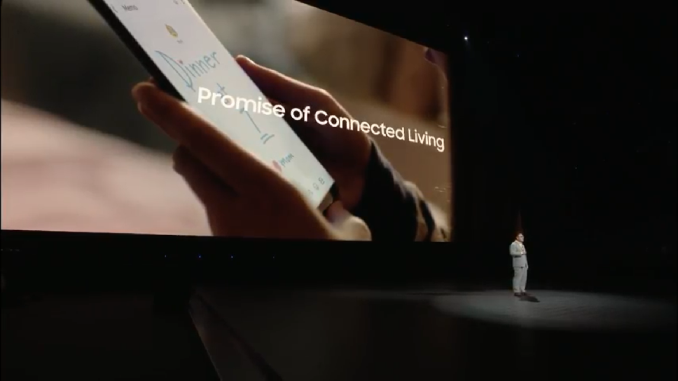 11:13AM EDT - We're promised some surprises today - but naturally main a new smartphone.
11:15AM EDT - Galaxy Note 9 introductory video - similar to the one leaked a few days ago.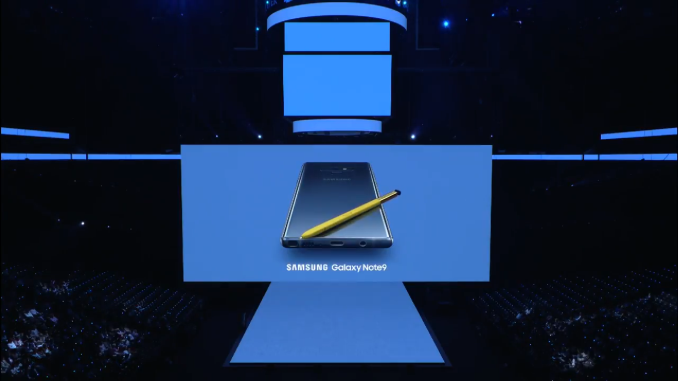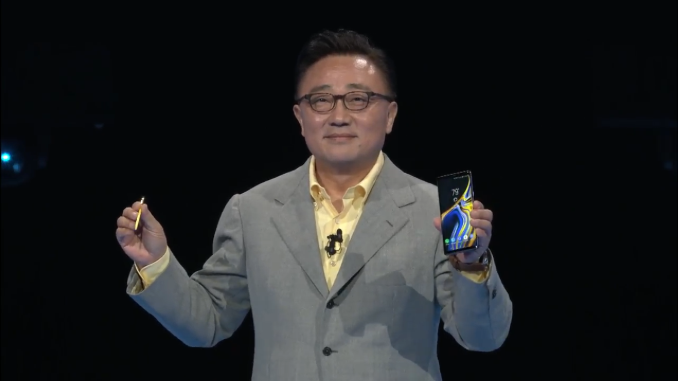 11:16AM EDT - Drew Blackard taking the stage to talk about "the worlds most advanced smartphone".
11:17AM EDT - "Note users expect more" - indeed the Note series has been a super premium range for Samsung in last few years.
11:17AM EDT - "Since the beginning the Note series has been at the cutting edge of expectations"
11:18AM EDT - 5.3" in the original Note seems small compared to nowdays devices.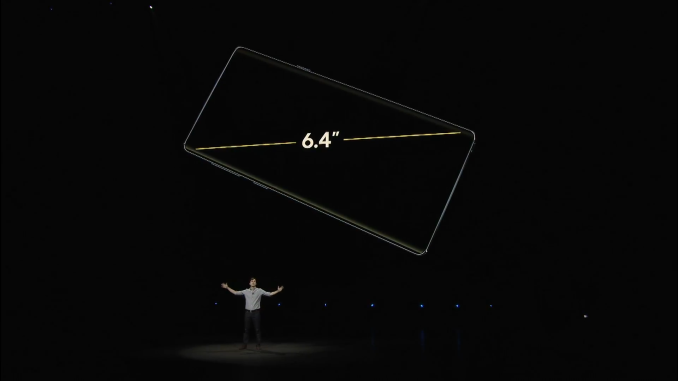 11:19AM EDT - The Note 9 comes with a 6.4" diameter, although obviously not comparable to the different aspect ratio of the original.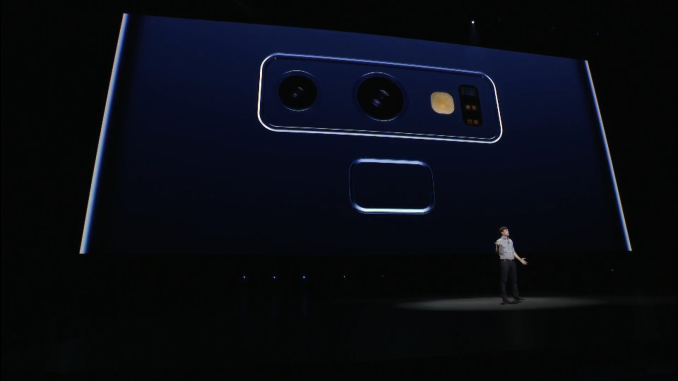 11:19AM EDT - Again confirming the leaks in terms of the desgin - relocation of the fingerprint sensor below the cameras.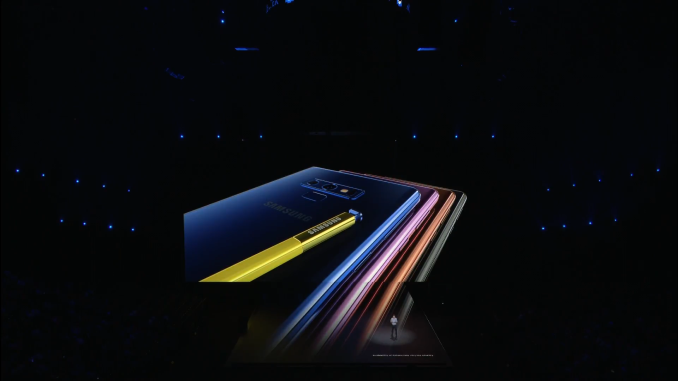 11:20AM EDT - Four colours are available for the Note 9 - blue, purple, red and black it seems.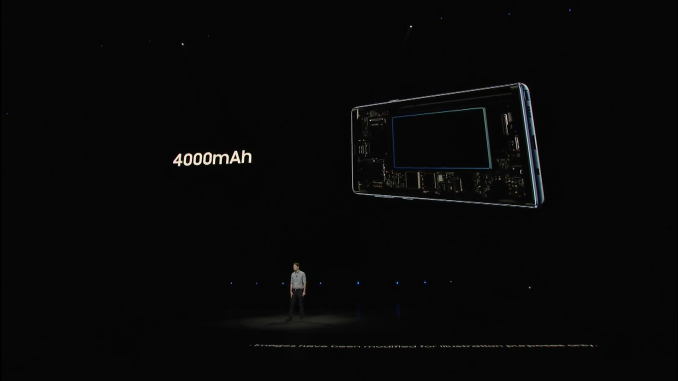 11:21AM EDT - 4000mAh battery confirmed - this is Samsung's largest battery in its flagships. This is a 21% increase compared to the Note 8.
11:21AM EDT - 128GB storage as the base version - with 512GB as the maximum capacity with expandable storage.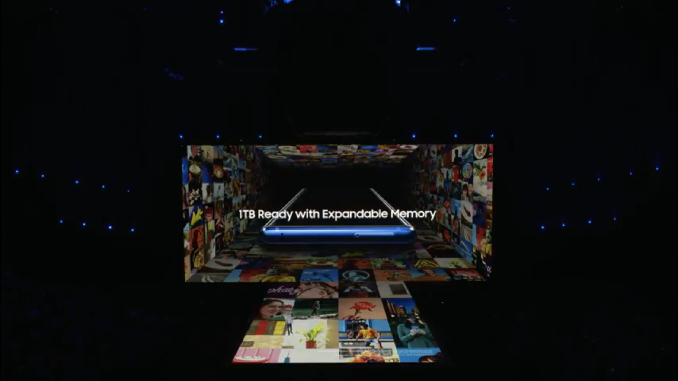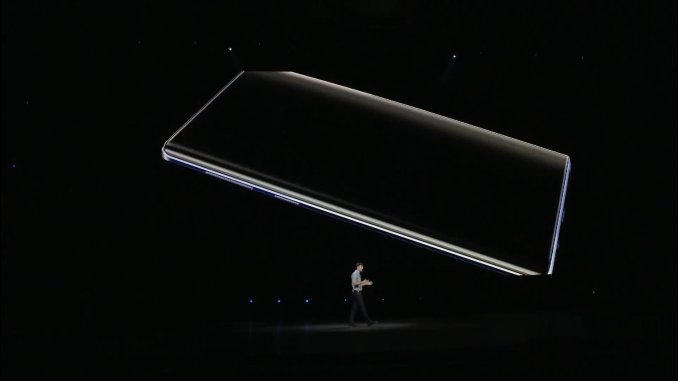 11:22AM EDT - 33% increased CPU and GPU performance - it's odd to see Samsung see talking about SoC specs again given that we might see fragmentation in different regions.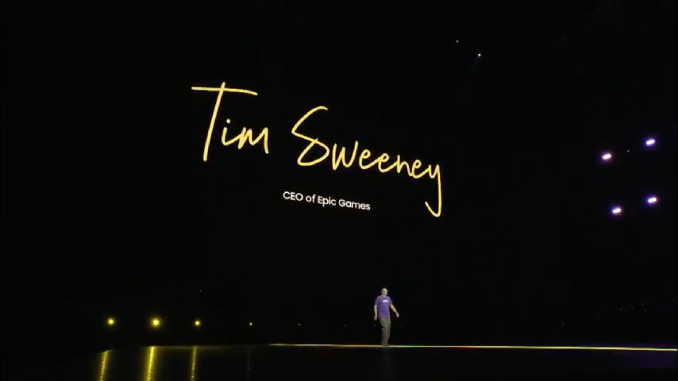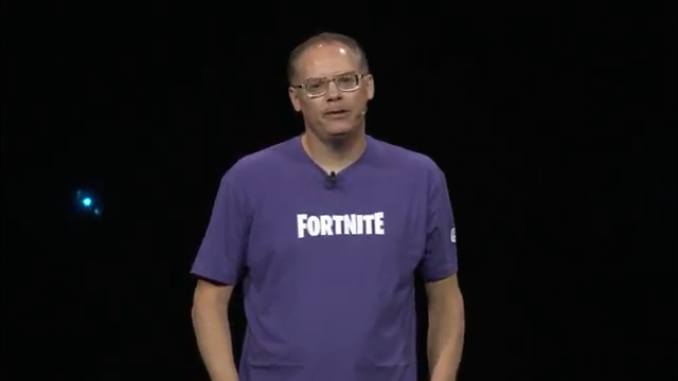 11:23AM EDT - Tim Sweeney from EPIC taking the stage.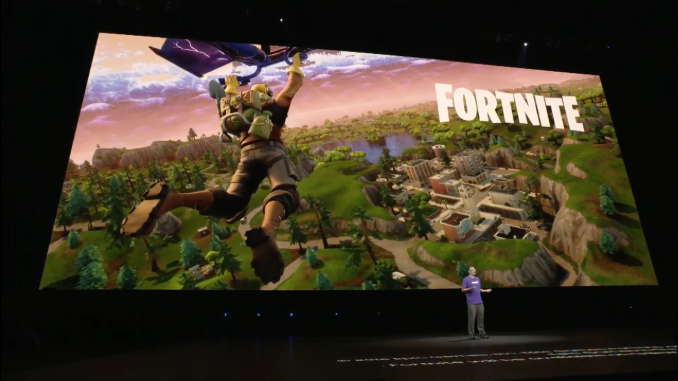 11:23AM EDT - Launching Fortnite Beta later this week and Galaxy users are the first invited.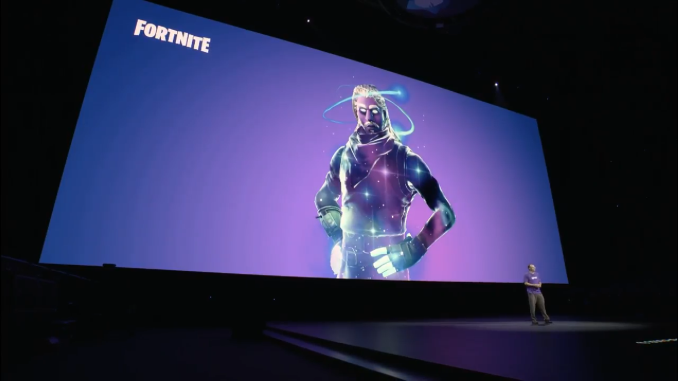 11:24AM EDT - An exclusive in-game skin for Note 9 users.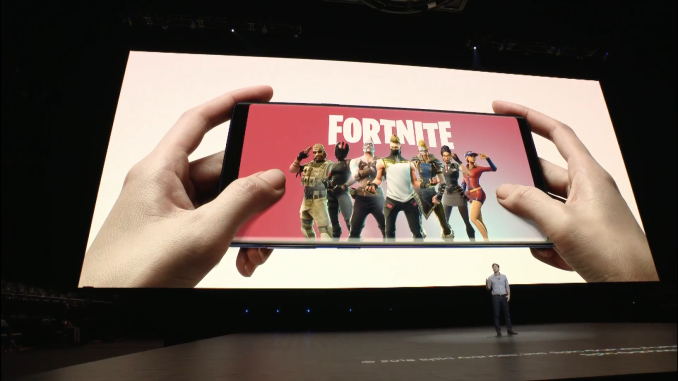 11:25AM EDT - "Performance is crucial" - the Snapdragon 845 was a fantastic SoC this year - but again I wonder how Samsung's PR will handle things for other regions.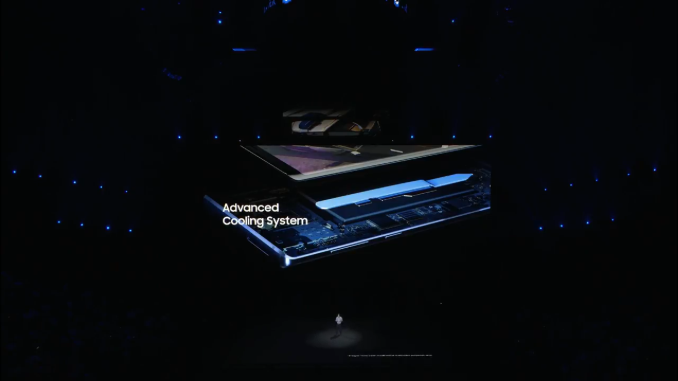 11:25AM EDT - An improved thermal dissipation system is introduced in the Note 9 - hopefully this solves the throttling issues we discovered on the Galaxy S9.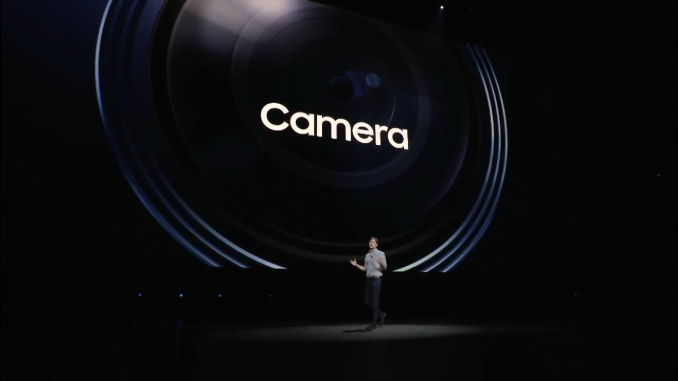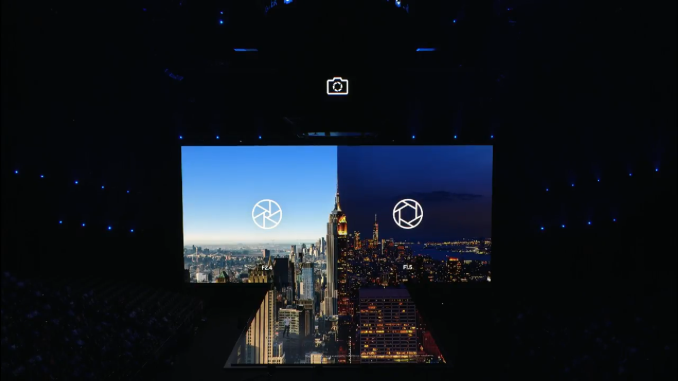 11:26AM EDT - Talking about the dual aperture system introduced in the S9.
11:26AM EDT - Seemingly we have the same camera hardware as on the S9, however we'll have better software.
11:27AM EDT - Automatic detection of flaws in captures as well as scene recognition.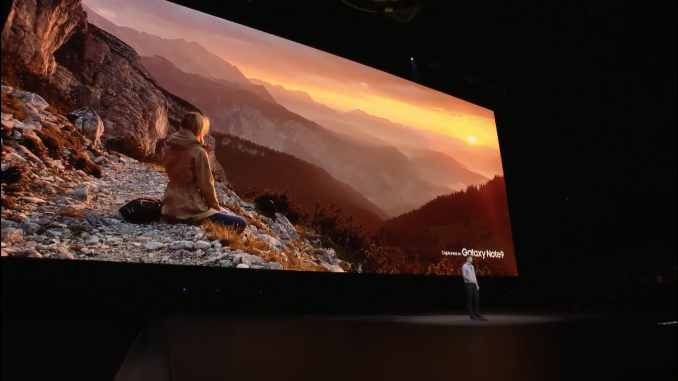 11:28AM EDT - Improved colour temperature settings based on the recognised scene. Again nothing new as we saw other vendors introduce this - however Samsung may be able to implement a better implementation.
11:28AM EDT - The presenter demonstrating automatic capture when you're posing for a shot.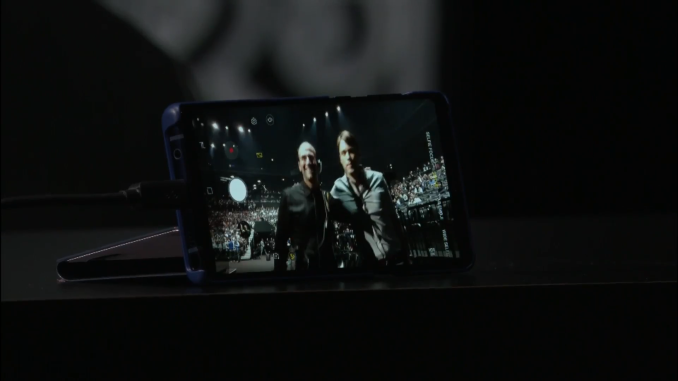 11:28AM EDT - Oh - actually he was using the S-Pen.
11:29AM EDT - Jonathan Wang, Director of product marketing taking the stage to talk about the S-Pen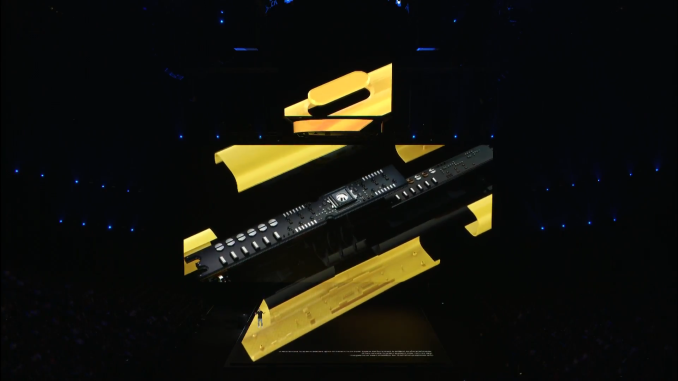 11:30AM EDT - The new S-Pen supports Bluetooth LE and acts as a remote.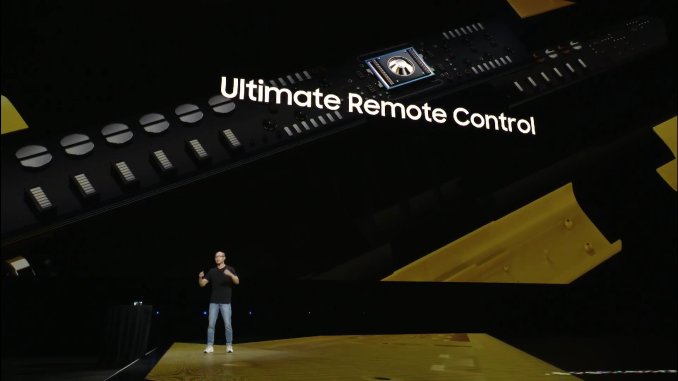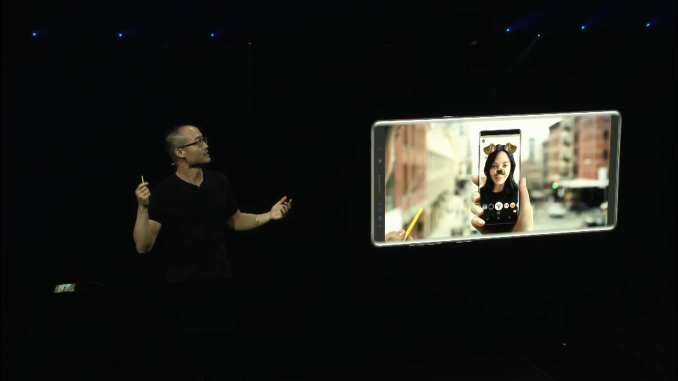 11:31AM EDT - The live presentation's being controlled by the presenter via the S-Pen.
11:31AM EDT - 40 seconds charge for half hour usage.
11:31AM EDT - The traditional S-Pen functionality doesn't need it to be charged to work.
11:32AM EDT - New improved sensitivity on the new pen.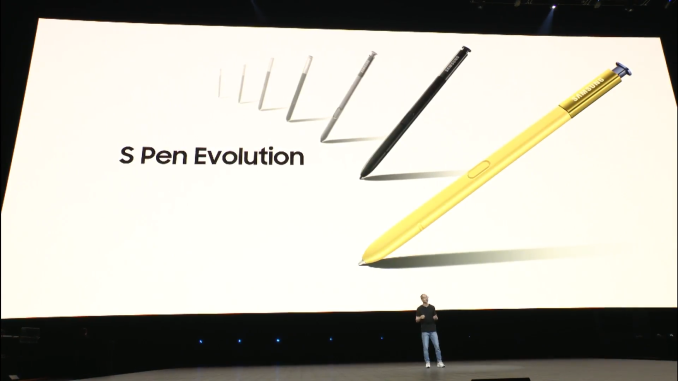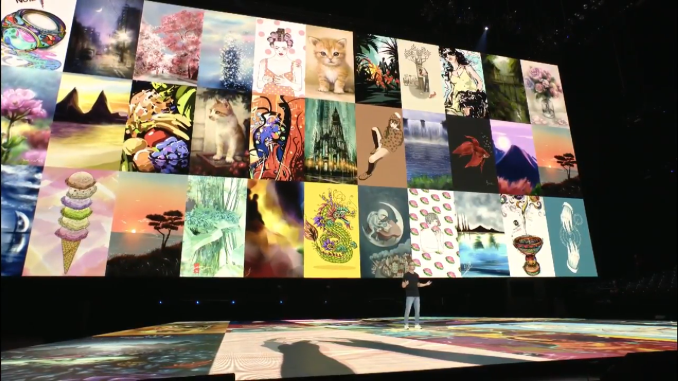 11:32AM EDT - Artists around the world using the S-Pen for new creations.
11:33AM EDT - "The S-Pen is core to the Note experience"
11:33AM EDT - The Bluetooth connectivity augments the possibilities.
11:34AM EDT - Passing onto Samsung DeX.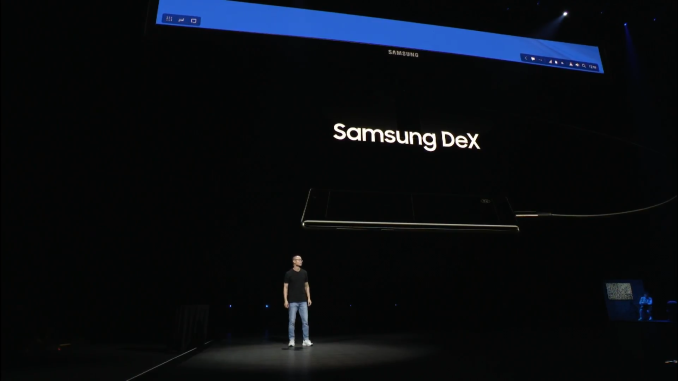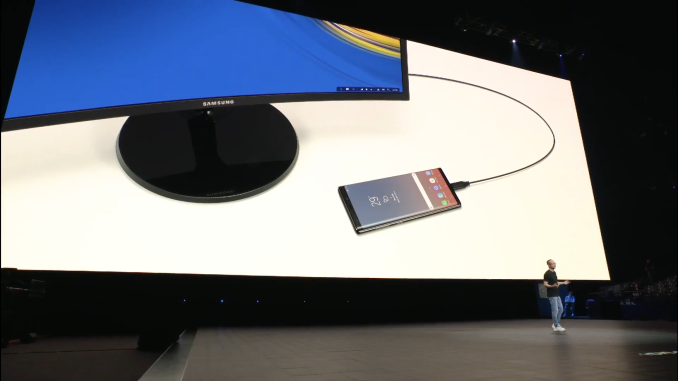 11:35AM EDT - The new Samsung DeX just needs an HDMI adaptor for the Note 9 - no more need for the larger dock.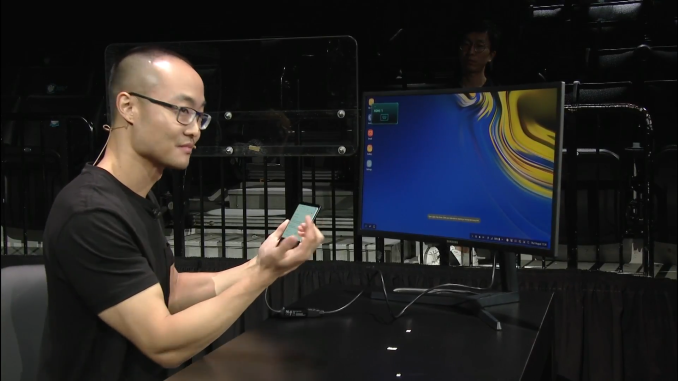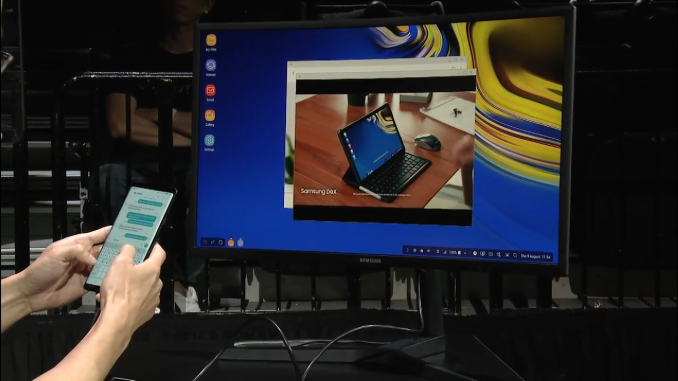 11:36AM EDT - Simultaneous normal usage of the phone while fully using the DeX display.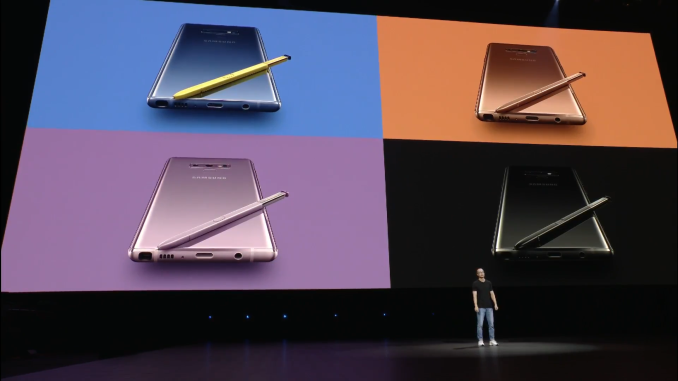 11:38AM EDT - It seems we're wrapping up with the Note 9 - and switching over to a new smartwatch.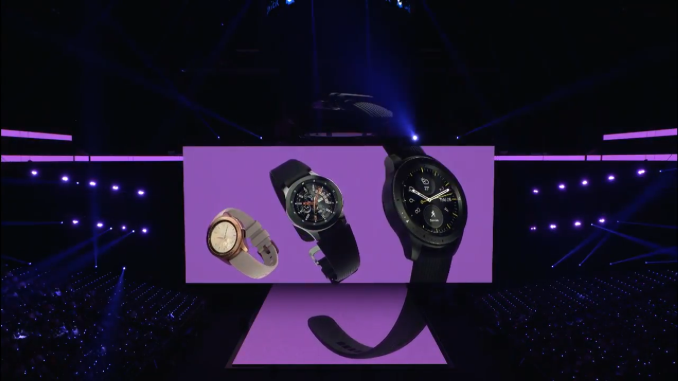 11:39AM EDT - Introducing the Galaxy Watch.
11:39AM EDT - "You always want to be connecting without relying on your phone and charger"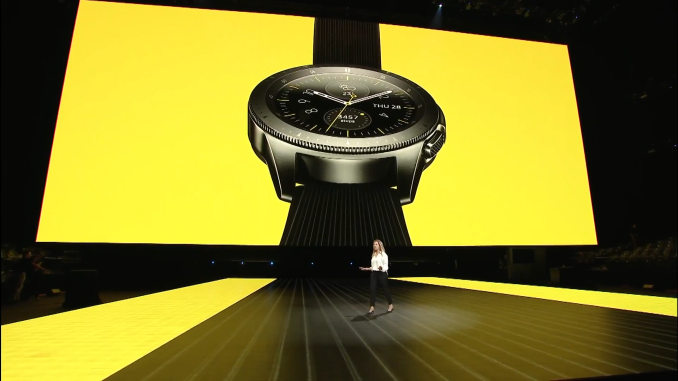 11:40AM EDT - "The Galaxy Watch looks like a real watch"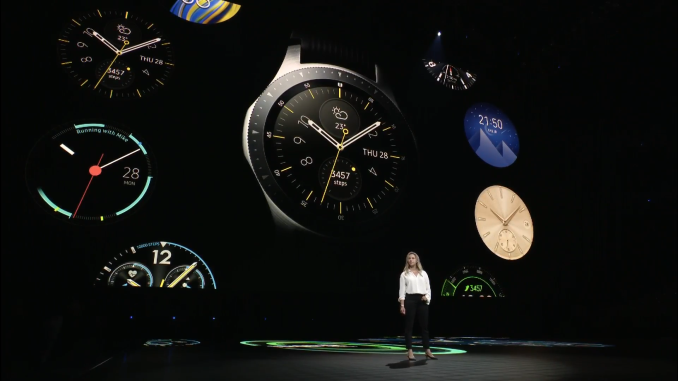 11:41AM EDT - Three different diameter sizes as well as a multitude of bands.
11:41AM EDT - It has standalone LTE connectivity.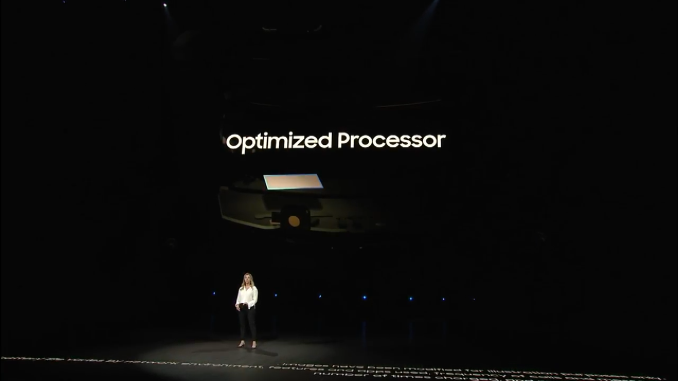 11:42AM EDT - New low power SoC specifically created for smartwatches.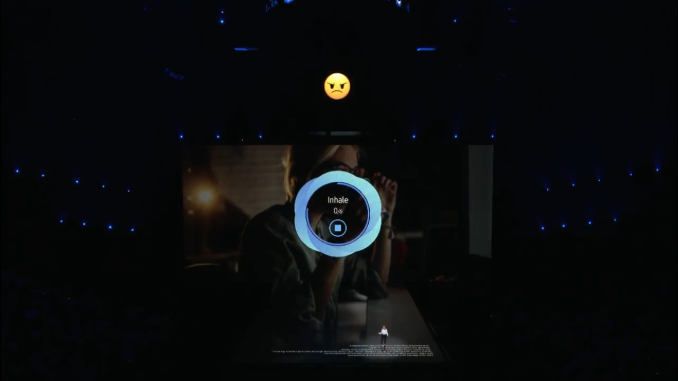 11:43AM EDT - New health feature are included in the Watch - monitoring your heart rate all the time.
11:44AM EDT - Tracking your sleep patterns.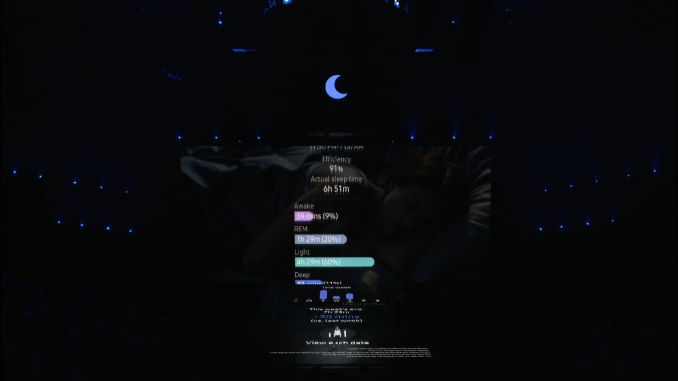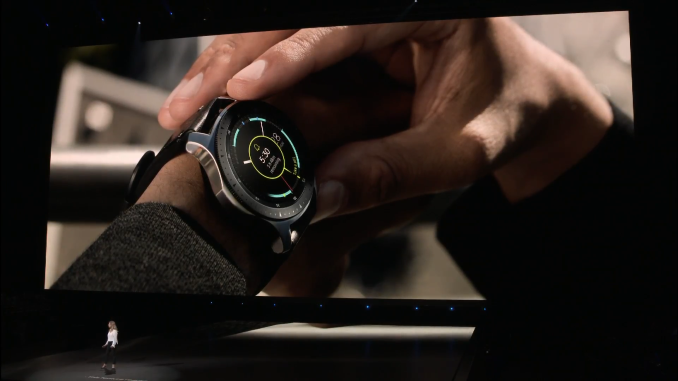 11:45AM EDT - Ji Soo Yi taking the stage to talk about the new Bixby.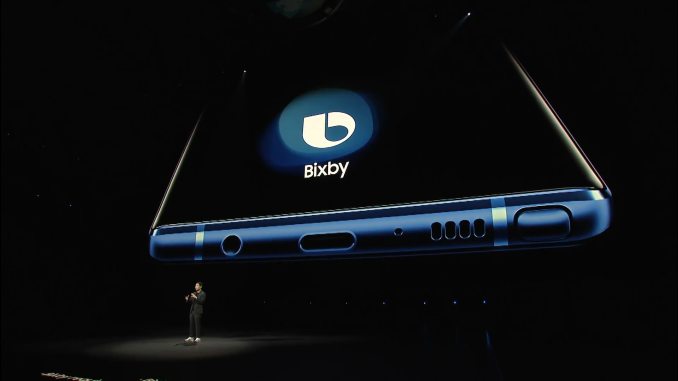 11:46AM EDT - The new Bixby on the Note 9 is more conversational, personal, and useful.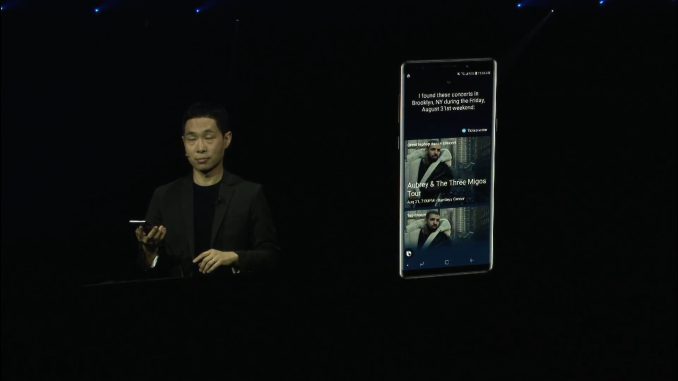 11:47AM EDT - Demonstrating the new Bixby through example queries. The new system is a lot more context aware - thus you don't need to specify queries precisely every time.
11:48AM EDT - Making a reservation over Bixby fills out one's usual preferences - and you only have to press a button to confirm it.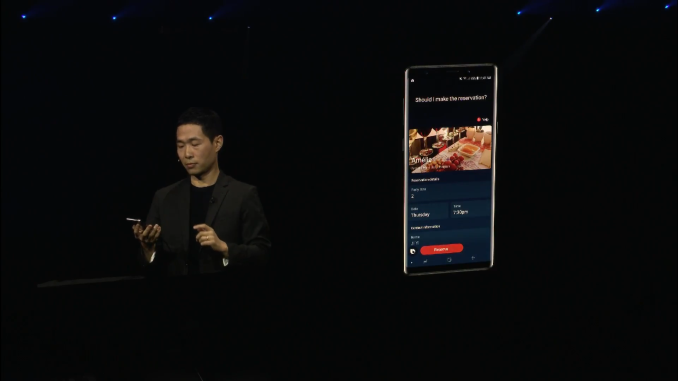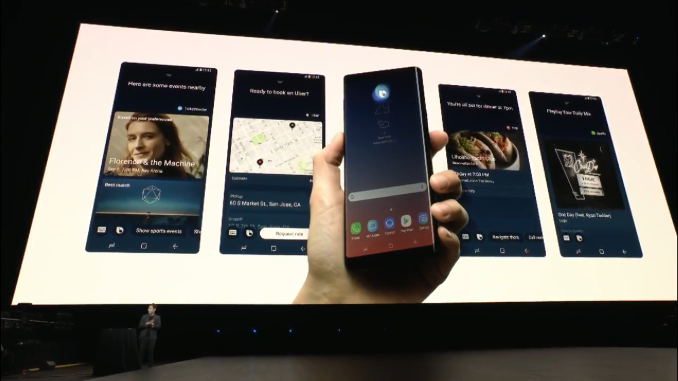 11:49AM EDT - Working with many partners to create more seamless integration with Bixby.
11:50AM EDT - Working with Google to integrate Google's core services, such as Maps.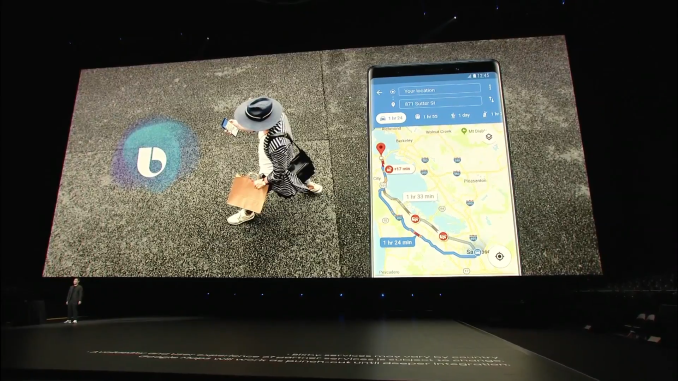 11:52AM EDT - Samsung unveiling now a brand new product using Bixby, amazing sound.
11:52AM EDT - Likely we're talking about a new Samsung assistant speaker.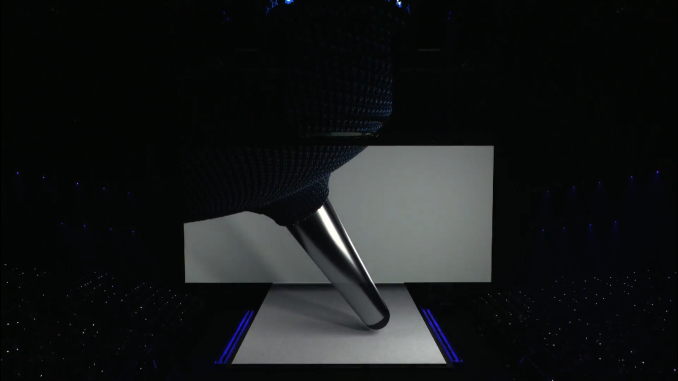 11:54AM EDT - "Galaxy Home"
11:54AM EDT - Cooperates with AKG for the speaker design to enable high quality and loud sound. The unit has a subwoofer speaker as well.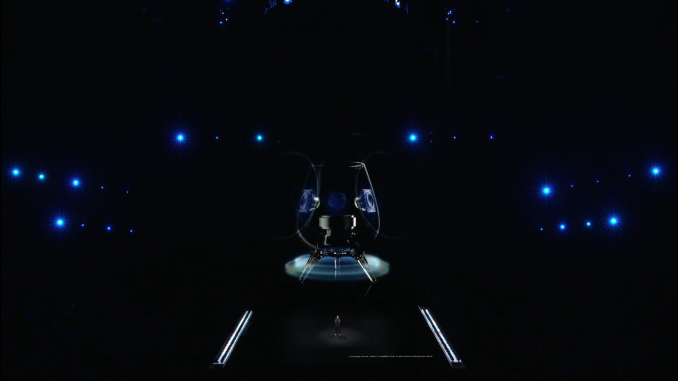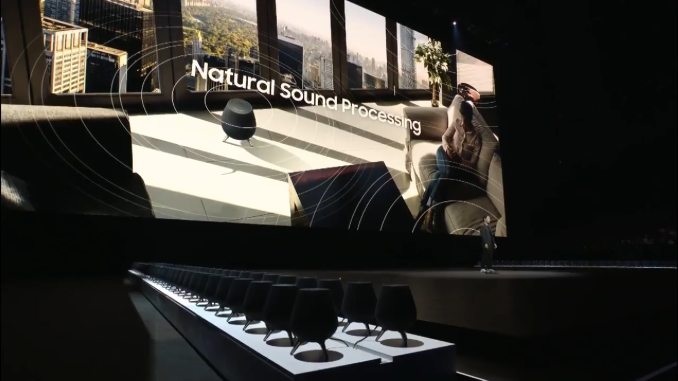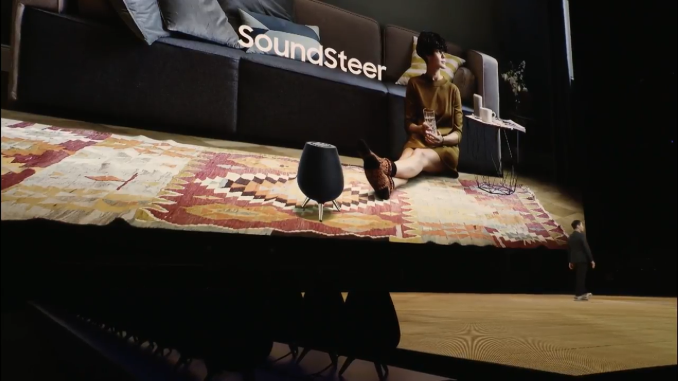 11:55AM EDT - Multi-directional microphones and audio playback - listening on where you are and directing the audio towards you.
11:56AM EDT - 8 microphones for far-field voice recognition.
11:59AM EDT - CEO of Spotify, Daniel Ek taking the stage.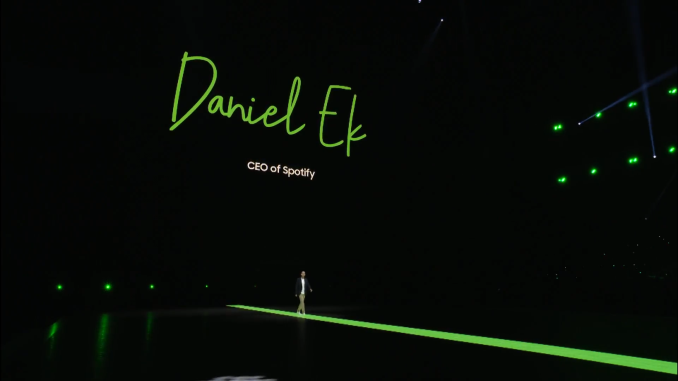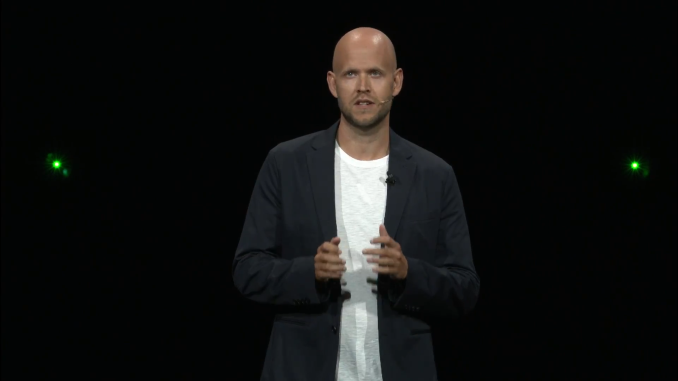 12:00PM EDT - Introducing a long-term partnership between Samsung and Spotify.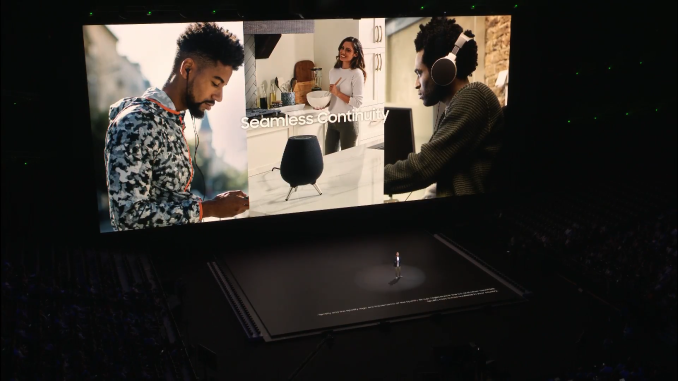 12:00PM EDT - "Cross-platform listening experience"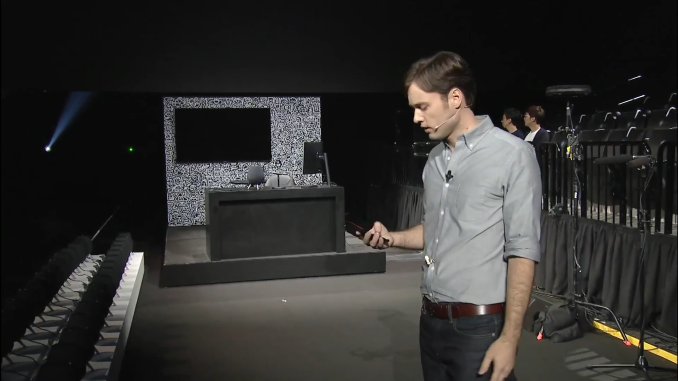 12:01PM EDT - Demonstration showing music transitioning between devices.
12:02PM EDT - Seamless playback between the various Samsung devices, phone, TV and the new Home speaker.
12:03PM EDT - Future integration between Bixby and Spotify for music playback.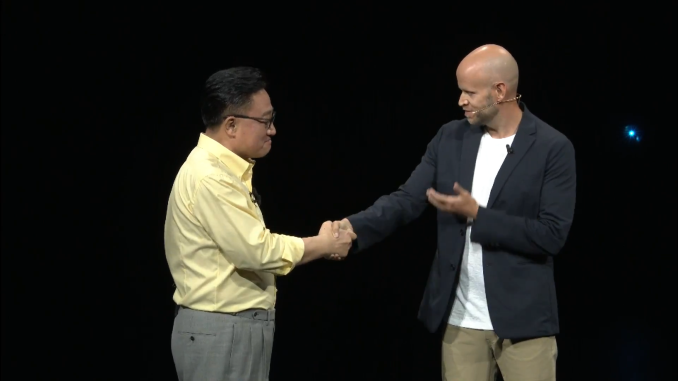 12:04PM EDT - DJ Koh taking the stage again.
12:05PM EDT - Thanking all the Samsung teams in the US and in the world in creating the new "world's most advanced smartphone".
12:05PM EDT - The Note 9 will be available beginning August 24th.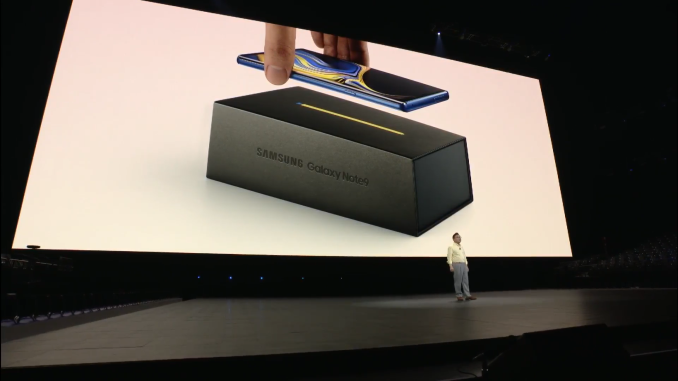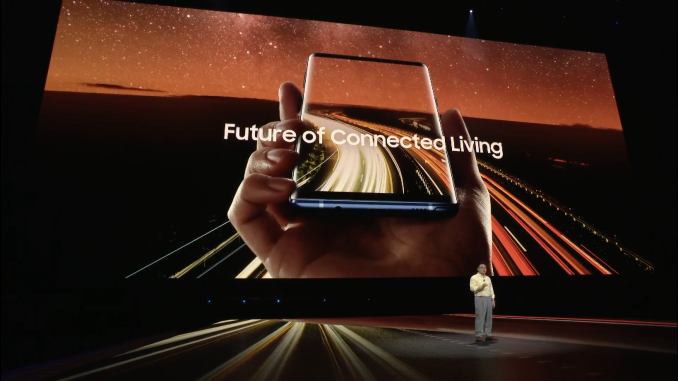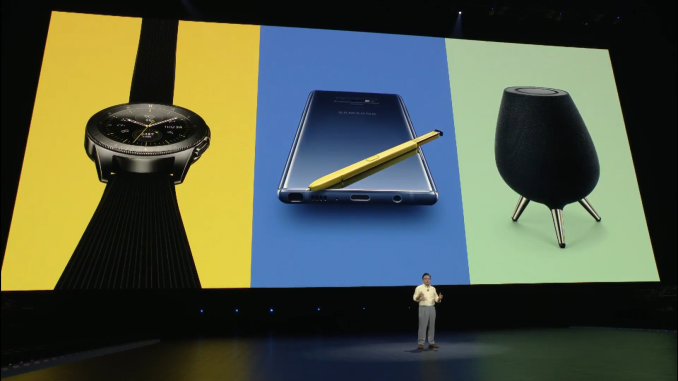 12:07PM EDT - The event has wrapped up. Nate will be heading to the hand-on section to get a good feel of the new devices. Thank you all for your time today.
12:08PM EDT - .