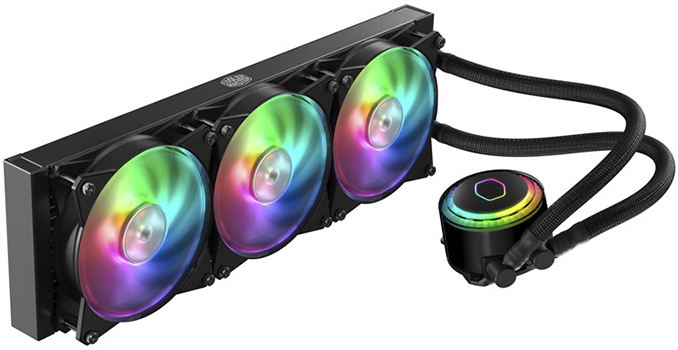 Cooler Master this week introduced its new closed-loop liquid cooling solution featuring customizable RGB LED lighting and a 360-mm radiator. The MasterLiquid ML360R RGB is the company's first cooler with such a large radiator and is therefore among the most capable liquid cooling systems (LCS) that Cooler Master has released to date. Following the latest trends, the new cooling system has 36 independently controlled RGB LEDs: 12 in the pump and eight in every fan.
The Cooler Master MasterLiquid ML360R RGB resembles the company's MasterLiquid ML240R RGB (240 mm) and ML120R RGB (120 mm) LCS units introduced earlier this year. The key component of all MasterLiquid coolers launched in 2018 is the company's latest cylinder-shaped CPU block/pump that is made of PPS (Polyphenylene Sulfide) as well as glass fiber. The pump uses a tri-phase motor that produces no more than 15 dBA of noise, it has a microchannel copper cold plate and features two chambers for warm and cold coolant. As for tubing, all new MasterLiquid LCS use sleeved, double-layer FEP (Fluorinated Ethylene Propylene) tubes that are said to be both flexible and reliable.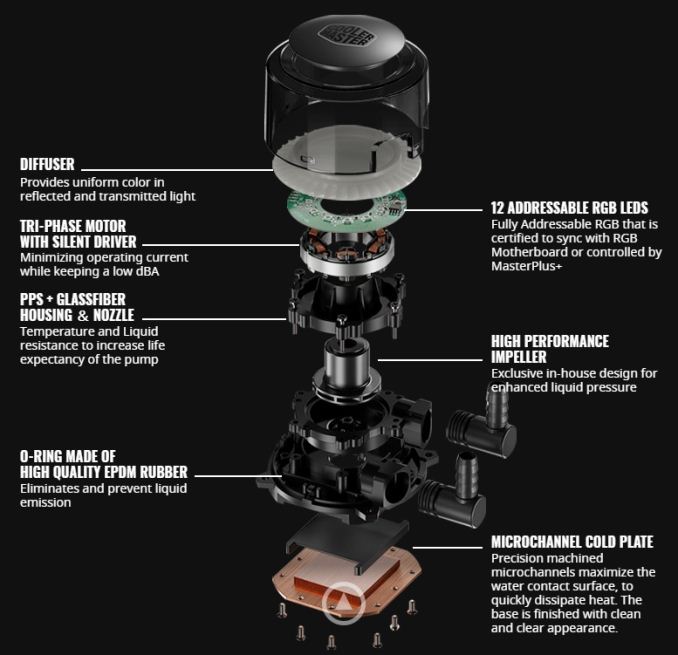 When it comes to compatibility, Cooler Master's latest coolers are compatible with modern processors from AMD and Intel, including chips in AM4 and LGA-2066 packaging, but excluding TR4 CPUs.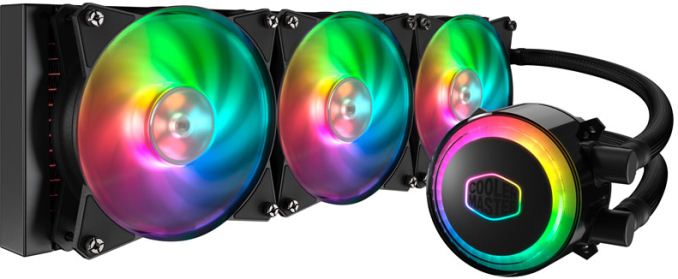 Cooler Master does not disclose the maximum amount of thermal energy that the MasterLiquid ML360R RGB can dissipate, but typically 360-mm radiators outfitted with three fans that feature speeds between 650 and 2000 RPM are enough to handle overclocked high-end desktop CPUs.
As noted above, all 36 RGB LEDs used for the MasterLiquid ML360R RGB can be independently controlled using the company's proprietary MasterPlus+ software as well as programs from ASUS, ASRock and MSI.
Cooler Master's MasterLiquid ML360R RGB
CPU Socket Compatibility
Intel:
2066, 2011-3, 2011,
1151, 1150, 1155,
1156, 1366, 775
AMD:
AM4, AM3+, AM3,
AM2+, AM2, FM2+,
FM2, FM1
Radiator
Material
Aluminum
Dimensions
394 × 119 × 27.2 mm | 15.5 × 4.7 × 1.1 inches
Fan
Dimensions
120 x 120 x 25mm
Speed
650 ~ 2000 RPM (PWM) +/- 10%
Air Flow
66.7 CFM (Max)
Air Pressure
2.34 mmH2O (Max)
MTTF
160,000 Hours
Noise Level
6 ~ 30 dBa
Connector
4-Pin (PWM)
Pump
Dimensions
83.6 x 71.8 x 52.7mm
MTTF
70,000 Hours
Noise Level
< 15dBa
Connector
3-Pin
Price
$159.99
Warranty
2 Years
Cooler Master's MasterLiquid ML360R AIO LCS carries an MSRP of $159.99 and is available immediately from Newegg. Eventually, the product will be available from other retailers and in different countries.
Related Reading
Source: Cooler Master