AnandTech Storage Bench - The Destroyer
The Destroyer is an extremely long test replicating the access patterns of very IO-intensive desktop usage. A detailed breakdown can be found in this article. Like real-world usage, the drives do get the occasional break that allows for some background garbage collection and flushing caches, but those idle times are limited to 25ms so that it doesn't take all week to run the test. These AnandTech Storage Bench (ATSB) tests do not involve running the actual applications that generated the workloads, so the scores are relatively insensitive to changes in CPU performance and RAM from our new testbed, but the jump to a newer version of Windows and the newer storage drivers can have an impact.
We quantify performance on this test by reporting the drive's average data throughput, the average latency of the I/O operations, and the total energy used by the drive over the course of the test.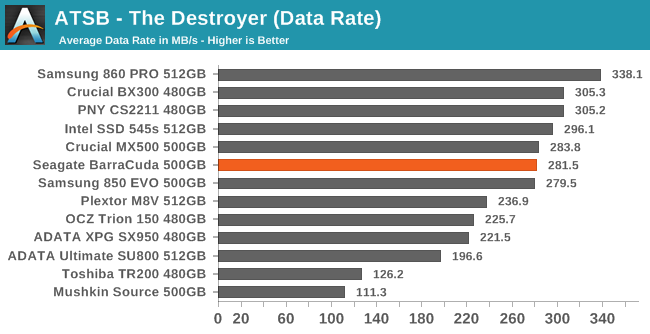 The Seagate BarraCuda SSD is broadly competitive with other TLC SATA drives on The Destroyer, with an average data rate that is clearly slower than the best an MLC drive can deliver but is almost identical to the mainstream Crucial MX500, and significantly higher than the Plextor M8V that pairs Toshiba's 3D TLC with a different controller.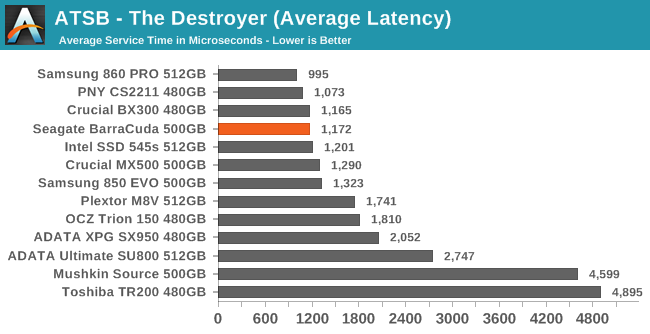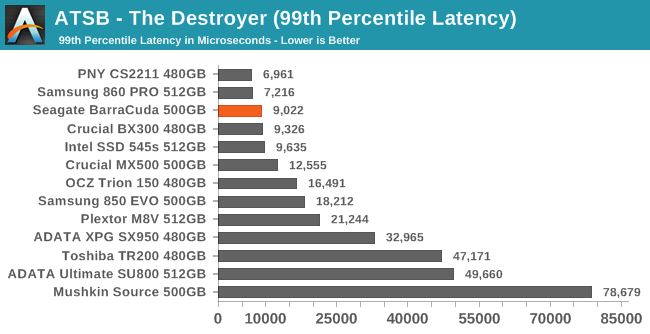 The average and 99th percentile latencies from the Seagate BarraCuda are lower than any of the competing TLC SSDs, and reasonably close to the best we've measured from SATA drives in this capacity class.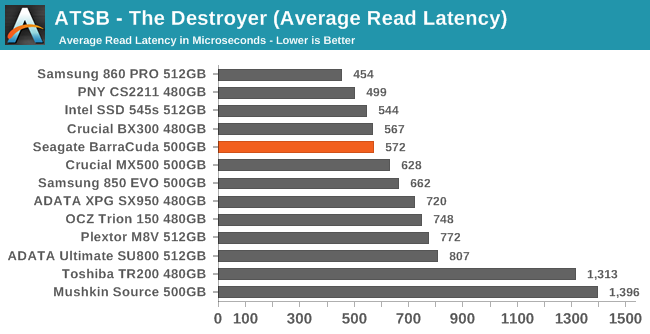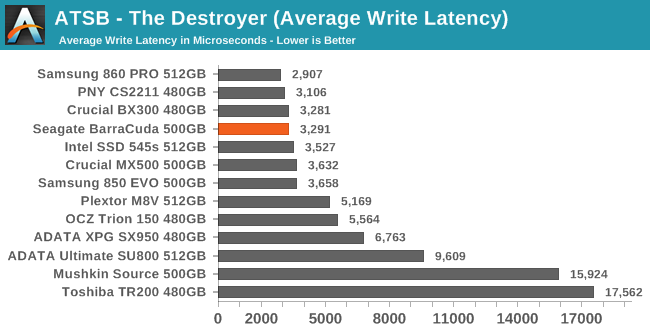 The average read and write latencies from the BarraCuda are both among the best we've seen from TLC SATA SSDs, though other current-generation mainstream drives like the Crucial MX500 and Intel 545s aren't significantly behind. The average write latencies in particular vary little among top-tier SATA drives (MLC or TLC).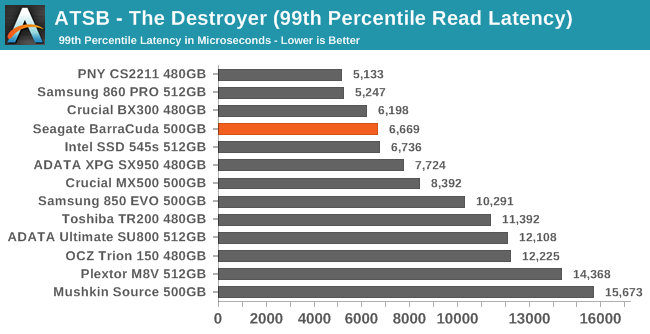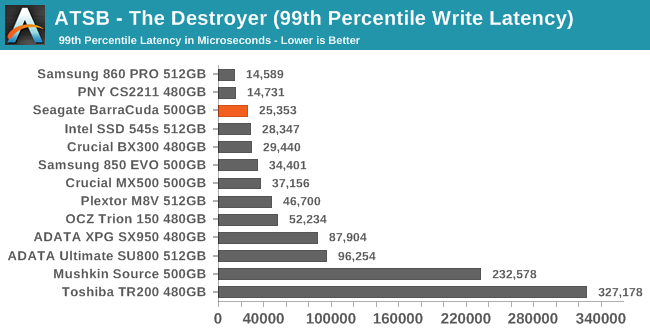 The 99th percentile read and write latencies show more variation between SATA drives than the averages, and here the Seagate BarraCuda continues to distinguish itself by taking the lead among TLC SATA drives, followed closely by the Intel 545s.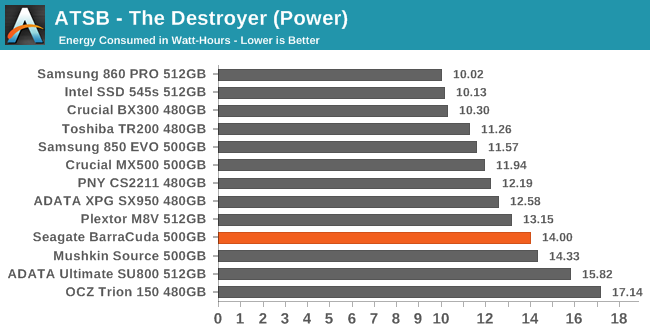 The Seagate BarraCuda's solid performance on The Destroyer comes at the cost of rather high energy usage, almost 40% higher than the Intel 545s that is slightly faster overall. The aging Phison S10 controller is probably the main culprit here, but the Plextor M8V with the same NAND but a Silicon Motion controller is also relatively inefficient on this test.