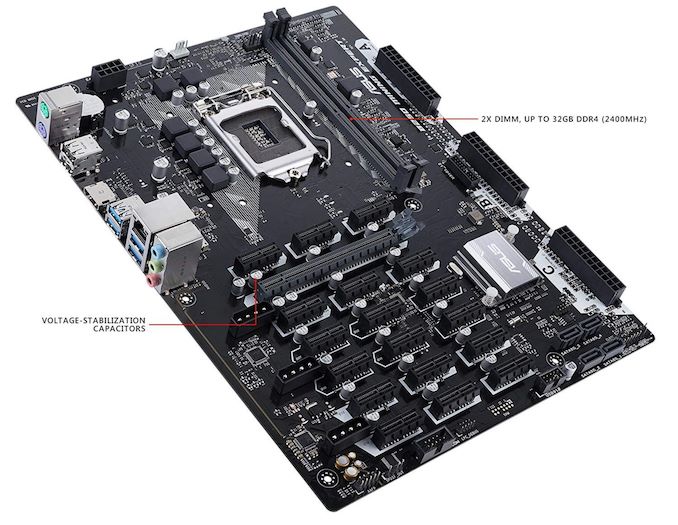 Cryptomining frenzy of the recent 18 months have encouraged computer component manufacturers to develop hardware tailored for mining infrastructure. At some points earlier this year, these components retailed for hefty sums of money. As rates of Bitcoin, Ethereum, and other similar currencies have dropped, so too have prices of motherboards, power supplies, and GPUs.
From $17,000 to $3,900
The period between April 2017 and April 2018 was particularly good for cryptocurrency, which stimulated many hardware companies to try their luck to design hardware aimed specifically for mining and mining infrastructre. In the recent quarters, manufacturers of motherboards have introduced special platforms featuring multiple PCIe slots; producers of PSUs launched power supplies for many graphics cards; suppliers of chassis released special-purpose stands and cases; multiple companies unveiled special-purpose turnkey mining machines, whereas some even offered to rent such systems in the cloud.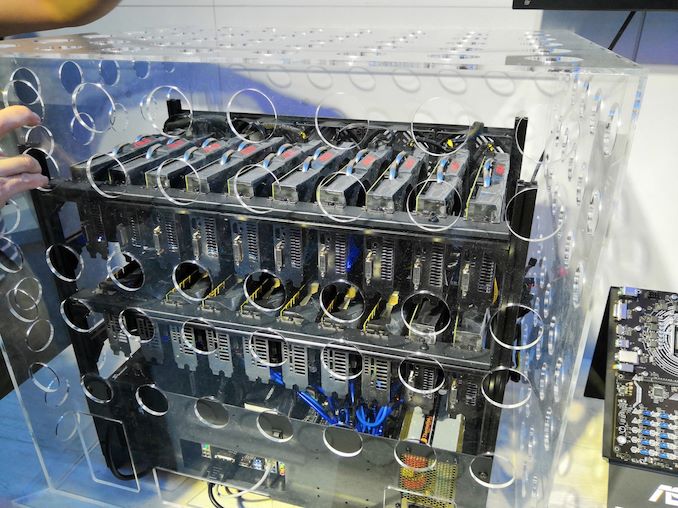 Since the peaks, Bitcoin-USD exchange rates have dropped from around $17,000 in December 2017 to $3,900 in December 2018, according to CoinDesk. Ethereum suffered the same fate and dropped from around $1,350 in January 2018 to $130 in late December 2018. With exchange rates collapsing that significantly, the interest towards mining dropped along with demand and prices of appropriate hardware.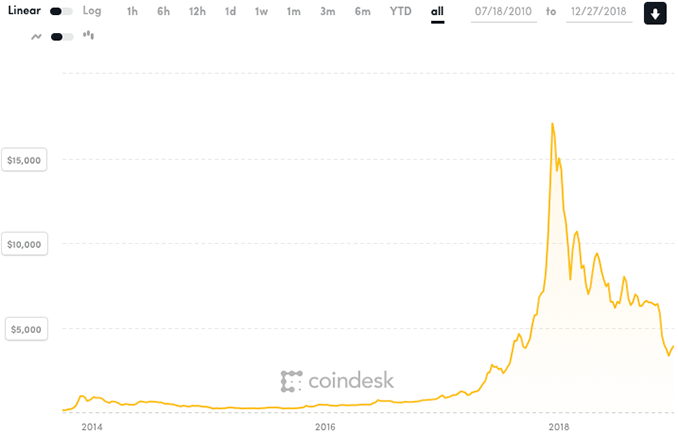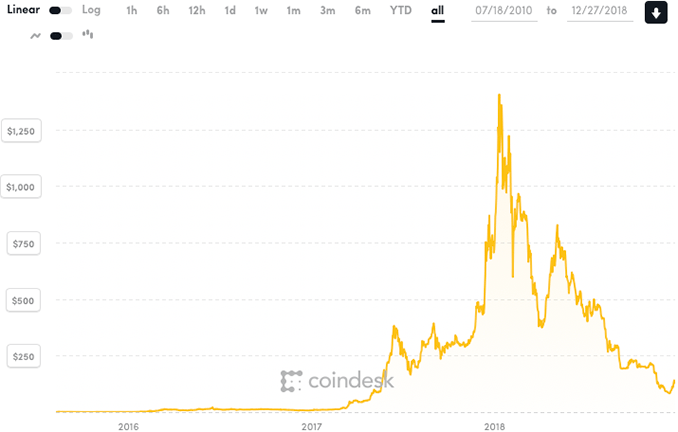 Left: Bitcoin, Right: Ethereum
In a bid to understand the significance of mining hardware price drops, we decided to analyze several popular cryptocurrency mining hardware devices sold at Amazon.
Every decent rig starts from a motherboard, so we are going to start from them. The B250 Mining Expert from ASUS as well the B360-F PRO from MSI are among the most capable platforms for mining with 19 and 18 PCIe slots, respectively.
The ASUS B250 Mining Expert used to cost from $400 to $600 about a year ago, but right now it is possible to get it for $58 - $78. The situation is similar with the MSI B360-F PRO: it used to cost $200 in May, but now it can be obtained for $63 - $96. Biostar's TB250-BTC supports "only" eight GPUs, yet it used to cost $250 - $320 from December 2017 to February 2018. By contrast, today it is priced at around $60.
Mining rigs usually need chassis so we decided to check out dynamics of mining chassis: an entry-level open-air frame from Astarin that supports up to six graphics cards.
The 6-way frame for mining rigs that used to cost $100 in March, is now available for $36, a nearly three times decline.
Getting enough GPUs was a big problem for "professional" miners and those who did not have a good/close relationship with GPU manufacturers. They had to buy from retailers, which is why demand for mainstream and performance mainstream graphics cards increased and their prices hit a historical peak.
MSI's Radeon RX 580 Armor 8 GB OC used to cost $420 - $700 in the period from late-2017 to early-2018, but at present it is available for $220 - $240.
The situation is similar with GIGABYTE's Radeon RX 570 4 GB. The product that used to cost $450 - $600 a year ago is now sold for $150 - $184. The EVGA GeForce GTX 1060 SC 6 GB graphics card, currently priced at $250 - $280, used to cost $430 or even $700 (depending on the retailer) earlier this year and that is if you were lucky enough to get one.
Launched at an MSRP of $139 in late October 2016, NVIDIA's GeForce GTX 1050 Ti has been overpriced throughout its lifetime. Amazon sold GIGABYTE's GeForce GTX 1050 Ti for $200, whereas its partners were bold enough to offer it for as high as $350 when demand for mining hardware peaked in January 2018. Right now, the board can be obtained for $165 - $170.
Some Thoughts
Once cryptocurrencies became an investment tool for various market players, exchange rates began to increase at rapid paces as more money was pumped into them. Contrary to usual scenarios, when unqualified investors often avoid highly volatile items like currencies or commodities, this time enough people decided to try their lack and mine Bitcoins or other cryptocurrencies at home, investing in hardware. Hardware makers were eager to satisfy demand for mining rigs and invested in appropriate R&D and manufacturing.
Meanwhile, like any stock or commodity, cryptocurrencies could not grow forever or stay at their peak for too long, and exchange rates have began to depreciate. It remains to be seen when they are set to bottom out. Ot looks like there will be many people left with mining hardware that cannot be applied elsewhere as well as companies with redundant inventory.
Related Reading
Sources: CoinDesk, CamelCamelCamel