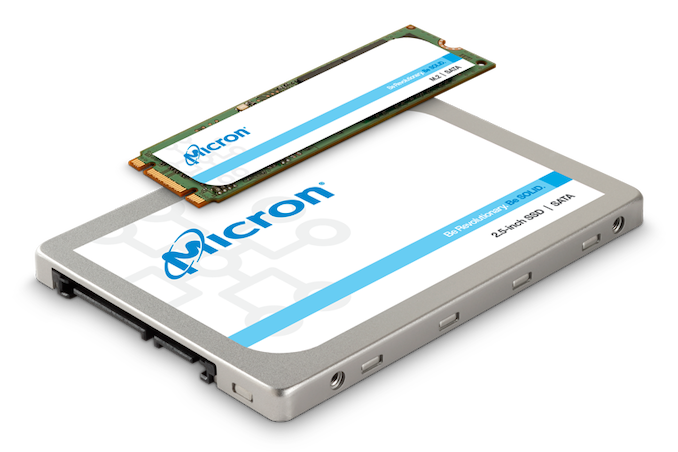 Micron's line of client SATA SSDs for the OEM market is making the jump to 96-layer 3D TLC NAND flash memory with the new Micron 1300 SSD. This replaces the Micron 1100 SSD, which used Micron's first-generation 32-layer 3D TLC.
The Micron 1100 was very similar to the Crucial MX300 consumer/retail SATA drive, but since then the two product lines have diverged. The Crucial MX series switched over to using Silicon Motion controllers with the MX500, featuring 64L 3D TLC. The Micron 1100 stuck around and occasionally made an impact on the retail market as a cheaper alternative available through grey-market resellers.
The Micron 1300 leapfrogs the Crucial MX series by adopting 96L TLC, but otherwise little has changed from the 1100 series—it's still using Marvell controllers and provides the same feature set including optional TCG Opal encryption support and partial power loss protection.
Micron 1300 SSD Specifications
Capacity
256 GB
512 GB
1 TB
(1024 GB)
2 TB
Controller
Marvell 88SS1074
NAND Flash
Micron 96L 3D TLC
Form-Factor, Interface
2.5" or M.2 2280 SATA
2.5" SATA
Sequential Read
530 MB/s
Sequential Write
520 MB/s
Random Read
58k IOPS
90k IOPS
Random Write
87k IOPS
Warranty
5 years
Write Endurance
180 TB
0.39 DWPD
300 TB
0.32 DWPD
400 TB
0.22 DWPD
400 TB
0.11 DWPD
Since there's hardly any room for performance improvement behind a 6Gbps SATA link, Micron is primarily touting improved pricing and power efficiency for the 1300 SSD, though neither is quantified all that well by their press release. We found Micron's 32L 3D NAND to be consistently one of the slowest 3D flash memories ever shipped, so it's likely that the Micron 1300 with 96L NAND does provide a boost to performance at low queue depths even if the peak performance is largely unchanged.
The Micron 1300 does not expand the range of available capacities: up to 2TB for 2.5" drives, and up to 1TB for M.2 SATA drives. Micron's datacenter SATA drives have hit 8TB using the same Marvell controllers, but the mainstream client SSD market doesn't have much demand for 4TB or 8TB drives yet.
The write endurance ratings at the higher capacities are rather disappointing, with both 1TB and 2TB models rated for the same 400TB total endurance. Micron is reportedly already selling 96L TLC in the recently introduced 960GB Crucial BX500, so they shouldn't need to use the 1300 to unload low-grade 96L NAND. Instead, it seems the low endurance ratings are simply due to a lack of market pressure, highlighting one of the ways that the OEM market differs from the consumer retail SSD market.
Source: Micron