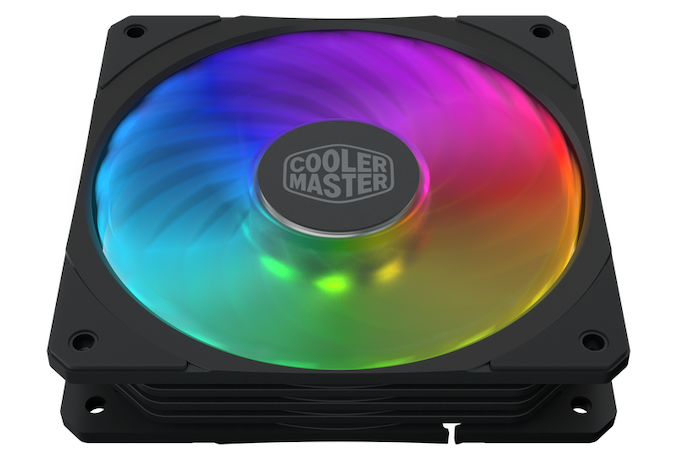 Back in January at the CES 2019 trade show, Cooler Master lifted the lid on its plans to release a new range 120 mm fans and they're here; the new Square Fan (SF) series SF120R RGB, the SF120R ARGB, and SF360R ARGB cooling fans. The SF120R RGB and SF120R ARGB are based on its new SF series square 120 mm design, while the uniquely designed triple 360 mm fan all-in-one framed does have support for both 360mm AIO CPU coolers and radiators.
Reinventing The Square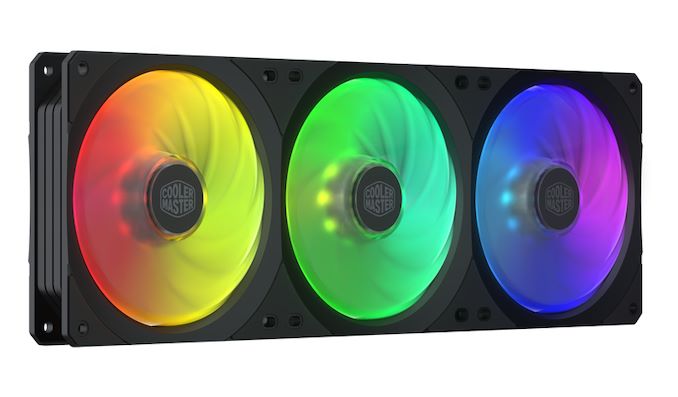 With one of the most intriguing fan designs of the year, the Cooler Master SF360R ARGB combines three 120 mm Square Fan designed fans into a single frame which can be mounted directly into a chassis, and most 360 mm AIO CPU coolers; this support extends to most varieties of 360 mm radiator too. The new SF series joins the MasterFan family and adds to the rapidly expanding Master series of products. The SF360R ARGB is compatible with PWM and can dynamically adjust speeds between 650 and 2000 RPM.
Supplied with the SF360R ARGB 360 mm frame is a small wired addressable RGB controller which allows users to customize the look of each of the three 120 mm fans individually. Interestingly the SF360R ARGB uses just two cables with one for connecting to an ARGB header, as well as a single cable designed to connect to a PWM enabled 4-pin fan header. Not only just this drop the required cable count from six to two, but it's also designed to aid in users cable management; less cables, less clutter.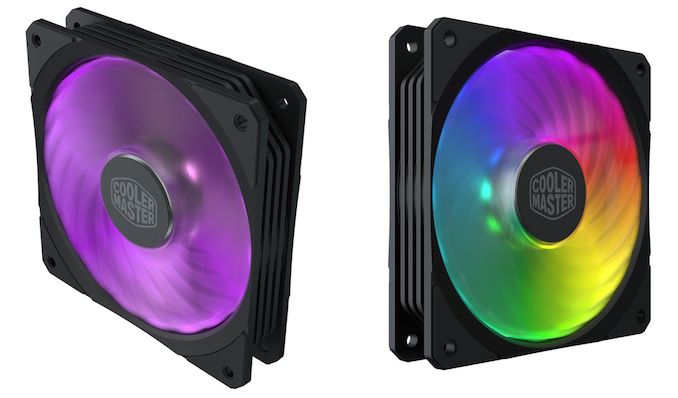 The Cooler Master SF120R RGB and SF120R ARGB 120 mm Cooling Fans
Also launched alongside the cool looking SF360R ARGB 360 mm combined frame is the single SF120R ARGB cooling fan. There is also a variant without addressable RGB LEDs, the SF120R RGB. The SF120R ARGB also includes two cables with one for connecting to a 4-pin addressable RGB header and one for connecting it to a 4-pin fan header and supports PWM with variable speeds of 650 to 2000 RPM. With the SF120R RGB, it drops the addressable RGB LEDs for standard RGB LEDs and is suitable for boards with standard 3-pin headers.
All of the new Cooler Master Square Fan series fans benefit from rubber pads at each mounting point to reduce vibrations and thus improve the acoustic performance. Also included with the SF360R ARGB, the SF120R ARGB and SF120R RGB fans are lighting extension headers which carries a standard RGB signal, and allow users to daisy chain fans up without the need for an RGB splitter cable.
Cooler Master has informed us that the SF120R RGB, SF120R ARGB and SF360R ARGB are currently available for pre-sale at North American retailers such as Newegg and Amazon. The SF120R RGB is currently selling for $20 at Amazon, while the SF120R ARGB has an MSRP of $25. The triple fan SF360R ARGB has an MSRP of $60; we received this information directly from Cooler Master themselves.
Cooler Master has also informed us that it will be launching other variants, such as the SF240R ARGB, SF120P ARGB and SF240P ARGB models, over the coming months.
Related Reading: