Preliminary Results
Below are some of our first idle power measurements conducted with the new setup using the HD PPM and the M.2 power injection fixture to feed a regulated 3.3V supply from the power module to the drive under test. The host system for these measurements is our Coffee Lake desktop, which is the only desktop SSD testbed in our collection that has fully functional PCIe Active State Power Management (ASPM). This allows us to use one system to represent both the Desktop and Laptop idle power scenarios by varying OS settings.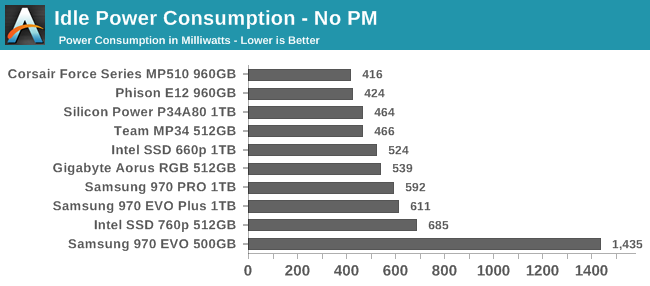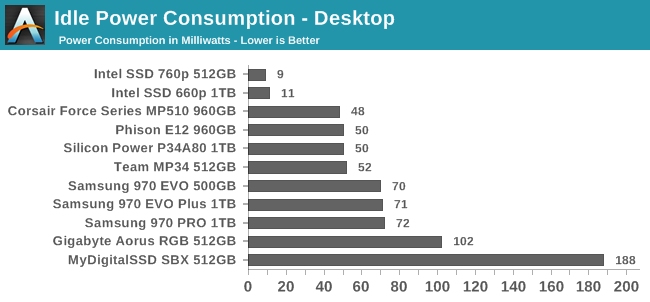 The desktop idle power numbers are generally consistent with our previous measurements conducted with the XLC power module and our Skylake desktop. Several of the active idle power numbers are significantly lower than previously measured, so we'll be double-checking that our scripts really are successfully disabling all power management features.
Some NVMe controllers have very odd behaviors when it comes to toggling the Autonomous Power State Transitions feature on or off, such as requiring new transition latency data to be provided even when turning the feature off, or requiring some real disk IO to wake the drive up before it will actually stop using the now-disabled idle states. Even when the host system's power management bugs have been resolved, NVMe power management continues to be quite the minefield. Directly measuring SSD power consumption is the only reliable way to determine which settings have actually taken effect.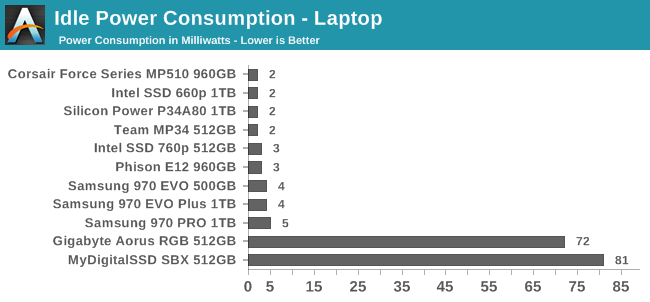 Our new Laptop idle power numbers give us the first measurements that actually match what most of the spec sheets for these drives promise: single-digit milliwatt consumption for most recent controllers. The outliers so far are the MyDigitalSSD SBX with the entry-level Phison E8 controller, and the Gigabyte Aorus SSD with RGB lighting.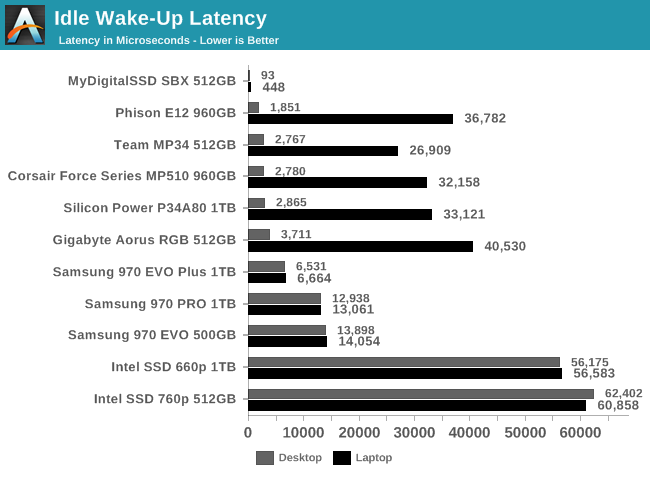 Now that we're measuring two levels of sleep for NVMe drives, we need to measure two different wake-up latencies. For the drives based on the Phison E12 controller, wake-up from the Desktop idle settings is much faster than from the Laptop idle settings. However, the rest of the drives we've tested so far show similar wake-up latencies for both scenarios despite drastic differences in actual power consumption while sleeping.