Intel Performance Midrange System
Since the introduction of Intel's i5-750 in Q3 09—delivering quad-core performance that tops the i7-920 for significantly less money—reviewers and builders alike have praised its performance, efficiency, flexibility and value. Even as Intel has rounded out their CPU lineup with various Clarkdale CPUs, the i5-750 remains a compelling processor that can serve as the base for a performance/value machine. Compared to our last Intel performance midrange system, enthusiasts can begin their builds with $100 or more of combined CPU and mobo savings in the piggy bank, or use it to beef up other components. Better performance for a substantially lower platform cost? That's music to the DIYer's ears. Here's the basic setup.
At $200, the i5-750 is a terrific bargain. As noted in our Lynnfield article from September 2009, the i5-750 brings quad-core performance that tops the i7-920 in most benchmarks to the significantly less expensive LGA-1156 platform. While the lack of Hyper-Threading costs the i5-750 some performance in well-threaded applications, its aggressive Turbo Modes—which enable the clock speed to rise to 3.2GHz whenever two or more cores are idle—makes it a processor that punches well above its weight in the majority of usage scenarios. The i5-750 is also a great overclocker, but requires overvolting to get anywhere near its full potential. If you're buying the 750 with anything more than mild overclocking in mind, the retail cooler is not going to be sufficient.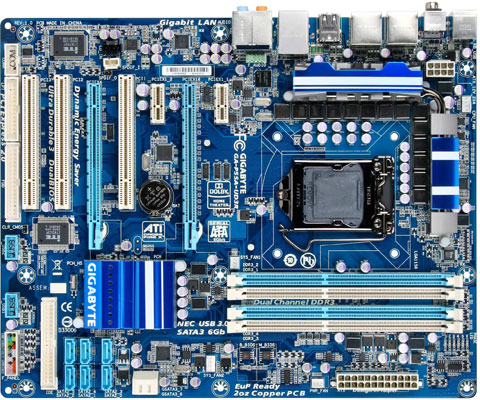 The Gigabyte GA-P55A-UD3 is a feature-rich option for the builder who might want CrossFireX down the road and it comes at a midrange price. It's an excellent choice for an i5-750 system designed to maximize performance, flexibility, and value. Its feature set includes eight USB 2.0 ports with two more headers on the board, and two more USB 3.0 ports on the rear I/O panel. For hard drives, the board has six SATA 3Gbps ports and two more SATA 6Gbps ports. If you want to enable both USB3 and SATA6, the primary GPU slot will drop down to x8 speed, while the secondary x16 slot always runs at x4 bandwidth. For the price, however, it's a very good board and it has good overclocking abilities if you're interested.
Options for Intel 1156 motherboards abound, and we want to mention a few alternatives. First, if you prefer higher performance CrossFire (or you want the potential for SLI), look at the MSI P55-GD65. It provides GPUs dual x8 lanes as opposed to the x16/x4 combination on the P55A-UD3; you also get Firewire support. Though not without a blemish or two, it offers performance and features on par with more expensive offerings and exceptional power consumption characteristics. One major drawback with the MSI board is that tweaking memory timings is an all-or-nothing affair, so if you prefer to set most to "Auto" while only changing a few important items, look elsewhere. For non-CrossFire/SLI setups, the ASUS P7P55D-E LX also boasts USB3 and SATA6 support, with your primary GPU slot always running at x16. Not surprisingly, the P7P55D-E LX is another great overclocking board for this price range, just like most ASUS boards.
All of the boards we mentioned are P55 chipset offerings, which is preferable for overclocking and dual GPU configurations. However, if you don't need a lot of CPU cores and want to save money on your power bills, the H55 chipset boards and Clarkdale CPUs are certainly a great option. You can also get an H55 board and use a Lynnfield CPU as the boards do tend to cost a bit less. The BIOSTAR TH55XE, ASUS P7H55D-M EVO, and Gigabyte GA-H55M-USB3 are all worth a look. Paired with an Intel Core i3-540, they can shave ~5W to 60W off your system power consumption relative to the recommended i5-750 + P55 setup, and the total cost of the system will drop around $100.
On the other end of the spectrum, overclockers and users looking to potentially move to hex-core Intel chips down the road might want to think about X58 and socket 1366. With the Core i7-920, 3x2GB DDR3, and the least expensive X58 motherboard you're looking at a price increase of around $150 and performance that may not be noticeably better in most applications. Still, some will prefer going with the higher-end Bloomfield route.
A nice change since the days of DDR2 vs. DDR3, triple-channel vs. dual-channel memory is that all of the remaining components for our AMD and Intel platforms are the same. You can find additional information about the other parts and accessories on pages four and five. First, let's look at the AMD motherboard and CPU recommendations.