We start with the same old "swings and roundabouts" in performance figures that you'll never notice in real world usage: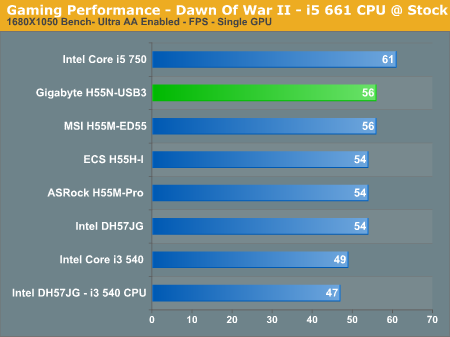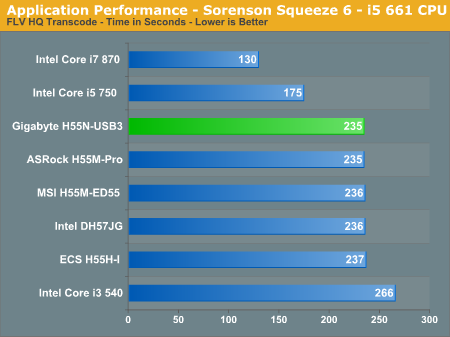 Power Consumption
Our power consumption testing utilizes the same batch of components under similar circumstances in a bid to monitor variances between idle and CPU load conditions. We install the vendor supplied power saving utilities on each board and enable power saving modes that don't involve any kind of underclocking or CPU core frequency modulation in order to run an apples to apples comparison.
ATX PSU switching losses are absent from our figures because we monitor power consumption directly at the DC rails of the PSU. These figures measure only the CPU, motherboard and memory DC power draw and exclude any other peripherals, such as cooling fans and hard drives etc. Actual AC power consumption for the motherboard will be anywhere from 15~40% higher than these figures depending upon the efficiency of your power supply.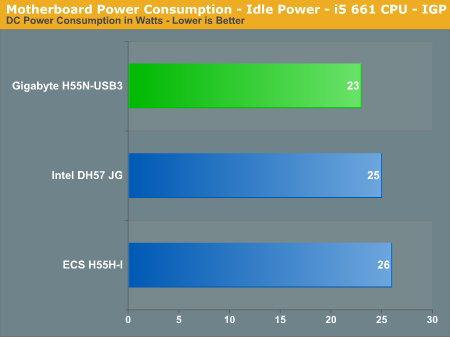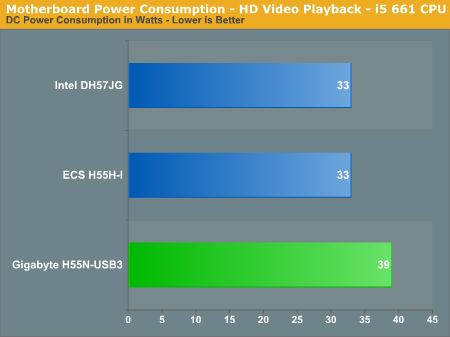 The H55N-USB3's idle power consumption is excellent, although you lose out on efficiency under load compared to boards from Intel and ECS.
Overclocking
Using the stock Intel cooler with our 661 sample, we managed achieve around 4.2GHz Linpack stable: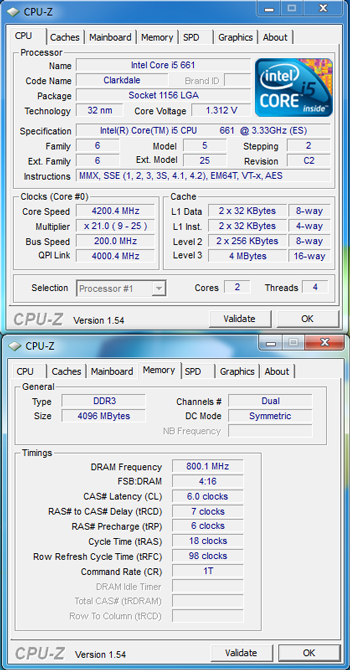 The Clarkdale IMC isn't ideally suited to high memory bandwidth, so we settled for a perfectly respectable DDR3-1640 with CAS 6-7-6-18 timings using our high-end Corsair Dominator kit whilst keeping QPI and CPU frequency in sync. This overclock was held stable by using 1.31Vcore (load voltage is likely a lot less as we kept Vdroop enabled), a set VTT of 1.31V and VDIMM of 1.65V.
Pushing higher than this would be possible with improved processor cooling, but as a side-effect requires more VTT if QPI and memory frequency is not relaxed - and we're already setting 1.31V which seems to be the upper limit of what the VTT VRM can handle. Setting a higher voltage results in the board shutting down during Linpack, which confirms OCP does work on this particular rail.
We also checked out possibilities with a Lynnfield, using our 875-K sample to see what the board can handle: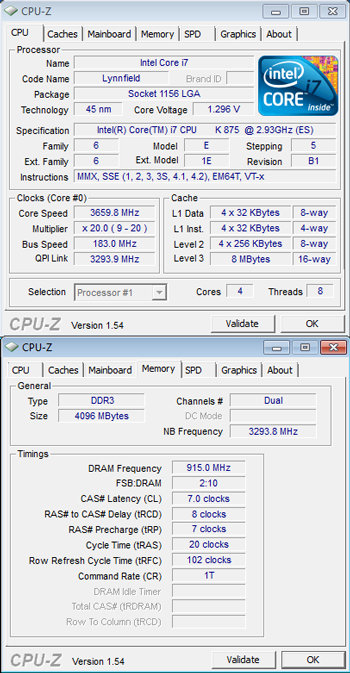 3.66GHz is the upper level of what is achievable during Linpack with a HT enabled i7 processor. It's not the greatest overclock, but is better than what some of the other H55 mini-TX boards can manage and is competitive with DFI's MI-T36, aside from it being easier to cool the processor on the latter due to a better layout. Out of interest, we did attempt multiplier only overclocking too, but found that same overall CPU clock speed limit – any higher and the board shuts down during Linpack.
Should you opt for an i5-750 Lynnfield, CPU speeds up to 3.8GHz should be sustainable, provided you can find a way to keep the CPU cool enough under heavy loads.