Introducing the Samsung N210

While Samsung has been a strong retail presence in the states for time immemorial, it may be surprising to note that they only made their push into retail computing within the last year or so. Samsung computers were big in the rest of the world (obviously huge in Korea), but out here there had been nary a peep from them.
Then the floodgates quietly opened, and Samsung dipped their toe into the highly competitive waters of the American mainstream notebook market. One of their entries is a Best Buy exclusive netbook that we review here today, the N210. The N210 may be on its way out; it's since been consigned to Best Buy's "outlet store" online and its retail presence is limited. What we have on hand is a factory refurb'ed model; I had purchased it for personal use and the way I figured it was that sure, I could get a brand new one for a little more, but odds were good I'd pop open the casing and void the warranty anyhow, so why pay an extra $30 for months of warranty I'll never see?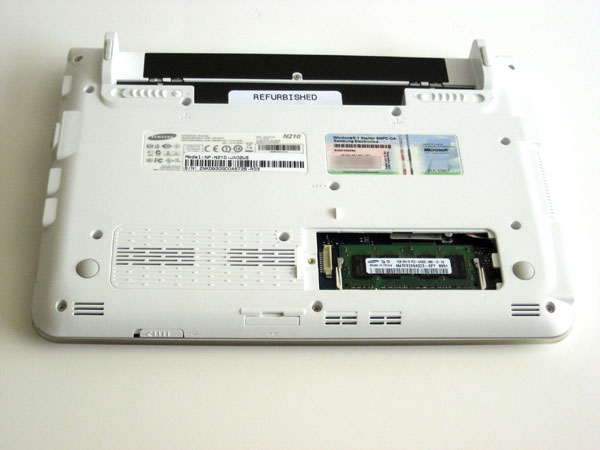 The specifications are commonplace given Atom-powered netbooks:
Samsung N210 Specifications
Processor
Intel Atom N450
(1.66GHz + SMT, 45nm, 512KB L2, 533FSB, 5.5W)
Chipset
Intel NM10
Memory
1x1024MB DDR2-667
Graphics
Intel Integrated GMA 3150
Display
10.1" LED Matte 16:9 WSVGA (1024x600)
Hard Drive(s)
2.5" 250GB 5400RPM
Optical Drive
N/A
Networking
10/100 Fast Ethernet
Atheros 802.11bgn WiFi
Audio
HD Audio (2 speakers headphone and mic jacks)
Battery
6-cell, 11.1V, 4400mAh, 48Whr
Front Side
SD reader
Power switch
Left Side
AC power jack
RJ-45 ethernet jack
Exhaust vent
USB 2.0
Mic jack
Headphone jack
Right Side
2x USB 2.0
VGA port
Kensington lock
Back Side
Battery
Operating System
Windows 7 Starter
Dimensions
10.5" x 7.4" x 1.2" (WxDxH)
Weight
2.8 lbs (with 6-cell battery)
Extras
Webcam
Warranty
1-year standard warranty
Pricing
$329

As you can see, there isn't a whole lot of action in the N210 that isn't common to modern netbooks at large. There's the anemic Intel Atom N450 processor and the requisite 1GB of DDR2, but at least Samsung was kind enough to outfit the N210 with a 250GB drive.
Going with 10/100 ethernet instead of gigabit is disappointing but not a game-breaker; the Atom is so slow and the 5400RPM hard drive does nothing to remedy that, so it's not a huge loss. Not having bluetooth is a major loss, though. When the N210 was making the review rounds, bluetooth was an option being touted for it. Yet finding a bluetooth-enabled unit in our neck of the woods is an onerous task at best.
But since netbooks are by and large the same these days, does Samsung at least bring any secret sauce to the table?