ASUS U33Jc - Introduction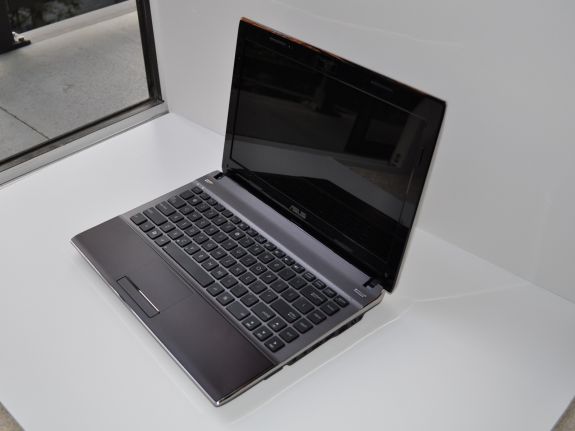 For the second time this month, I get to review a fashion-conscious notebook. Instead of aluminum and glass, this time we're looking at wood—or, to be more specific, bamboo. ASUS' U33Jc is part of ASUS' U-series Bamboo Collection and features bamboo panels on the lid and the interior, with the palm rest and touchpad rendered in the darkly finished wood. It's definitely an interesting touch, with ASUS claiming tensile strength nearly equaling that of steel and unparalleled eco-friendliness. We'll get into those claims a bit later on, but for right now let's just say that the bamboo paneling gives the U33Jc a nice aesthetic that's pretty unique compared to most other portable computers.
ASUS U33Jc-A1 Specifications
Processor
Intel Core i3-370M
(32nm, 2x2.40GHz + Hyper-Threading, 3MB L3, 35W)
Chipset
Intel HM55
Memory
2x2GB DDR3-1066
Max 2x4GB DDR3-1066
Graphics
NVIDIA GeForce 310M Optimus
Intel HD Graphics
Display
13.3" LED Backlit Color-Shine WXGA (1366x768)
Hard Drive
500GB 5400RPM 8MB cache
(Seagate Momentus 7200.6 ST9500325AS)
Networking
Atheros AR8131 Gigabit Ethernet
Intel WiFi Link 1000 802.11bgn
Audio
HD Audio (2 speakers with headphone and mic jacks)
Battery
8-cell 5600mAh, 84Wh
Front Side
None
Left Side
1 x USB 2.0
HDMI
VGA
Cooling Exhaust
Kensington Lock
Right Side
Memory Card Reader (SD, MMC, MS/Pro)
Headphone and Microphone jacks
1 x USB 2.0
1 x USB 3.0
Gigabit Ethernet
AC Power Connection
Back Side
None
Operating System
Windows 7 Home Premium 64-bit
Dimensions
13.12" x 9.52" x 0.80-1.20" (WxDxH)
Weight
3.96 lbs (with 8-cell battery)
Extras
Bamboo Exterior Finish
Bluetooth 2.0
2.0MP Webcam
86-Key Keyboard
Multitouch Touchpad
SD/MMC/MS Pro Flash reader
Warranty
2-year global warranty
1-year battery warranty
30-day LCD Zero Bright Dot guarantee
Pricing
U33Jc-A1 at GentechPC for $969
Unlike the Dell Adamo though, the U33Jc still has all the good stuff on the inside. Where the Adamo really cut down the specs, with a 1.4GHz Core 2 Duo ULV, integrated graphics, and a tiny 40Wh battery, the U33Jc has basically the same specs as the much-loved U30Jc. It has a full voltage Core i3 processor, NVIDIA's Optimus graphics switching technology, Intel's wireless display technology, and a massive 8-cell battery. The only thing it gives up is the integrated DVD drive, but in the exchange the U33Jc is 0.2" thinner than the U30Jc at both the thinnest and thickest points along with being almost a full pound lighter.
But if you were just looking for a slimmed down U30, the forthcoming U35Jc is a better option. It's basically just a U30 minus the optical drive, and, at 3.7lbs, weighs a bit less than the U33. The U33Jc is really about the look and feel of the bamboo panels. If that strikes your fancy, there's plenty to like.