AVADirect 3D Gaming Notebooks
Recently, AVADirect launched two new 3D gaming notebooks. The Clevo W860CU 3D and ASUS G51JX-3D both use NVIDIA's 3D Vision technology to make the most of the increasing amount of 3D content available and promise to make the most of existing 2D media. Both models include active shutter glasses, which coupled with the 3D compatible screens will give the full stereoscopic 3D experience. As usual with AVADirect products, both notebooks are highly customizable to suit buyers' needs and budgets.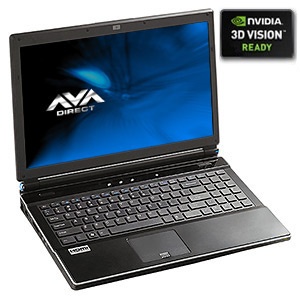 The Clevo W860CU 3D includes a 15.6" 1366x768 display and an NVIDIA GeForce GTX 285M with 1 GB GDDR5 memory; just about everything else is customizable. Users can configure the CPU from an Intel Core i5-450M running at 2.4GHz up to a quad-core i7-940XM. The notebook is available with various configurations of RAM from 1GB to 8GB DDR3 at either 1066MHz or 1333MHz. A vast array of internal storage options are available, topping out at 1TB of mechanical HDD storage, or 512GB of solid state storage (which costs an eye watering $1453.14). A DVD writer is the default, but Blu-ray combo/recorder drives are available as options.
Standard components include a 7-in-1 card reader, 2.0MP camera, fingerprint reader, and of course the NVIDIA 3D Stereoscopic glasses. Connectivity wise, the notebook features four USB 2.0, eSATA, IEEE 1394, DVI, HDMI, and audio in and out. Gigabit Ethernet and Bluetooth 2.0 are also included. You have to pay extra for integrated WiFi connectivity, with the cheapest Intel Wireless N card coming in at $27.56, but you do get the ability to customize your WiFi device somewhat. On the other hand, a 56K modem is included as standard, which we imagine few of the target users will ever use. Audiophiles are well catered for with various discrete audio cards available as options.
As with most AVADirect notebooks, the W860CU 3D can be painted a variety of colors, but at $350 extra it's a steep upgrade. We'd much rather have the option to upgrade to a higher quality, higher resolution LCD. Windows 7 Home Premium 64-bit comes standard, with other versions and some Linux distributions available. A carrying case is also included.
The stock configuration with an Intel Core i7-720QM quad-core CPU, 2GB DDR3-1066 RAM, and a 500GB 5400RPM HDD comes in at $1844.29 and is available now. That's a hefty sum, and unfortunately the only two non-customizable components let it down. A 15.6" gaming and media monster needs to be supporting a greater screen resolution than 1366x768. 3D support notwithstanding, we need a 1080p display for this price/performance. As for the other component, while the NVIDIA GTX 285M was a decent card back in the day, for this kind of money and for a machine with these aspirations we need to be looking at a newer DirectX 11 card. Even if 3D is important to you, there are better options.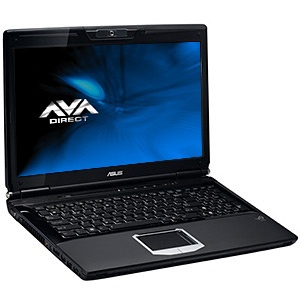 The other new machine available from AVADirect is the ASUS G51JX-3D and this looks like a much better proposition. Again it features a 15.6" 1366x768 display, but this is coupled to a NVIDIA GeForce GTS 360M with 1GB GDDR5 memory. Unfortunately, this is still not DirectX 11 compatible. Like the Clevo machine, it is highly customizable with almost all the same options available. The standard specification is more generous though with a quad-core Intel Core i7-720QM, 6GB DDR3 RAM, and a 500GB 7200RPM HDD.
The various amenities are what you would expect. A DVDRW is standard, along with an 8-in-1 card reader, 2MP camera, WiFi, and Bluetooth 2.1+EDR. Connectivity consists of four USB 2.0 ports, IEEE 1394, Gigabit Ethernet, eSATA, HDMI, ExpressCard, and audio in/out. The 3D glasses are included as well, naturally. As one of ASUS' Republic of Gamers models, the G51JX-3D also features some nice additions like a backlit keyboard and integrated Altec Lansing speakers. It comes with Windows 7 Home Premium 64-bit, again with other options available.
The ASUS G51JX-3D starts at $1621.49. With similar screens and the same processor, the ASUS appears to be the superior model with the lower price tag. This is made all the more obvious by the more generous specifications, for example 6GB of RAM and a 7200RPM HDD. Add onto this the standard ASUS 2-year warranty compared the 1-year warranty on the Clevo it is easy to recommend over its 3D rival.
Perhaps the bigger question is whether anyone should be looking at 3D laptops right now. This is where things get a lot murkier. With the 256 series of drivers, NVIDIA has brought 3D Vision support to notebooks, and there are plenty of 3D Blu-ray movies starting to come out. You still need to be very dedicated to the idea of 3D, however, particularly when looking at notebooks. Mobile gamers and media enthusiasts will want to carry their notebook, a dedicated mouse, the power brick, and now a set of goggles with the USB adapter. Most home theater enthusiasts are likely to have a better HDTV setup, and gamers interested in 3D likely have a better desktop.
With the performance gap between desktop and laptop GPUs, we'd be surprised if the drop to a 1366x768 LCD isn't there simply to keep frame rates in the acceptable range. Given the final pricing for reasonably equipped setups, we're inclined to pass on mobile 3D laptops for now, but if you've tried the technology and like what it adds to games and movies, there are now a couple new options. The other question—which we can't answer without having hardware in hand—is how the LCDs perform outside of 3D use. If they're at least better than your typical notebook LCDs, having a quality 120Hz panel might be worth the price of admission on its own, and in that case the 3D Vision support is merely a fringe benefit. Too bad about the low resolution, though. And if you're not ready to take the plunge on these new notebooks, we expect better DX11 equipped systems to start showing up with the fall shopping season, so stay tuned.