Where the Deluxe 4 shines is its feature front, and doing so it takes advantage of everything the 890FX chipset has to offer. At its forefront is its excellent USB 3.0 performance and compatibility. Unlike most boards on the market that offer two USB 3.0 ports, ASRock offers total four USB 3.0 ports, and from our experience the performance and compatibility is top-notch. Out of the four ports, two of them are accessible at the front of enclosure via a bundled 3.5" front-panel bay unit. We had no trouble installing it in popular tower cases like Antec Nine Hundred and Cooler Master HAF 932. Coupled with whopping eight SATA 6.0 Gbps ports, the Deluxe 4 seems as feature-rich as any you can find in a today's motherboard.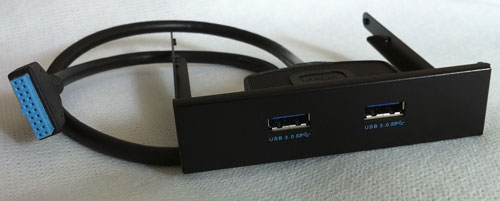 3.5" Front-bay USB 3.0 ports - ASRock
Another area the Deluxe 4 impressed us is its fan control ability. The board has total 6 fan headers, and 5 of them are controllable in one way or another via BIOS or the excellent OC Tuner utility in Windows. The OC Tuner Utility is the Deluxe 4's command center for system monitoring and in-OS overclocking, and despite its appearance it does what it is supposed to do with no fuss. However, we wish ASRock was a bit more attentive to the individual headers' locations. All six headers are somewhat crowded around the CPU socket, making it difficult to reach if you want to use them for your case's front or side fans.
Overall, ASRock's entry (the short-lived Deluxe 3 notwithstanding) into this high-end AMD market is solid, but with a couple of nagging issues such as over- voltage and tight memory parameters that hinder high frequency overclocking. We are aware that this is our first evaluation of the 890FX-based board and do not want to be unfair to the Deluxe 4 without comparing it to similar products, but at this segment of market users tend to expect perfection.
Putting that aside, the Deluxe 4 offers everything but the kitchen sink, and everything except the kitchen sink just worked without a hitch. The board showed an exceptional compatibility with a wide range of add-in cards, and its USB 3.0 ports worked out of the box with the included drivers unlike ASUS M4A89GTD Pro/USB3 whose USB 3.0 ports seem finicky to date. The way ASRock configured SATA ports for AHCI and hot-swap function in the BIOS is brilliant, and will bring smiles to users who have ever struggled to get hot-swap working in Windows. We feel the Deluxe 4's MSRP of $180 is fair enough for the majority of users who are looking to build a Phenom II X4/X6 based system with reasonable 24/7 overclocking in mind and with room to grow. (N.B.: undervolt your memory!) Extreme overclockers and memory aficionados may well be better served by looking elsewhere.