Wireless Display - Now on Atom Tablets!
Intel has been pretty big on WiDi technology since debuting it at CES 2010. They're shipping 48 notebook SKUs with the technology and are pushing it to the Atom platform later this year. The real news from the keynote, though, was the Atom-based tablet sporting WiDi demoed by Otellini onstage. The WiDi technology itself appeared to be pretty much the same as the technology found on current WiDi enabled notebooks, except in an internet tablet form factor. The tablet was presumably running the Oak Trail platform underhood and was connected to an existing WiDi TV adapter while playing through a short video flawlessly.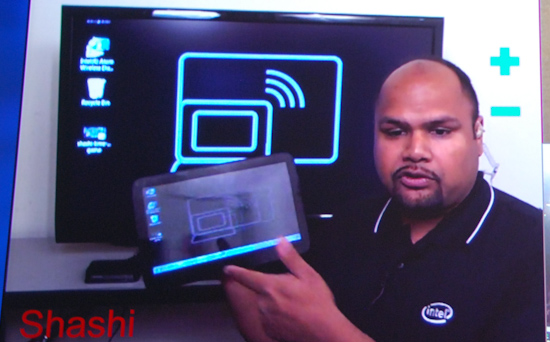 This is more interesting than just the WiDi technology - it's about being able to touch the information on your television screen. The tablet becomes a really large remote to control the media shown on screen. Along with the netbook implementation, this is a great next step for WiDi. Tablets running Atom can process HD video and push it to an HDTV seamlessly, so any media you play on your computer can be watched on your TV. Bringing it to tablets just gives you a more tactile method to control your media wirelessly, whtich is pretty impressive.
More from IDF soon, stay tuned!