The second demo involved a desktop PC with Light Peak connecting to a modified LaCie 4big Quadra, daisy chained to another display with a built in HDMI adapter. Note that Light Peak supports daisy chaining as this demo was connected, but also supports a star topology like USB does.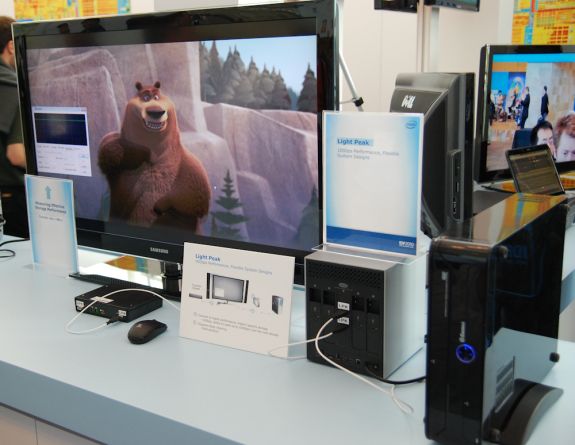 At the far left on the TV was the total bitrate of the storage system, which showed a solid 768.8 megabytes/s of throughput. That's 6.15 gigabits per second of throughput. Obviously the video must have been uncompressed to achieve such high bitrate, but the display itself was only 1080P.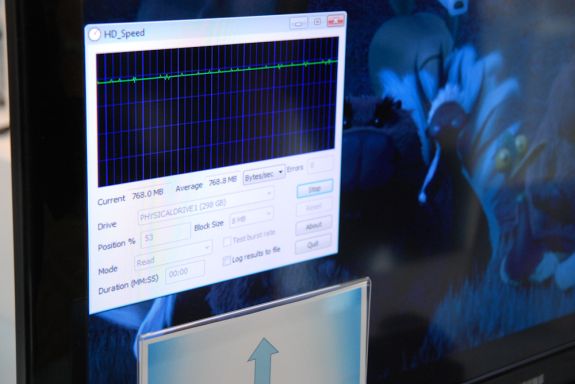 Both of these demos really show how close Intel is to finalizing Light Peak for consumer consumption, and how closely they've been working with partners like Western Digital and Avid for having devices ready eventually.
Obviously USB will live on for years, and USB 3.0 still isn't completely ubiquitous, but the allure of using a single connection and cable for everything sometime in the future is hard to pass up.
The Tech
I spoke with Jason Ziller - Intel's director of Optical I/O planning - about what's left for Light Peak before we can all start enjoying one superfast desktop connection. Availability was originally slated to be Q4 2010, that date has now slipped to sometime inside 2011.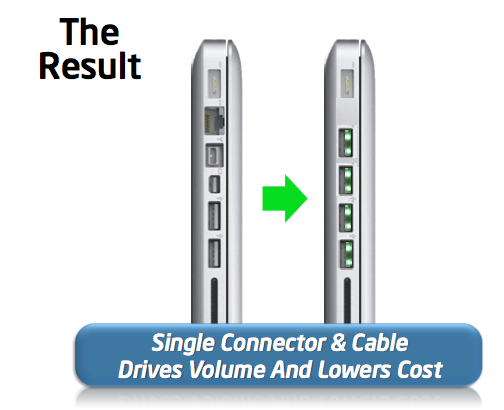 Remember that USB-like port? It actually is USB, but that's only for ease of testing until Light Peak's new connector is finalized. The connector won't look like USB, and obviously will have something unique to mitigate both alignment and potential damage to the interface. Intel isn't ready to say what this looks like, but obviously the connector will be subject to the same kind of scrutiny that USB was for durability and consumer friendliness.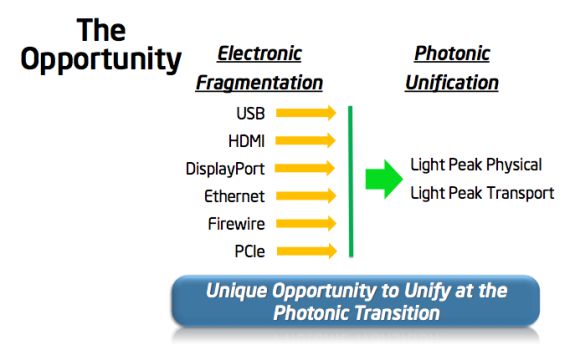 Light Peak isn't a protocol, but instead simply provides a new physical layer for existing connector protocols. Traffic like DVI-D, HDMI, USB, and audio can all coexist across Light Peak.
Intel didn't need to use WDM (Wavelength Division Multiplexing) to achieve 10 Gbps as demonstrated, and maintains that although WDM could be used in the future to increase bandwidth, there are other ways to scale to 100 Gbps. Currently Light Peak is 100 meters capable, though the actual product will be 50 meters of distance. Cables have sufficiently small bend radius that they can be wrapped in a knot or around a pencil without the connection losing connectivity, and up to 7 devices can be daisy chained.
Interestingly, Intel is using an 850 nm wavelength laser for the system, and (unsurprisingly) multimode fiber. Data is bidirectional across the interface as well. 850 nm is a rather interesting choice, as it's still subject to class 1 eye safety limits (just above -4 dBm), but moreso because it was the wavelength used in some of the world's very first long haul fiber optic networks.
Intel's silicon photonics remain a separate project from Light Peak, as Light Peak uses VCSEL laser diodes. The long term vision is to eventually bring the two together in a much broader scope to bridge datacenters together instead of just desktops.
There's a lot of potential for the future of desktop optical interfaces - Intel just has to deliver them. Let's hope it happens in 2011 as promised!