Acer 2010 Fall Desktops
Following on yesterday's announcement of their new/updated TimelineX laptop models, today Acer is launching several new desktop computers aimed at three very distinct markets. Starting at the bottom they have a new nettop, the entry-level market gets two new all-in-ones, and for gamers there are two new Predator machines with fast discrete graphics. All five models are available now.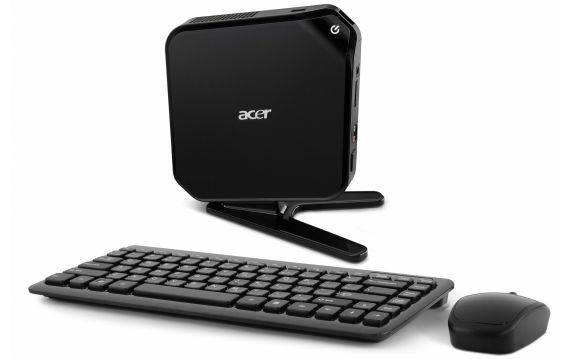 The AspireRevo AR3700 is Acer's latest nettop computer, this time featuring an Intel Atom D525 dual-core processor and NVIDIA ION graphics. Acer bills this nettop as a media center computer, boasting a small footprint that can be hidden behind an LCD display. It includes a VESA mounting system and genuine full HD capability, thanks to the improved graphics and performance. The low power components should also allow for quiet running.
The AR3700 has 2GB DDR3 SDRAM and a 250GB HDD along with media friendly features such as an HDMI port and a media card reader. Connectivity-wise it also features a generous six USB 2.0 ports, audio in/out, WiFi 802.11b/g/n, and comes complete with a wireless keyboard and mouse. The nettop runs Windows 7 Home Premium. Available now for $350, the Acer AspireRevo AR3700 looks like a very good proposition if you're after a small, quiet, affordable secondary computer for the living room.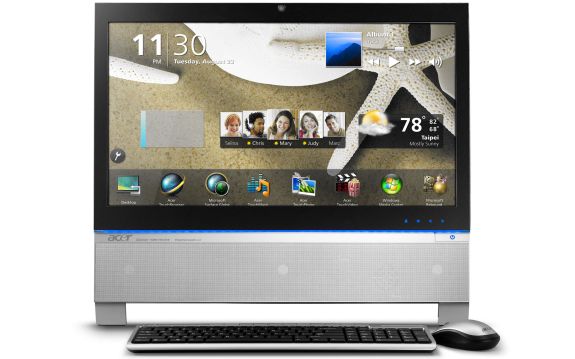 Perhaps looking to put computers in studies and bedrooms as well, Acer has launched two new all-in-one computers. The Aspire AZ3100 features a 21.5" display with a 1080p resolution. Performance comes from a single-core AMD Athlon II 170u 2.0GHz processor and an NVIDIA GeForce 9200 IGP—not the latest and greatest, certainly, but fast enough for plenty of tasks. The AZ3100 also comes with 3GB DDR3 SDRAM and a 500GB HDD and it supports 5.1-channel audio and features two built-in speakers. Rounding out the package are an integrated DVD writer (sorry, no Blu-ray combo drive), webcam, and microphone. Connectivity consists of HDMI, six USB 2.0 ports, WiFi 802.11b/g/n and Gigabit Ethernet. It comes with a wireless keyboard and mouse and runs Windows 7 Home Premium, with a suggested retail price of $600; that unfortunately makes it $100 more than the similar spec'd HP Omni 100z. You could even configure the HP with a dual-core AMD Athlon II and still save money, though there's currently a $150 "HP instant savings" in effect, so YMMV.
The second all-in-one, the Aspire AZ5700 features a 23" multi-touch capable HD display and a built-in TV tuner. This model uses an Intel Core i5-650 3.2GHz processor and Intel's integrated HD Graphics to provide the power. The system comes with 4GB DDR3 SDRAM, a 1TB HDD, 5.1 channel audio support, and an integrated DVD writer. Ports consist of HDMI, IR blaster (for remote controls), and six USB 2.0 ports. It comes with a wireless keyboard and mouse and runs Windows 7 Home Premium. Also included is Acer's TouchPortal software that provides a unified suite of touch driven programs for viewing photos, playing music and video, and various other functions. This model should be available shortly with a suggested retail price of $1099. If you're willing to forego the touchscreen, that's only $100 less than the base model Apple iMac, which includes a discrete GPU for added functionality. I know which I'd rather have.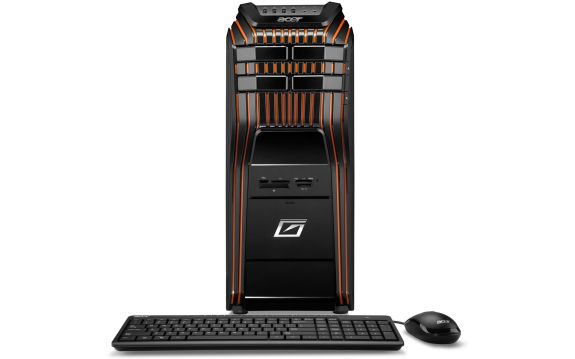 Rounding out the new releases are two gaming machines aiming at the upper midrange/lower high-end markets. The Acer Predator AG5900-U3092 is described as a mainstream model with a quad-core Intel Core i7-870 running at 2.93GHz (Turbo Boost up to 3.6GHz) and a AMD Radeon HD 5850 1GB GPU. It has 8GB DDR3 SDRAM and a 1.5TB HDD. It features an eye-catching/ugly black and orange chassis with four USB 2.0 ports and headphone/microphone ports at the front for easy access. It also comes with a multi-card reader and DVD writer. The chassis has four storage bays, two of which are easy-swap allowing removal and addition of drives without opening the chassis. It has an available 5.25" optical drive bay too. At the back are another eight USB 2.0 ports (sorry, no USB 3.0 here), an HDMI port, additional audio jacks, Ethernet, one DisplayPort and two DVI ports. Blu-ray is again conspicuous by its absence, but should you wish to carry this behemoth around it features a handle.
If that system isn't enough, the Acer Predator AG7750-U3222 aims to deliver even performance for gaming enthusiasts. It packs a quad-core Intel Core i7-930 (2.8GHz with Turbo Boost up to 3.06GHz) and an NVIDIA GeForce GTX 470, with a motherboard capable of supporting three GPUs in SLI. We'd be careful, though, as the 750W PSU should probably stick with SLI GTX 470 as a maximum. Acer also touts 3D gaming if you purchase their optional GD245HQ/GD235HZ LCD, though you'd still need the 3D Vision kit. The AG7750 comes with 7.1-channel audio and EAX 5.0 support (Environmental Audio Extensions).
A mammoth 12GB DDR3 SDRAM and 1.5TB HDD are included, with another three empty drive slots available should you want up to 8TB of total storage (2TB per drive). This is all stored in a two-part liquid cooled black and orange chassis that features a mechanized front cover. The cover exposes a multi-card reader, USB and audio ports. Again, no Blu-ray combo drive, but there's a DVD writer and an available 5.25" bay allows for another optical drive. A total of eleven USB 2.0 ports (five at the front, six at the back—but no USB 3.0), IEEE 1394, two eSATA ports, two Ethernet ports, two DVI-D ports (up to 6 if you install three graphics cards), five audio jacks and various other sockets are available for connectivity.
The Acer Predator AG5900 is available for $1350 while the AG7750 is available for an MSRP of $2000—though we can already find it at Newegg for $1850. To say these are niche products is an understatement. The performance is certainly there, but aesthetics are likely to be highly polarizing (with a heavy slant toward the "yuck!" side of the continuum), and Acer isn't known for their long-term reliability. What's more, pricing isn't likely to thrill, as you can easily put together comparable systems for less money—we were able to spec out a system similar to the AG7750, though without the Predator chassis or water-cooling, for just under $1500. For a pre-assembled system, it carries a reasonable price, but most likely the "mechanized" cover is going to be a make-or-break deal.