Cooler Master
The major drag about our visit to Cooler Master was the fact that the best product they had up for show is under NDA and will be kept under wraps until likely 3Q11. It's a tragedy really, all the best stuff was behind closed doors and we couldn't show you or talk about it except to say that it's worth waiting for.
They did show off their line of power supplies, and one of particular interest was a single 1.2 kilowatt unit that was shown simultaneously powering three Lynnfield systems, each equipped with an NVIDIA GeForce GTX 460.
While the mechanical gaming keyboard was comfortable to use and the gaming mouse, though shaped like a hockey puck, actually felt and tracked very well (and featured nine buttons in places you'd actually press them), some of their more impressive innovations were in cooling. One of their processor heatsinks, dubbed the Gemini, is a unique design that actually orients the cooling fin array horizontally instead of vertically, and as a result the large fan and heatsink array actually hovers over the memory slots on most boards. The downward-facing fan then is able to cool both the processor and the memory, though enthusiast RAM with high heatspreader fins won't fit under it.
Their entry into water-cooling kits was also noteworthy: while the 120mm radiator and fan kit wasn't distinguishable from any others (and even the rep admitted as much), the secret ingredients were in the block that affixed to the processor. The pump built into the block is capable of moving tremendous amounts of liquid, but the real star of the show may be the copper piece that contacts the processor. Internally Cooler Master uses a lattice of fins that substantially increases the amount of surface area the liquid comes into contact with.
The Storm series case we were shown was an intriguing design; outside of the Cosmos, Cooler Master tends to produce feature-packed, affordable cases, and this one was no different. It featured space for water cooling, removable cable routing for the power supply, and tool-less drive installation. We're looking forward to getting some of Cooler Master's cases on hand for review soon.
Thermaltake
Speaking of cases, Thermaltake is bringing something you've been waiting for down to a still-high-but-at-least-not-migraine-inducingly-high price in the form of the Level 10 GT. At $269 it isn't cheap, but still features a lot of the more interesting and practical design choices from the original Level 10, including largely isolated hot-swappable drive bays (all powered by a single molex connection), easy behind-the-motherboard cable routing, and tool-less 5.25" drive bays. Worth nothing also is the USB 3.0 bracket that plugs into the front: Thermaltake has it use the USB 3.0 motherboard header natively, but also includes a passthrough dongle if your board doesn't have the header.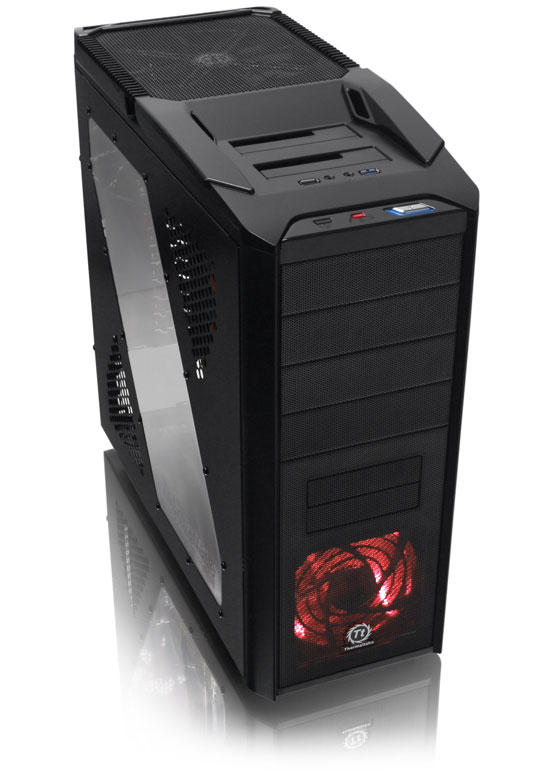 In addition to the Level 10 GT, Thermaltake showed off a case with a built-in BlacX dock on the top as well as USB 3.0-powered BlacX docks. Finally there were a pair of active-cooled 3.5" drive enclosures with largely toolless installations: remove two screws from a backplate (and the backplate itself), slide the drive in, snap a clasp into place and you're good to go (after replacing the backplate.) The fans are quiet and feature blue LED lighting that can be toggled off.
Patriot
Finally we visited with Patriot. We were used to seeing Marvell-powered SATA 6Gbps SSDs, but Patriot revealed they were working on a SandForce SF-2000-based one. They also showed off memory kits XMP-enabled for Sandy Bridge and a remarkably fast USB 3.0 flash drive. The drive is the same size as a conventional thumb drive, but is rated to run at up to 100MB/sec on read and 70MB/sec on write.
Their last big product they wanted to show off was a network-attached storage box called the Javelin. Intended to be viewed more as a media server, Patriot took a page out of Apple's book and elected to design more around simple configuration and user experience, and they seemed to be on the right track, opting to let the users configure for "reliability" instead of just saying "RAID 1" or "RAID 5." For more advanced users there are a slew of features, though, including the ability to VPN into the box to stream video from it through your browser from anywhere. The four-bay version was given an MSRP of $389, though there will also be a two-bay version available.