What About The 13?
Apple's new 13-inch MacBook Pro received the biggest upgrade of the lot. Last year Apple opted against moving the 13-inch model to Arrandale and instead gave it a beefy GPU and a mildly evolved Core 2 Duo CPU. The presumed public reasoning was Apple didn't like Arrandale's GPU performance and needed a two chip solution to maintain the platform's size hence the NVIDIA GT 330M + Intel Core 2 Duo setup. Internally I'm wondering if there was a small amount of corporate politics being played there. Apple used to get a discount on Intel CPUs in exchange for exclusivity, that agreement expired with Nehalem. When Nehalem hit, Apple had to pay the same price as everyone else for CPUs. Now does the 2010 Core 2 based 13-inch MacBook Pro make more sense? Keeping Intel's flagship CPU out of Apple's highest volume MacBook Pro had to hurt. I wonder if Apple got discounted pricing on Sandy Bridge as a result...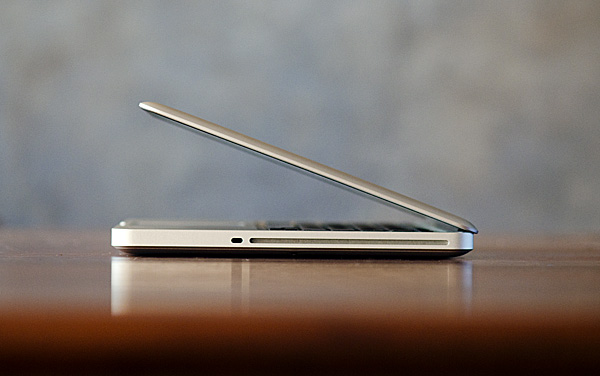 | | | | |
| --- | --- | --- | --- |
| Evolution of the 13-inch MacBook Pro | Early 2011 | Mid 2010 | Late 2009 |
| CPU | Intel Core i5 2.3GHz (DC) | Intel Core 2 Duo 2.40GHz (DC) | Intel Core 2 Duo 2.26GHz (DC) |
| Memory | 4GB DDR3-1333 | 4GB DDR3-1066 | 2GB DDR3-1066 |
| HDD | 320GB 5400RPM | 250GB 5400RPM | 160GB 5400RPM |
| Video | Intel HD 3000 (integrated) | NVIDIA GeForce 320M (integrated) | NVIDIA GeForce 9400M (integrated) |
| Optical Drive | 8X Slot Load DL DVD +/-R | 8X Slot Load DL DVD +/-R | 8X Slot Load DL DVD +/-R |
| Screen Resolution | 1280 x 800 | 1280 x 800 | 1280 x 800 |
| USB | 2 | 2 | 2 |
| SD Card Reader | Yes | Yes | Yes |
| FireWire 800 | 1 | 1 | 1 |
| ExpressCard/34 | No | No | No |
| Battery | 63.5Wh | 63.5Wh | 60Wh |
| Dimensions (W x D x H) | 12.78" x 8.94" x 0.95" | 12.78" x 8.94" x 0.95" | 12.78" x 8.94" x 0.95" |
| Weight | 4.5 lbs | 4.5 lbs | 4.5 lbs |
| Price | $1199 | $1199 | $1199 |
While the 15-inch MacBook Pro is quad-core only, the new 13 is strictly dual-core. You get two options: a 2.3GHz or 2.7GHz dual-core Core i5 or Core i7. In Intel speak it's the Core i5-2410M or the Core i7-2620M (it's no wonder Apple doesn't list model numbers for these things).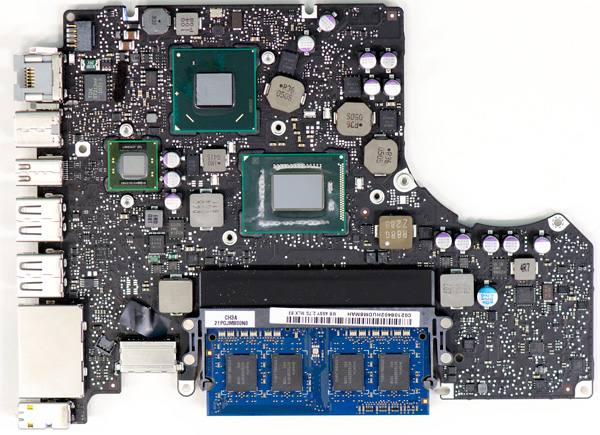 The 2011 13-inch MacBook Pro Motherboard
Apple 13-inch 2011 MacBook Pro CPU Comparison
2.3GHz dual-core
2.7GHz dual-core
Intel Model
Core i5-2410M
Core i7-2620M
Base Clock Speed
2.3GHz
2.7GHz
Max SC Turbo
2.9GHz
3.4GHz
Max DC Turbo
2.6GHz
3.2GHz
GPU Base Clock Speed
650MHz
650MHz
GPU Max Turbo
1.2GHz
1.3GHz
L3 Cache
3MB
4MB
AES-NI
No
Yes
VT-x
Yes
Yes
VT-d
No
Yes
TDP
35W
35W
The primary differences between these two parts are clock speed, L3 cache size and AES-NI support once again. The 2.3GHz Core i5 lacks AES-NI, has a 3MB L3 cache and can only turbo up to 2.9GHz. The 2.7GHz Core i5 has AES-NI, a 4MB L3 cache and can turbo up as high as 3.4GHz.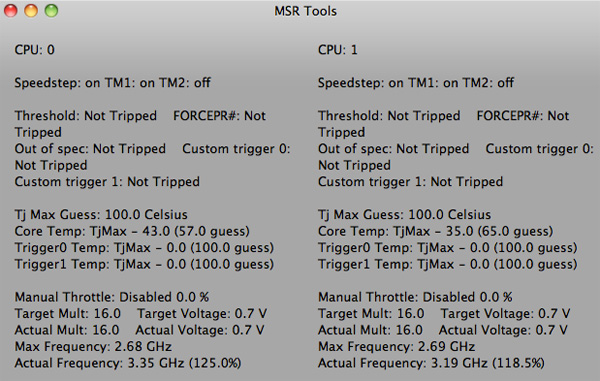 I verified turbo frequencies on the 2.7GHz 13-inch. The highest I saw single core turbo hit was 3.4GHz, and dual core turbo was good for 3.2GHz. There's absolutely no funny business going on here, the dual-core 2.7 is allowed to hit its maximum frequencies.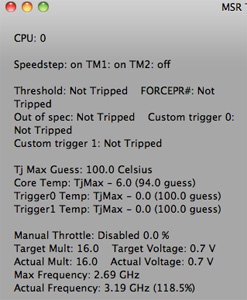 You'll notice that the 2.7GHz DC chip has the same max single core turbo as the 2.3GHz QC chip from the upgraded 15-inch MacBook Pro. In practice this means that for light workloads the upgraded 15 won't feel any faster than the 13 (or that the 13 will feel as fast as the 15 depending on how you look at it). I'm talking about things like web page load times and application launch/install times. There may even be a slight performance advantage for the 13-inch setup as it's able to turbo up to higher frequencies easier than the quad-core 15. Crank up the threads and you've got a different story entirely of course. There's no replacement for more cores on highly threaded workloads.