Along with the main retailers, the minor ones are also showcasing products. We've reviewed Biostar products before at AnandTech, but not Jetway and Giada, both of which are now selling consumer level products in North America.
Our main criticism with Biostar in the past is PCIe and feature placement. On one series of products, Biostar has to a certain extent listened – the Z68 series have spaces between the PCIe x16 and space for a PCIe 1x and PCI. However, the video outputs on the TZ68A+ are all spread out – meaning a lack of USB ports (two USB 2.0, two USB 3.0), only 2.1 channel audio, and no space for multiple LAN connections. The SATA ports are also odd: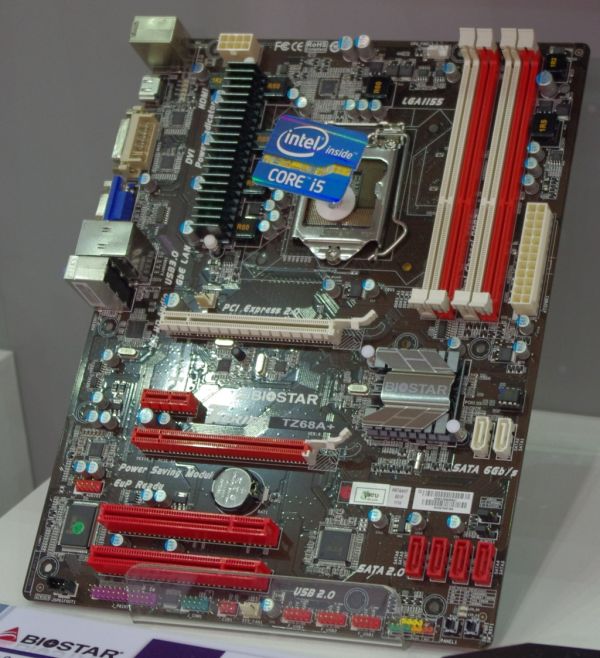 The TA990FXE however goes the other way – the video outputs are nicely positioned, as well as the SATA ports. But the board offers four full length PCIe all next to each other and no other PCIe available if two dual slot GPUs are used.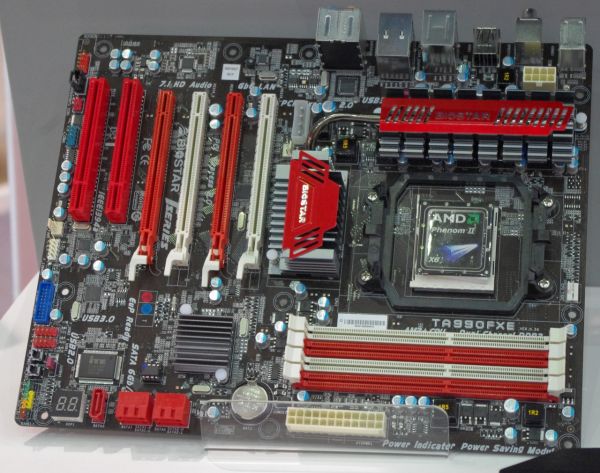 Jetway has been producing motherboards for quite a while – if you've ever searched Newegg, you'll find a few products in various categories and price points. In terms of recent developments, Jetway has surprisingly produced a P67 and a Z68 board – what they deem their 'Hummer' series for their enthusiast consumers. Two main features stand out when looking at the board – one if they have the rights to use the Hummer name in North America, and two that the memory compatibility is only to DDR3-1333 MHz. You would expect higher-end products for enthusiasts to support the higher end memory speeds, but it's up to the consumer to decide if they need it apparently. (Apologies for the images, Jetway decided to put a highly reflective glass in front of all their motherboards.)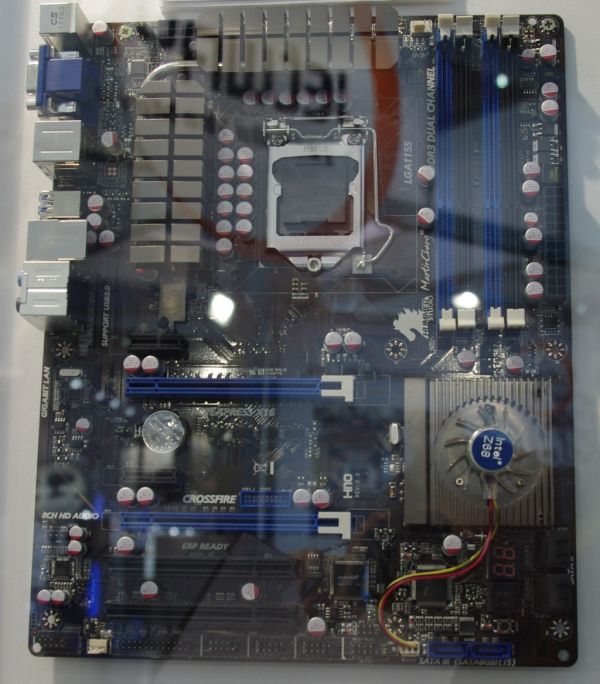 Jetway have a series of Q67 products, mainly aimed at business and industry: one in particular has up to 10 COM ports possible – at the expense of only having one SATA port. For AMD, they actually had a Hudson-D3 platform at the booth – again with the Hummer branding, and with 1333 MHz memory compatibility. Though one thing I do like is that the extra power for the PCIe is at the bottom – as is becoming more common, the PSU is at the bottom of the case, so having this extra 4-pin power at the bottom of the board makes sense.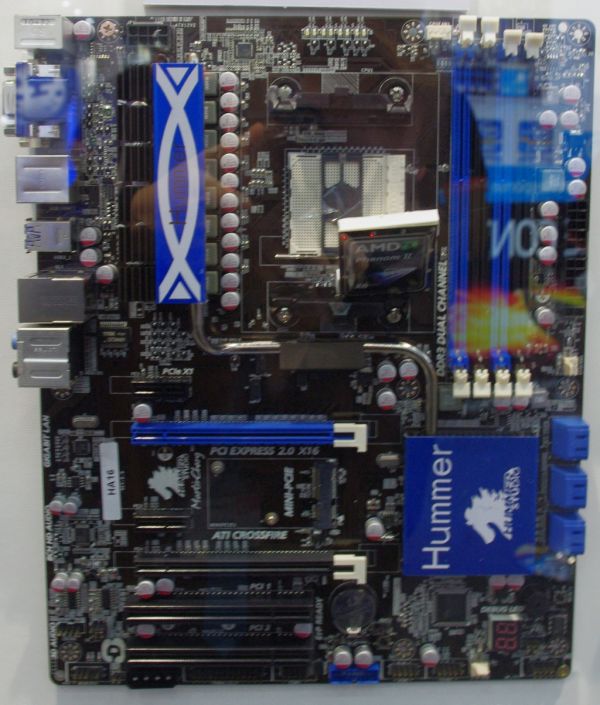 Giada is a division of the Shenzhen Jiehe Technology Development (JEHE) company based in China. They have been selling in Asia for a while, and I noticed them starting to sell product over at Newegg for the US market. So out of curiosity, I stopped by the booth at Computex to examine their range of products and a talk with the sales rep. Giada's current situation is to slowly move into various low-level motherboard segments within North America – currently they focus on mini-ITX platforms and the OTX form factor for all-in-one PCs (which is contrary to Intel trying to utilise thin mini-ITX).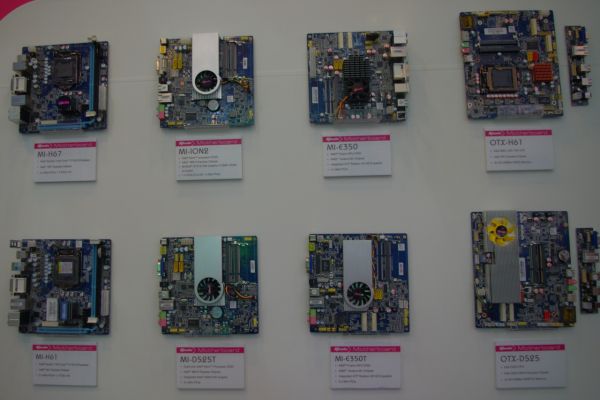 For mini-ITX, Giada had an H55, H61 and H67 motherboards on show, all using one PCIe x16 and mini-PCIe. At first glance the only thing that looks fairly odd is that the SATA ports are found just inside the DIMM slots, presumably making it hard to fit in cables if the slots are filled with memory and/or a large GPU is used. An E350 Fusion board was also on the show, offering two mini-PCIe, using SO-DIMM memory and a rather odd SATA positioning as well. I would also point out only one fan header on most of these models, suggesting that no serious coolers or fan controls would be present.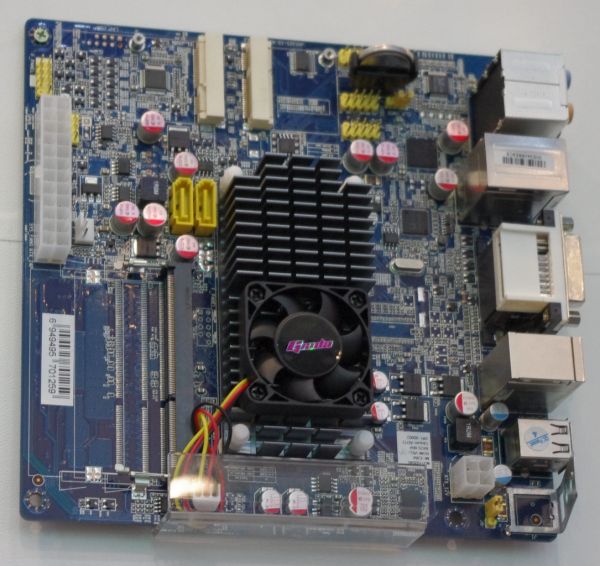 There was an ATX size Z68 on show, but apparently Giada has no intention of releasing this in North America just yet. From the design, it doesn't look too bad for the color scheme – there didn't see much in the way of power delivery for overclocking however, and presumably no support for memory greater than 1333 MHz.