Introducing the Thermaltake Level 10 GT
This promised to be a good month for big stonking enthusiast-class cases, and we're delivering on the second half of our one-two punch with Thermaltake's monstrous Level 10 GT. This is the biggest, most expensive enclosure we've reviewed to date. It was one of the major centerpieces of Thermaltake's line-up back at CES, and later it showed up housing one of the most powerful gaming systems we've ever reviewed, the CyberPowerPC Gamer Xtreme FTW. Today we get to take a look at the Level 10 GT on its own and pit it against the best and brightest we've been sent so far.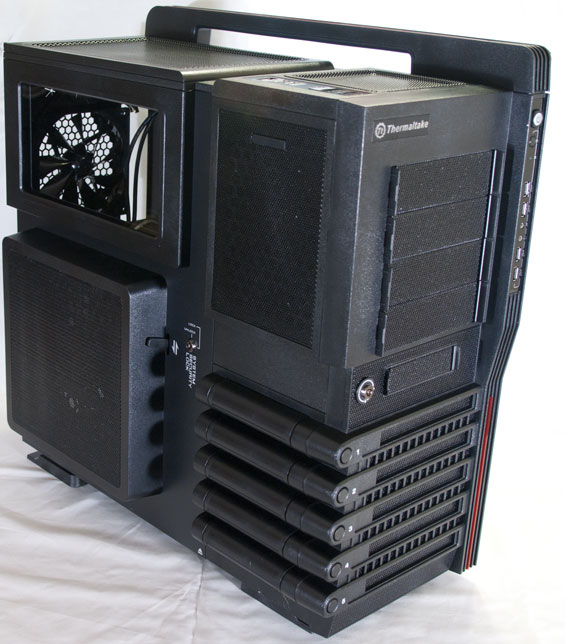 When I reviewed the CyberPowerPC unit back in May, I found myself with some reservations regarding the Level 10 GT. A great many of those were ameliorated when I went to actually test that tower and found it to be a remarkably capable enclosure, able to dissipate the heat generated by a pair of GeForce GTX 590s and a massively overclocked Intel Core i7-990X without creating too much of a racket. At the very least on that front it seemed like it would be a winner, and spoiler alert: it is.
Within that review I stated that I'd come back and review the Level 10 GT on its own merits, and that's on the docket today.
Thermaltake Level 10 GT Specifications
Motherboard Form Factor
Extended ATX, ATX, Micro ATX
Drive Bays
External
4x 5.25", 1x 3.5"
Internal
5x 2.5"/3.5" (see above)
Cooling
Front
1x 200mm fan
Rear
1x 140mm fan
Top
1x 200mm fan
Side
1x 200mm fan
Bottom
1x 120mm fan mount
Expansion Slots
8
Front I/O Port
4x USB 2.0, headphone and mic jacks
Top I/O Port
2x USB 3.0, eSATA, fan controller, fan lighting toggle
Power Supply Size
ATX
Clearance
13.5" (Expansion Cards), 190mm (CPU HSF), 290mm (PSU)
Weight
28 lbs.
Dimensions
23" x 11.1" x 23.2"
Price
$269
From the stats it's pretty easy to tell: the Level 10 GT is big. Off the cuff it looks like it retains a lot of the design and compartmentalizing cues from the original (and comically expensive) Level 10, but as we get into the review you'll see the Level 10 GT is really a very different beast.