Introducing the AVADirect Compact Gaming PC
It's easy to build a powerful desktop if you take a big, beefy enclosure like SilverStone's FT-02 or the Thermaltake Level 10 GT and just fill it with the highest performance parts on the market, overclock them, and call it a day—and certainly we've seen our share of those. Taking all of that raw performance and shrinking it into a MicroATX case can be a little more difficult, though, especially when you're dissipating a cumulative TDP of at least 730 watts. Yet when we saw that AVADirect had produced another compact but incredibly high performance gaming desktop, we had to take a look. Gulftown may be on its way to bed soon with the advent of Sandy Bridge-E, but let's see if we can't give it one last hurrah in the process.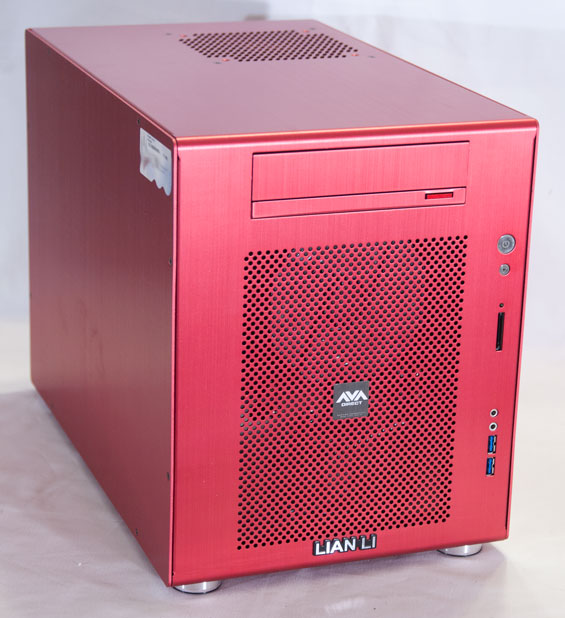 While this custom build isn't super compact, it's certainly a fair sight smaller than many of the gaming systems we've reviewed. It sure doesn't feel smaller when you carry it, though, and that may have something to do with the configuration.
AVADirect Compact Gaming PC Specifications
Chassis
Lian Li PC-V354 Red
Processor
Intel Core i7-990X overclocked to 4.4GHz
(spec: 6x3.46GHz, 32nm, 12MB L3, Turbo to 3.73GHz, 130W)
Motherboard
ASUS Rampage III Gene Motherboard with X58 and ICH10R chipset
Memory
3x4GB Kingston HyperX DDR3-1600 (expandable to 48GB)
Graphics
2x AMD Radeon HD 6990 4GB GDDR5
(GIGABYTE GV-R699D5-4GD-B, Radeon HD 6990)
(2x1536 stream processors, 830MHz/5GHz Core/RAM, 256-bit memory bus)
Hard Drive(s)
Intel 510 250GB SATA 6Gbps SSD
Seagate Barracuda XT 2TB SATA 6Gbps HDD
Optical Drive(s)
HL-DT-ST BD-RE
Networking
Intel 82567V-2 Gigabit Ethernet
Audio
VIA VT2020 HD Audio
Speaker, mic, line-in, and surround jacks for 7.1 sound
Optical out
Front Side
2x USB 2.0 (3.0 connected to 2.0 header)
Mic and headphone jacks
SD card reader
Optical drive
Top
-
Back Side
1x PS/2
7x USB 2.0
Optical out
6-pin FireWire
Gigabit ethernet
2x USB 3.0
Speaker, mic, line-in, and surround jacks for 7.1 sound
2x DVI-D
8x Mini-DisplayPort
Fan controllers
Operating System
Windows 7 Home Premium 64-bit
Dimensions
9.65" x 13.6" x 16.54"
Weight
9.2 lbs (case only)
Extras
Custom air cooling design
BD-RE
Overclocked CPU
Warranty
3-year limited parts and labor
Pricing
Starts at $1,334
Priced as configured: $4,983
These days one of the big questions for boutiques, at least as far as I've heard, has really been this: "Gulftown or Sandy Bridge?" AnandTech readers are a fairly informed lot, so for them it's (almost) a no brainer: Sandy Bridge. So why is the AVADirect system we have in house Gulftown-based? The answer turns out to be a bit complicated.
I don't presume to speak for AVADirect or really any of the boutiques, but this is a question that I've fielded a couple of times, because it boils down to the two extra cores on Gulftown plus the X58's dual full 16x PCI Express 2.0 lanes. In print, both of these just look better to the average consumer than the "limitations" Sandy Bridge poses. You may be able to get an NF-200-equipped motherboard to at least checkbox the PCI Express limitation, but Sandy Bridge doesn't presently offer six executable cores. Even though virtually no games will take advantage of them (and in fact, generally speaking Sandy Bridge is the superior gaming CPU), it's still an important checkbox for the more-money-than-sense market.
As an aside, I do want to point out that while the Intel Core i7-2600K is preferable to the i7-990X in 90% of cases, there are the 10% of us that do video editing on our PCs. In those instances, the i7-990X's two additional cores can make a tremendous difference that Sandy Bridge needs a heavy overclock to make up.
For the rest of the system, I'll just say that I saw AVADirect sending a similar build out to other sites and had to bring the tiny monster in house for a review, if only to satisfy my own curiosity. In the process they gave me some options for how to configure it, and the only request I made was the CrossFired AMD Radeon HD 6990s. This is a configuration I just haven't had the opportunity to test yet, something I've rectified here.