Last month OCZ finally unveiled the fruits of its Indilinx acquisition: the OCZ Octane SSD. Based on the Indilinx Everest platform, the Octane was to be OCZ's more affordable high-performance SSD. The drive will be available in two versions: 3Gbps (async NAND), and 6Gbps (sync NAND). Capacities start at 128GB and go all the way up to 1TB.
The drive was originally supposed to be available in the channel starting on November 1st. OCZ delayed the launch in order to get some additional testing under its belts. Given the not too distant memories of the infamous SF-2281 BSOD issue, the additional validation time is definitely appreciated.
We just got our review sample yesterday and we won't be able to share the complete review with you all until tomorrow morning. To tide you over however I convinced OCZ to let me share one benchmark graph with you: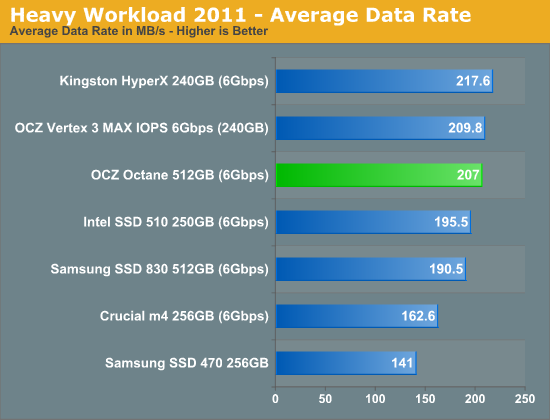 In our Heavy 2011 suite the 512GB Octane does very well, hot on the heels of the SF-2281 based Vertex 3. It's actually beyond impressive that OCZ was able to ressurect Indilinx's seemingy dead controller project and turn it into something that can at least (on the surface) hang with the big boys. I have a lot more testing ahead of me before I can really characterize the drive's performance, but this is a very good start.
OCZ is touting incompressible performance as a major advantage of the Octane over its Vertex 3/Agility 3 drives. The controller is more traditional in the sense that it doesn't do any real time data deduplication/compression. The drive's performance is data agnostic, similar to drives from Intel, Crucial, Samsung, etc...
Inside the chassis we get a look at the drive's Indilinx controller and 512MB (2 x 256MB) DRAM cache. Our 512GB sample features sixteen 32GB Intel 25nm NAND packages, each with four die per package.
Check back tomorrow morning for the review!