Introducing the AVADirect Silent Gaming PC
One of the benefits of going with a boutique builder is being able to get custom machines that are a little more specialized than what you might get from HP or even Alienware. While bigger vendors can produce their own cases, those designs have to suit a wide variety of customers. Boutiques can cherry pick existing hardware and modify it for specific purposes, gearing each build to suit the end user's exact needs. It's the same benefit many of us enjoy from building our own machines, but for those who can't or won't, builders like AVADirect are here to pick up the slack.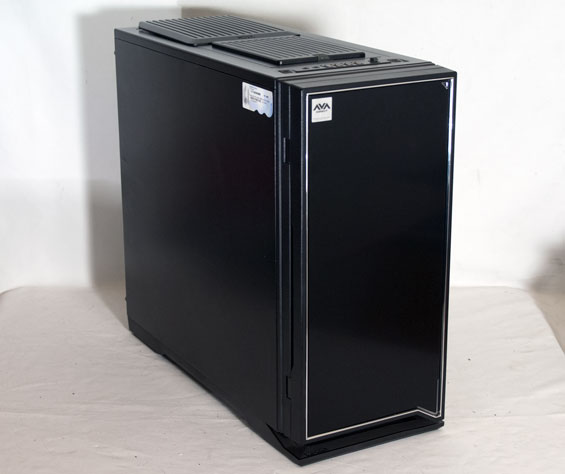 Which leads us to today's build, which AVADirect dubs their Silent Gaming PC. Their builders have tried to take a standard powerhouse boutique machine and kill the noise. Did they succeed, or is the Silent Gaming PC only the sum of its parts? To AVADirect's credit, as you'll see from the spec sheet below they tried fairly hard to produce a system that actually is balanced. What do I mean by balanced?
Generally when you overclock or even just choose components, there's an inflection point where power consumption, expense, and performance line up. This is the reason Sandy Bridge-E isn't particularly attractive to most users, why SLI or CrossFire are seldom worthwhile, and why it often only makes sense to overclock hardware so far. AVADirect produced a system that, as you'll see, smartly targets the sweet spot for enthusiasts: enough CPU performance to handle any task and enough gaming performance to handle any single-monitor configuration (generally 1080p). And in the process, they tried to keep it quiet.
AVADirect Silent Gaming PC Specifications
Chassis
NZXT H2
Processor
Intel Core i7-2700K
(4x3.5GHz + HTT, Turbo to 3.9GHz, 4.6GHz Overclock, 32nm, 8MB L3, 95W)
Motherboard
ASUS P8Z68-V Pro (Z68 Chipset)
Memory
2x4GB G.Skill DDR3-1600 @ 1600MHz (expandable to 32GB)
Graphics
NVIDIA ASUS ENGTX580 GeForce GTX 580 1.5GB GDDR5
(512 CUDA Cores, 782/1564/4008MHz core/shaders/RAM, 384-bit memory bus)
Hard Drive(s)
OCZ Vertex 3 120GB SATA 6Gbps SSD
Western Digital Caviar Green 2TB SATA 6Gbps HDD
Optical Drive(s)
LG BD-RE (WH12LS30)
Networking
Intel 82579V Gigabit Ethernet
Audio
Realtek ALC892
Speaker, mic/line-in, surround jacks, optical out for 7.1 sound
Front Side
Optical drive
Card reader
1x USB 2.0
Top
1x USB 3.0
3x USB 2.0
Headphone and mic jacks
Fan controller
SATA hotswap bay
Back Side
6x USB 2.0
Bluetooth
2x eSATA
DVI-D (Z68)
VGA (Z68)
HDMI (Z68)
Optical out
Ethernet
4x USB 3.0 (one routed to front)
2x DVI-D
1x HDMI
1x DisplayPort
Operating System
Windows 7 Home Premium 64-bit SP1
Dimensions
20.47" x 8.46" x 18.35" (WxDxH)
Extras
Card reader
Seasonic X-660 80 Plus Gold 660W Modular PSU
ASUS ENGTX580 with triple-slot cooler
Prolimatech Magahalems CPU cooler with two 120mm fans
Warranty
3-year parts, labor and tech support
Pricing
Starts at $664
Review system configured at $2,224
For the price, you actually do get a decent amount of machine. AVADirect equipped our review unit with Intel's fastest Sandy Bridge processor along with a GeForce GTX 580 with a custom triple-slot cooler to hopefully help reduce noise levels during gaming. 8GB of DDR3 isn't mind-blowing at this point, but it's more than enough for most users, and AVADirect wisely continues to employ an SSD system drive and HDD storage drive configuration.
I'm also happy to see a high quality power supply along with a high-end CPU cooler. When trying to achieve absolute silence, high-end air-coolers are often preferable to water-cooling systems, and AVADirect has chosen to incorporate two Gelid silent 120mm fans in a push-pull configuration on the Prolimatech Megahalems tower heatsink.