It looks like there's a bit of confusion on some embargo dates, but Origin PC has released some details on their upcoming EON15-S and EON17-S notebooks. The big news is a new GTX 680M GPU based on a higher performing Kepler core. NVIDIA has asked us to hold off on providing the full details of the GTX 680M until the embargo lifts later today, so we'll just stick to what Origin has disclosed: you get 1344 CUDA cores and 4GB of GDDR5 memory. The new EON models (which are basically customized Clevo builds) also support NVIDIA's Optimus Technology to give you high performance without necessarily sacrificing battery life.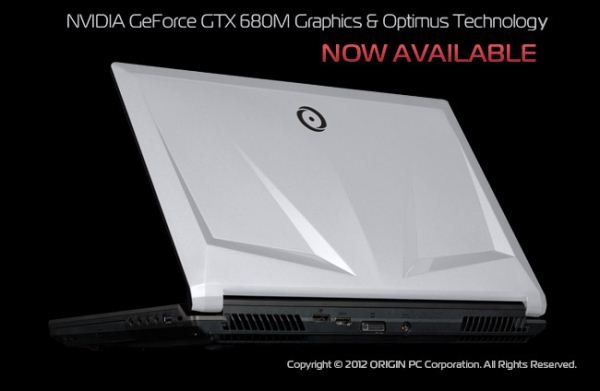 Given what we've already seen of mobile Kepler in the GK107—and here's the DDR3 variant with a ULV CPU—the GTX 680M looks to be a mobile beast. Origin has their updated EON15-S and EON17-S configuration tools live already; pricing looks to start at around $2000 for the 15-S with GTX 680M while the 17-S starts at closer to $2100 with the GTX 680M; the 15-S has an estimated ship date of July 5 and the 17-S estimated ship date is June 25.
A quick run through of the remaining options shows that both notebooks support 1080p displays (in glossy or matte), have backlit keyboards with three customizable lighting zones, and there are a variety of CPU, graphics, and storage options. Both notebooks feature four SO-DIMM slots with support for up to 32GB (4x8GB) DDR3-1600 memory.
For the CPU, Origin offers dual-core and quad-core Ivy Bridge processors starting at the Core i5-3320M (2.6GHz, up to 3.3GHz Turbo, 3MB L3, 35W) and extending up to the top-end Core i7-3920XM Extreme Edition (2.9GHz, up to 3.9GHz Turbo, 8MB L3, 55W); the EON17-S also offers an overclocked CPU option that bumps the maximum clock speeds to 4.1-4.5GHz with Turbo Boost. Given the pricing, the i7-3720QM ($174 extra) looks to be the sweet spot in terms of maximum performance without breaking the bank. GPU choices other than the GTX 680M (a $524 upgrade) range from GTX 660M 1.5GB on the low end up through GTX 675M 2GB ($197) and Radeon HD 7970M 2GB ($238); Quadro FX 2800M 1GB ($763) and Quadro 5010M 4GB ($2209) are also available, along with GTX 670M ($48). A $50 upgrade will also buy you Origin's "Professional Graphics Card Overclocking", which provides you with a factory guaranteed GPU overclock, though it's not clear how far Origin is able to push the various GPUs.
Rounding out the major configurable areas, storage options on the optical drive include the usual trio of DVDRW, Blu-ray combo, and Blu-ray burner—or you can get a hard drive caddy for the optical drive bay (no RAID support). For mass storage, Origin supports 40GB and 80GB Intel 310 series mSATA drives for caching (if you use a mechanical hard drive) or as additional storage. The EON15-S has a single 2.5" drive bay while the EON17-S features two drive bays and RAID 0 or RAID 1 support. Besides 320/500/750GB 7200RPM HDDs and a 1TB 5400RPM HDD, Origin offers 60GB-480GB Corsair Force GT SSDs, 120/240GB Kingston HyperX SSDs, 60-480GB Intel 520 Series SSDs, or 64-512GB Samsung 830 Series SSDs (and the same drive options are available if you get the optical bay caddy).
And as noted above, we'll have full details on NVIDIA's GTX 680M later today, so stay tuned.