For the first time, in our Nexus 7 review, I started seriously looking at integrated storage performance of tablets and smartphones. I've casually done this in the past, but users complaining of poor system responsiveness with background writes on ASUS' Transformer Prime/Pad series demanded something a little more thorough.
As I mentioned in our Nexus 7 review, most tablet and smartphone makers integrate a single chip controller + NAND combo to save on cost and space. In the case of the 8GB Nexus 7, you get an 8GB eMMC package from Kingston. In this tiny package is an eMMC controller and NAND die. The component list should sound familiar to anyone who remembers the earliest affordable MLC SSDs for PCs, particularly in the absense of any on-board DRAM for caching duties. The lack of DRAM is only part of the issue, the fact of the matter is these cheap eMMC controllers just aren't very fast - at least compared to high-end SSD controllers. Things will get better over time, but for now cost is still a major concern.
The Kingston controller in the 8GB Nexus 7 is much faster than what ASUS uses in the Transformer Prime/Pad series, but I had heard the controller in the 16GB models was even quicker. I just got my hands on a 16GB N7 and ran through the Android version of our standard four-corners SSD tests using Androbench. Just like last time I increased read/write sizes to 100MB in order to get consistent results out of the device.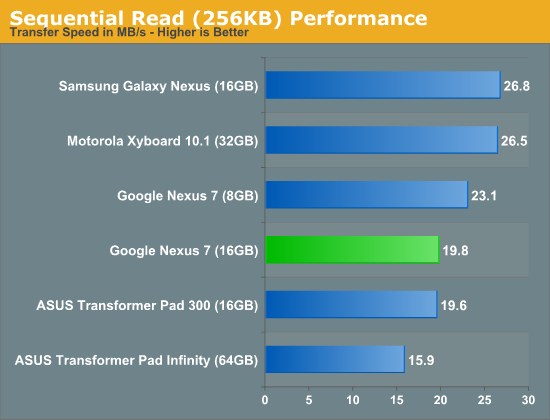 Sequential read speed is around 14% slower on the 16GB part, but it's still higher than what you'll get out of a Transformer Pad Infinity. The drop here is unfortunate as sequential read performance does matter - that's really the only downside to the 16GB model's IO performance though. The drop is also not significant enough to cause any additional stuttering or otherwise undesirable behavior.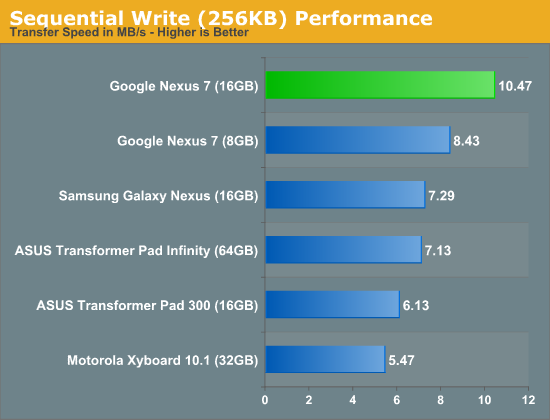 Sequential write speed is up by 24%, putting the Nexus 7 further ahead of the other devices I tested here.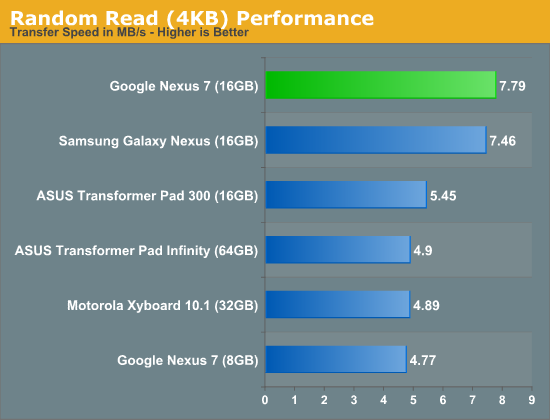 Random read performance shoots up by over 60%, putting the 16GB Nexus 7 ahead of the Galaxy Nexus.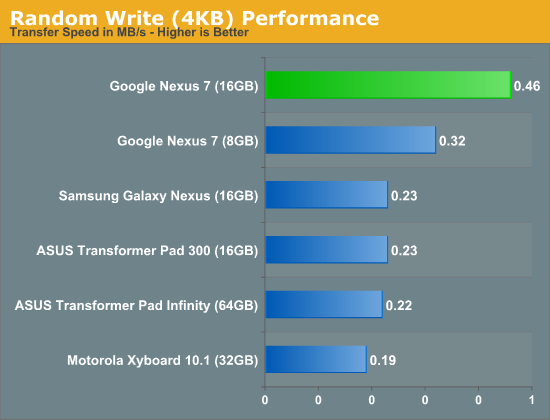 Random write performance sees a 43% increase, putting good distance between the 16GB and 8GB N7s. None of these numbers are particularly good (we're still talking about mechanical hard drive levels of performance here) but it's definitely a step in the right direction.
It's always possible that we'll see multiple controllers used in the 8 and 16GB Nexus 7s, but for now all of the 16GB models use the same controller. The difference in IO performance isn't significant enough to push you towards the $250 Nexus 7 if you don't need the extra space, but consider it an added benefit if you do order the 16GB model.