In and Around the Fractal Design Node 304
Part of the joy of going through this section with mITX cases is that, frankly, there often just isn't a whole lot to them. The Fractal Design Node 304 is particularly simple in its design, on par with the SilverStone SG05. That's not to say there isn't room for improvement, but the fact that the directions for assembly are less than a paragraph long and are pretty complete should be telling.
It doesn't make sense for a case designed essentially to be a mini-server to be particularly expensive, so Fractal Design opts for a simple plastic fascia with a brushed pattern. The front is wonderfully clean and spare, with only a small Fractal Design logo and the single activity LED breaking it up. On the right side of the removable front panel is the I/O cluster and power button, and the top has a simple grate that surprisingly doesn't negatively affect cooling that much, as you'll see later.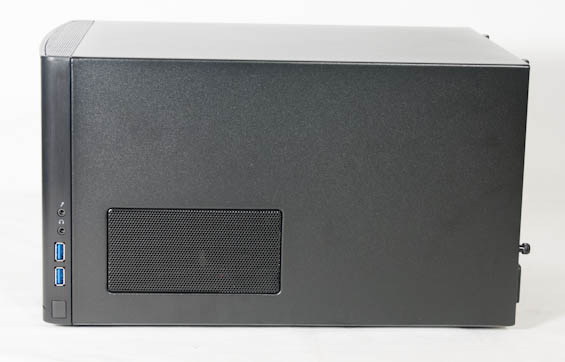 Ventilation is also kept remarkably minimal; there's a small vent on the right side for the power supply to exhaust and a case-long vent on the left side for the video card. The GPU vent also has a removable filter, but as a whole these two vents don't break up the design much at all. Finally, on the bottom of the case is an opening for the power supply's intake fan. Note that the Node 304 does sit fairly low to the ground, though. I'm not sure how negatively this will affect the PSU's longevity, but it bears mentioning.
Getting into the 304 is as easy as removing four thumbscrews and taking off the shroud. I'm still not big on the single unified shroud; getting the SG05's shroud back on was the stuff of nightmares and I can tell you right now that the 304's fares little better. When you open the 304 up, though, assembly becomes very simple to grok.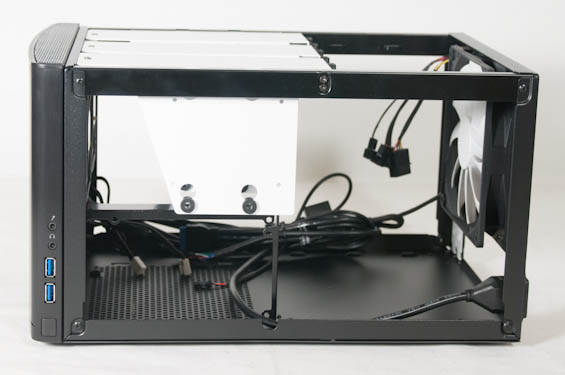 The mITX tray is obvious, as is the power supply mounting. Storage mounting is handled by a series of three removable brackets. I admire the simplicity of the Node 304; what we're going to struggle with here is essentially just space to put the cables. The rear of the case has a small bracket used to cover the area above the expansion slot covers, and there's a switch just above them that handles the fan controller.
Any day where I have to consult the manual just to make sure the case really is that simple to put together is a good one; the only thing the manual honestly needs to tell you is what order to install components in. This isn't going to be a clean assembly, but that's a luxury you seldom enjoy when you deal with enclosures this small.