Yesterday I played around with Intel's Lexington platform FFRD smartphone. Lexington is an entry level cousin of the Medfield platform which is based around Intel's Z2420 SoC and an Intel XMM 6265 baseband. The device includes a 3.5-inch HVGA display, 5 MP rear facing camera, and 1.3 MP front facing camera.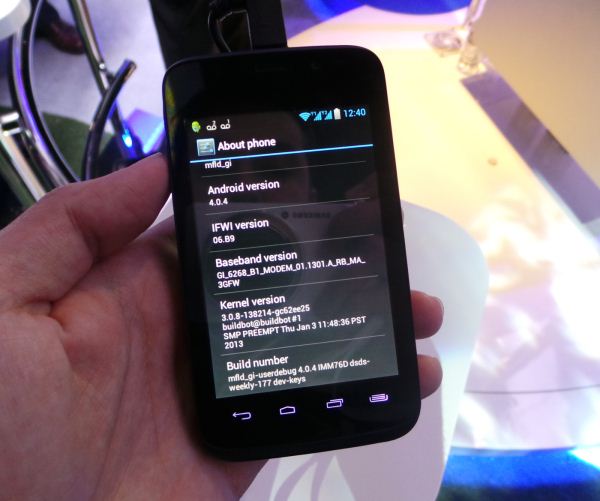 The Z2420 SoC inside Lexington is a lower clocked version of the Z2460 codename Penwell SoC, with CPU clocks down at 1.2 GHz instead of the Z2460's 1.6 GHz. I'm told that the SGX540 GPU clock remains 400 MHz, and memory bandwidth and interface remains the same as well. The Lexington was running Android 4.0.4 when I played with it. XMM6265 is an XMM6260 derivative that enables dual SIM operation, you can see in Android the two cell status bars and under about two sets of cell information. Lexington is aimed at emerging markets where dual SIM operation is a given, hence this architecture. There's also a removable 1500 mAh battery.
Performance on the Lexington was definitely a bit slower than the Medfield platform FFRDs I've played with (like the Lava Xolo X900 we reviewed or the Orange San Diego) but still pretty speedy. Stock browser performance and UI responsiveness subjectively seemed good to me. Construction is a bit thick, but one has to keep in mind this is an entry level device designed to go after the mass market and deliver performance that other lower end phones often based on ARM11 can't. I'm told cost will be extremely competitive — just like the Medfield FFRD Intel won't sell the Lexington FFRD shown here directly, but rather go after OEMs willing to take a nearly finished product to market.