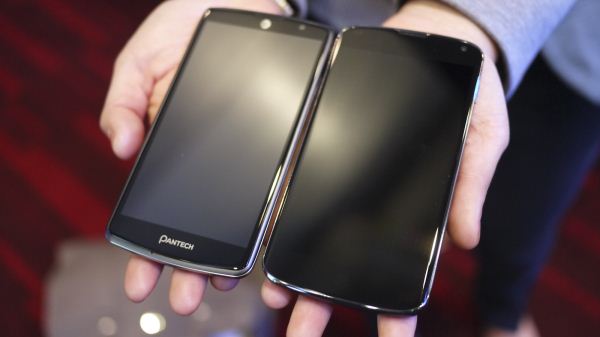 My weirdest meeting was probably with Pantech, who I met with in the Convention Center main concourse and seemed to not have an official presence at CES. Pantech's main announcement was the Discover, a 4.8" 720p Snapdragon S4 LTE device offered by AT&T for $49 on contract.
This is Pantech's first shot at making a really decent Android handset, a device they are hoping will rehabilitate Pantech's image and relevance in the smartphone age. And really, the Discover isn't a bad start. It's based around Qualcomm's now-ubiquitous MSM8960 chipset with dual-core Krait at 1.5GHz and Adreno 225 graphics, along with an integrated LTE module. The display is a decent 4.8" 720p unit, though not one that will blow you away with colours or viewing angle. Audio and photo performance were emphasized in the design, with stereo speakers that promise to be louder and better than most smartphones. OmniVision's 12.6MP OV12825 CMOS is the image sensor of choice, capable of 4224x3000 stills, HDR, and 1080p video. Other features include NFC, full VPN and Exchange Active Sync support, a micro-SIM slot, and a removable 8.0 Wh battery. It's running a lightly skinned Android 4.0, with an update to Jelly Bean promised "soon".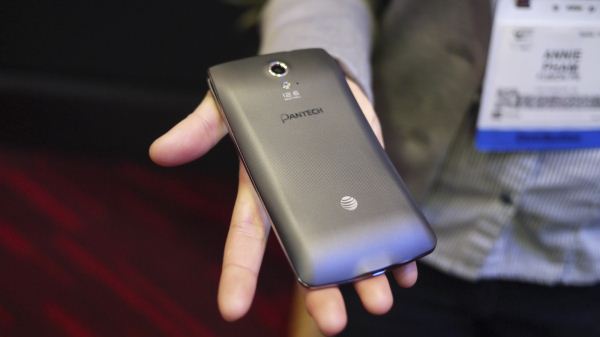 Build quality is actually quite solid, with a pleasing (if dull) industrial design that feels pretty good in hand. The battery cover is a nicely covered piece made with a textured rubber finish and feels more solid than many battery covers I've dealt with recently (Galaxy S III and Optimus 4X HD, take a bow). In fact, I'd say the Discover feels better in hand than the SGS3 does, though that isn't really any worthy distinction since I don't much care for the SGS3 hardware design.
The point here is that the Discover is a pretty decent budget mid-range handset. It won't win any design awards or set any benchmarks on fire, but it hits all the right spec boxes and has a generally pleasant look and feel. The biggest problem that I can see with it is that the HTC One X is currently selling in the same range, and offers a better display, better hardware design, and Android 4.1. Basically, it's a former top of the line handset selling with internals that are still upper-midrange at a near-budget price. But even so, the Discover is still a good step for Pantech to prove that it can actually compete in the lower regions of the Android world.