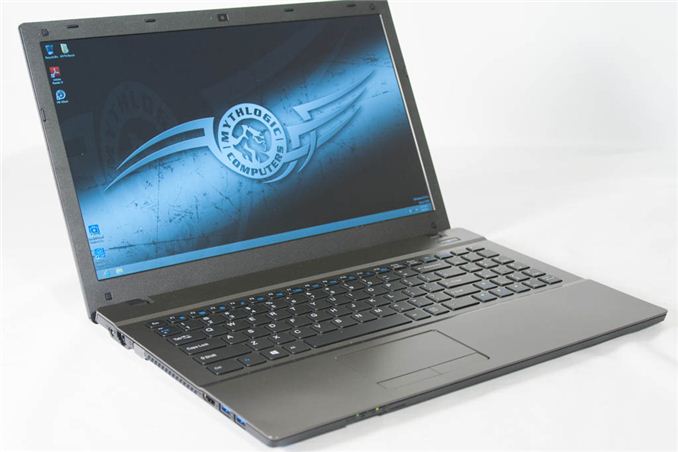 Introducing the Mythlogic Callisto 1512 (Clevo W550EU)
While boutiques and SI's have traditionally had a pretty decent stronghold where the consumer desktop was concerned, the notebook market has been a lot more unstable. Vendors like AVADirect, CyberPowerPC, iBuyPower, Puget Systems, and today, Mythlogic, are all essentially at the mercy of primary ODMs like Clevo, Compal, and MSI to give them whitebooks they can custom build for their customers. With ultrabooks gaining traction, that puts serious pressure on these vendors, as conventional 13.3" and under ultrabooks are much harder to offer in a customizable shell. Intel's 20mm or less thickness spec means socketed CPUs aren't an option, and what you're really left with, if you're lucky, is the ability to customize wireless connectivity, memory, and storage. Slim pickings.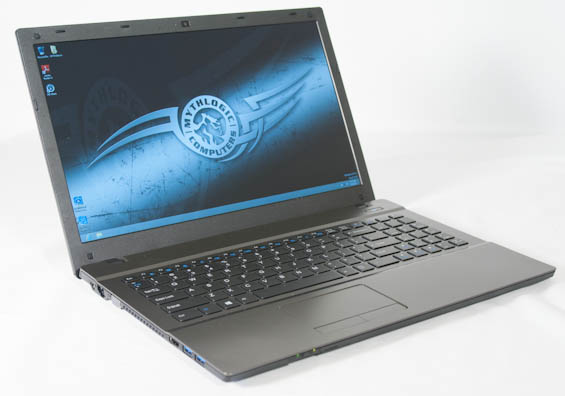 The expanded ultrabook definition gives boutiques a little more breathing room, though, and that's how we end up with a review unit like Mythlogic's Callisto 1512, based on Clevo's W550EU. Essentially what we're looking at is a much thinner 15.6" notebook that still offers the boutique the ability to customize the processor, and we get a 35W or even 45W CPU instead of the reduced voltage and wattage 17W Ivy Bridge chips in most ultrabooks from bigger vendors. And while these Clevo/Compal/MSI notebooks may sometimes not be as well built as their retail counterparts, they tend to offer the superior display options that the bigger vendors often won't.
Mythlogic Callisto 1512 (Clevo W550EU) Specifications
Processor
Intel Core i5-3340M
(2x2.7GHz + HTT, Turbo to 3.4GHz, 22nm, 3MB L3, 35W)
Chipset
Intel HM77
Memory
2x4GB Patriot DDR3-1600
Graphics
Intel HD 4000 Graphics
(16 EUs, up to 1250MHz)
Display
15.6" LED Matte 16:9 1920x1080 IPS
LG LP156WF4-SLB5
Hard Drive(s)
Samsung 840 Pro 256GB SATA 6Gbps SSD
Optical Drive
TSSTCorp SU-208DB DVD+/-RW
Networking
Realtek PCIe Gigabit Ethernet
Intel Dual Band Wireless-AC 7260 802.11ac
Bluetooth 4.0
Audio
VIA VT1802P HD Audio
Stereo speakers
Mic and headphone jacks
Battery
6-Cell, 62Wh
Front Side
SD card reader
Right Side
Mic and headphone jacks
2x USB 2.0
Optical drive
Kensington lock
Left Side
AC adaptor
Ethernet
VGA
Vent
HDMI
2x USB 3.0
Back Side
-
Operating System
Windows 8 Pro 64-bit
Dimensions
14.72" x 9.92" x 0.55-1"
374mm x 252mm x 14-25.4mm
Weight
4.85 lbs
2.2kg
Extras
Webcam
SSD
Bluetooth
Warranty
Lifetime labor, 1-year parts
Pricing
Starts at $1,063
As configured: ~$1,334
Unfortunately, the exact configuration we were shipped for review can't be built on the Mythlogic site yet. The Intel Core i5-3340M is a refresh of Ivy Bridge not currently listed; you can either drop 100MHz and go for the i5-3320M, or gain 100MHz and go for the i5-3360M. Either way is probably fine; the incremental CPU options are appreciated but not strictly necessary. It's worth pointing out just how much of a performance jump you get going to standard voltage, though: top-end ULV Ivy Bridge runs ~2GHz before turbo, but the i5-3340M in our review unit starts at 2.7GHz and goes up from there. That the W550EU can support quad core CPUs suggests there's a good amount of thermal headroom here, too, so the i5-3340M will be much more liable to spend a lot of time at high turbo speeds.
Paired with it is 8GB of DDR3-1600 courtesy of Patriot, and handling storage duties is a 256GB Samsung 840 Pro SSD, plenty for most users. Should that somehow not be adequate, the W550EU also features an mSATA slot, so if you need more storage you can pop a 256GB SSD into the mSATA slot and use the 2.5" drive bay for a 1TB mechanical hard disk. I'm disappointed the only optical drive option available is a standard DVD writer, though; an optional blu-ray drive would've been appreciated.
Of course the major selling point here is the 1080p matte IPS display. While Clevo offers a version of the W550EU that uses a bog standard (and probably hideous) 1366x768 TN panel, Mythlogic wisely doesn't even offer it on their site.
Eagle-eyed readers will note that this review unit features Intel's 802.11ac adapter. While I didn't have enough time to test it with a proper wireless-ac router, I will say that in its present state it's...definitely functional, but I found the range on it is somewhat lacking. About fifteen feet from my router and through two walls, signal strength was actually on the low side. On casual inspection, performance appeared strong and stable, but wireless networking is admittedly not my jurisdiction.