Build Quality
It's not entirely fair to DigitalStorm not to mention the generally excellent job they've done with the build quality of the Virtue. One of the ways a boutique can distinguish itself is in its component selection, and the stock component choices of the Virtue line are solid across the board.
Starting with the chassis selection, I'm actually a pretty big fan of the Corsair Obsidian 350D and I'm happy to see it being employed in a high performance system. Interestingly, DigitalStorm is also using Corsair's H100i to cool the CPU, but they're not employing Corsair Link software to control fan speed despite the system being wired to use it. Instead, the fans on the H100i (oriented beneath the radiator to pull in air from the top of the enclosure and then cycle it out of the rear exhaust) run at a fixed fan speed. I personally find variable fan speed to be distracting; I'd just as soon the whole system run silent all the time, end of discussion. DigitalStorm's choice here works for me.
The 350D also does an excellent job of showing off NVIDIA's reference cooler for the GeForce GTX 780, complete with the subtly glowing "GeForce GTX" logo. That's plugged into an ASUS Z87 Gryphon motherboard, and the system drive is a healthy 120GB Corsair Neutron GTX featuring an LAMD controller. Given all the Corsair kit in the Virtue, though, I'm actually surprised the memory is A-Data.
Where I'd be tempted to shake down DigitalStorm is in using a single stable voltage for overclocking the i7-4770K, but without more experience with Haswell and the quirks of its VRM I can't say if that's worth caring about or not. With the first generation chips (Nehalem, Clarksfield, Gulftown), this was a huge issue, but Sandy and Ivy were less problematic and it looks like Haswell is even less so. I do want to point out that DigitalStorm has traditionally been more aggressive about their CPU voltages than I'd like, but the i7-4770K's 1.28V is actually pretty common and totally reasonable.
Noise and Heat
Demonstrating a healthy amount of balance in their design, the Virtue isn't especially silent but is generally a touch quieter than enthusiast gaming desktops tend to be. Idle noise is around ~33dB, and since the CPU and chassis fans run at a fixed speed, the GeForce GTX 780 is really the only component that spins up or down. Unfortunately, while the 350D is an excellent case for liquid cooling, it does suffer slightly from Corsair's perpetual issues with middling air cooling performance.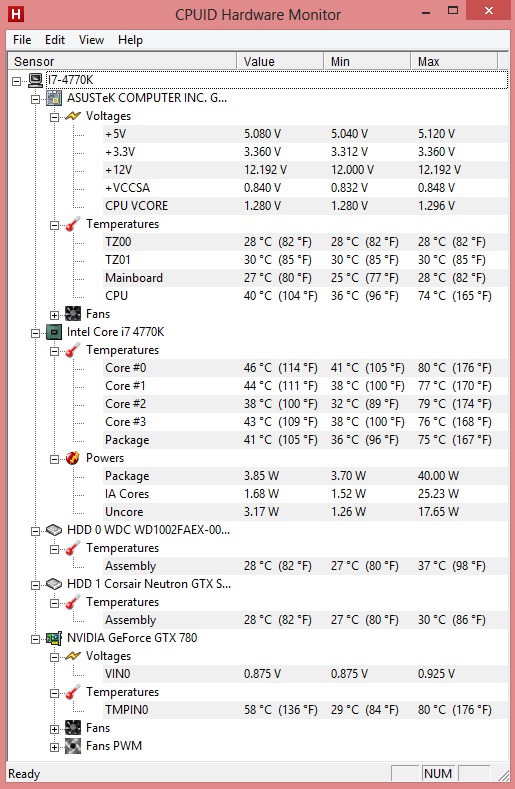 Thermals on the GTX 780 are pretty par for the course, but it can jack noise levels up a couple of dB under sustained load. Meanwhile, the i7-4770K is really about where it needs to be. A more adventurous user might be able to eke a little more performance out of it with a little more juice, but I'd hesitate to push the H100i that much harder, especially without bumping the fan speeds up to a potentially uncomfortable volume.
Power Consumption
So how much power does a modern high end gaming system pull from the wall? The last couple of generations from Intel, NVIDIA, and AMD (Bulldozer/Piledriver notwithstanding) have all done an admirable job of continually reducing idle and load power consumption alike, so the DigitalStorm Virtue stands to benefit from those advances.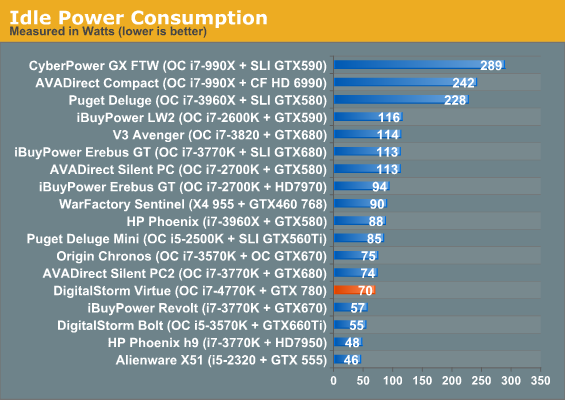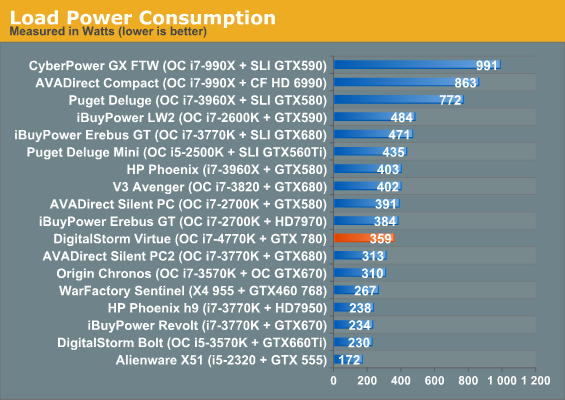 And it does. While neither one is abnormally spectacular, they're both totally reasonable. I'm not convinced DigitalStorm couldn't shave 10W or so off the idle power, but load power is where it ought to be.