MSI GT70 GTX 880M Gaming Performance
We're at the point now where the fastest mobile GPUs can run just about everything at maxed out settings. There are a few exceptions, e.g. Metro Last Light will need to drop a setting or two to stay above 30FPS at 1080p, but the GTX 880M – and even the previous generation GTX 780M – are fast enough that some games are running into CPU limitations. That's not really a problem in practice, since games that are CPU limited tend to still hit 60+ FPS, and if you're running at lower detail settings just to show CPU bottlenecks it's an artificial constraint.
Anyway, if you happen to have a system with a GTX 880M paired with an i7-4700MQ and you compare performance to a GTX 780M with an i7-4930XM, you'll find instances where the faster CPU wins out. At our Mainstream and Enthusiast settings, however, all of the games we currently use for testing favor the faster GPU over a faster CPU. We've included results from some of the fastest notebooks we tested during the previous year for comparison. I'm only going to post charts of our Enthusiast settings, as anyone buying a notebook with a GTX 880M inherently qualifies as a gaming enthusiast in my book, but you can find the Mainstream and even Value scores in Mobile Bench (though the Value scores in particular are mostly meaningless).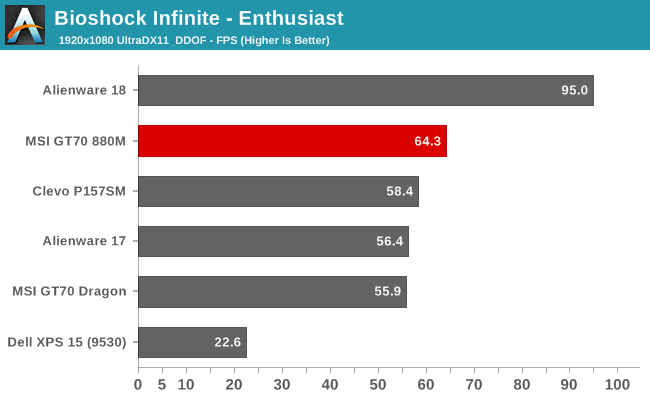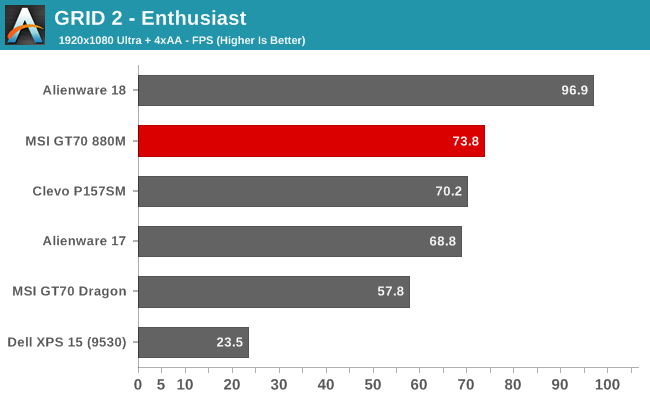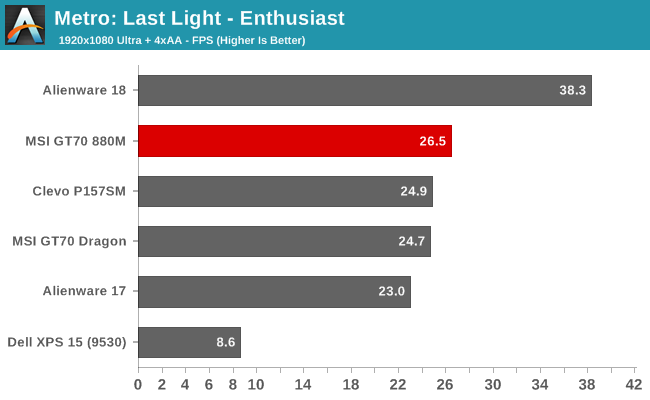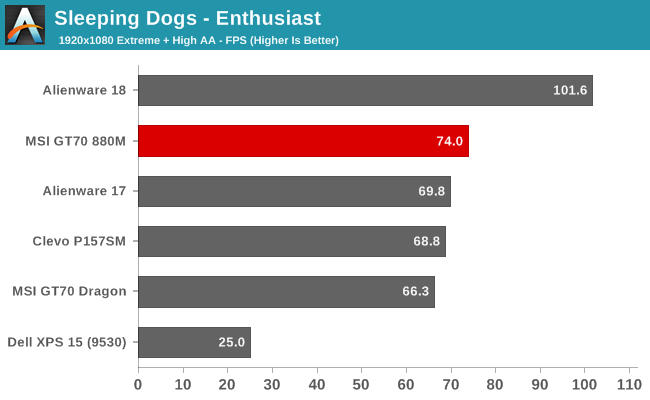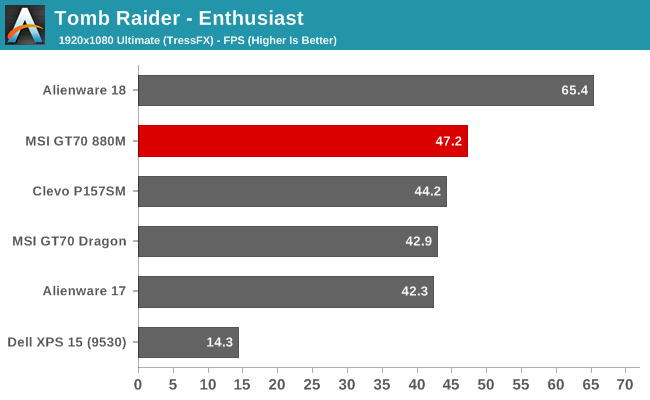 In their launch materials, NVIDIA claimed the new GTX 880M as being 15% faster than last year's GTX 780M. Overall, our results with the GT70 compared to the Clevo P157SM or the previous GT70 Dragon don't really agree with that figure, though it varies by game. It's more accurate to state that the 880M is "up to 15% faster" rather than a 15% increase on average. The 880M boasts core clocks that are around 16% faster than the 780M, but memory bandwidth is the same so titles where the memory bandwidth comes into play (which is most games when we're running at high/max details) will see quite a bit less than the maximum 16% increase in performance. The 880M does come with 8GB GDDR5 RAM, so there may be a few instances where the additional memory can help slightly, but right now most games are still targeting 4GB or less VRAM as the vast majority of GPUs shipped fall into that classification.
Overall, if we take the better result of the MSI GT70 Dragon and Clevo P157SM (on the assumption that driver differences may have negatively affected a few titles), the new GTX 880M ends up around 7% faster than the GTX 780M. It's not too surprising, considering we're looking at the same core architecture and the same memory bandwidth. 8GB VRAM is clearly more than the GTX 880M needs, at least with current titles; it might prove beneficial in the future, but I suspect by the time games are routinely using more than 4GB the 880M will be replaced by something newer/faster/better. While 7% isn't much of an improvement, keep in mind that the increase in cost (at least for an entire notebook) is only around $50. On an $1800 notebook that's a 3% increase, and considering the difficulty of acquiring a GPU upgrade for a notebook without buying a complete system, if you're in the market for a gaming notebook the GT70 certainly offers a good value. If on the other hand you already own a gaming notebook with GTX 780M, you'll likely want to wait for the inevitable "Big Maxwell" notebook GPUs to appear.