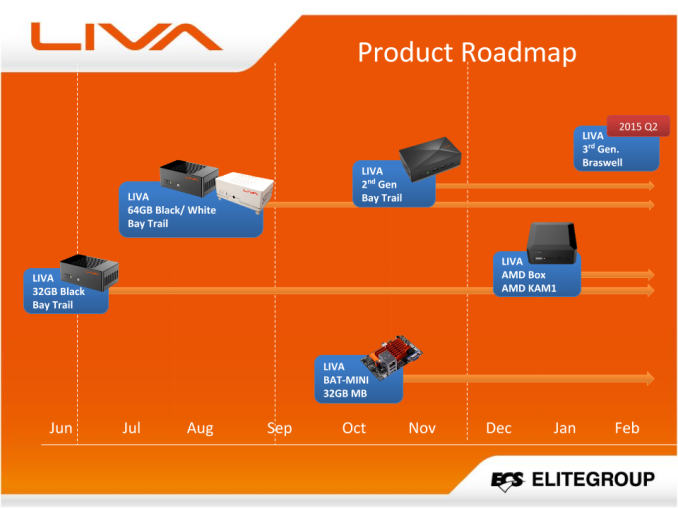 The PC market is warming up to the ECS LIVA 'nettop' that we reviewed back in July. The fanless nature and low cost, as well as 'good-enough' performance serve as positives for the unit. Recently, ECS conducted a media event, where they gave a sneak peek into the future of the LIVA lineup. ECS also fielded questions from the media and tried to address the concerns raised.
One of the first things that needs to be cleared up is the configuration of the currently shipping 32 GB LIVA kit. Our review unit came with the Celeron N2806. Apparently, only the first batch of 600 units sported that SoC. Subsequent production batches have the Celeron N2807. The update addresses one of the improvement aspects we raised in our review - the use of a Bay Trail part enabled with Intel Quick Sync for transcoding. This opens up additional use-cases for the LIVA kit.
Coming back to the product roadmap, ECS is going to bring the 64 GB version into mass production soon. Next month, the company is also planning to release the BAT-MINI motherboard standalone into the market (users can bring their own chassis). In late November, we will see the 2nd generation LIVA. This is also based on Bay Trail, and comes in a solid metal chassis. ECS was mum on the internal configuration, but we can see that the chassis addresses concerns regarding the positioning of the USB ports, amongst other things.
Early next year, ECS also plans to introduce an AMD-based unit. Obviously, the Bay Trail units will get upgraded to Braswell too. The LIVA kits are quite exciting, with the competition mainly coming in from the Bay Trail-based Zotac C-series. Zotac already has the Windows 8.1 + Bing OS pre-installation aspect fixed up. ECS needs to act fast on that, as the LIVA kits currently ship barebones. The attempts of the company to translate their success in the NUC / mini-PC OEM space to the consumer market brings choice to the users - and that is always good.
During the event, ECS also talked about their LIVA chassis design contest. The Z97 motherboards were also talked up, with emphasis in particular on the Z97-PK for overclockers.