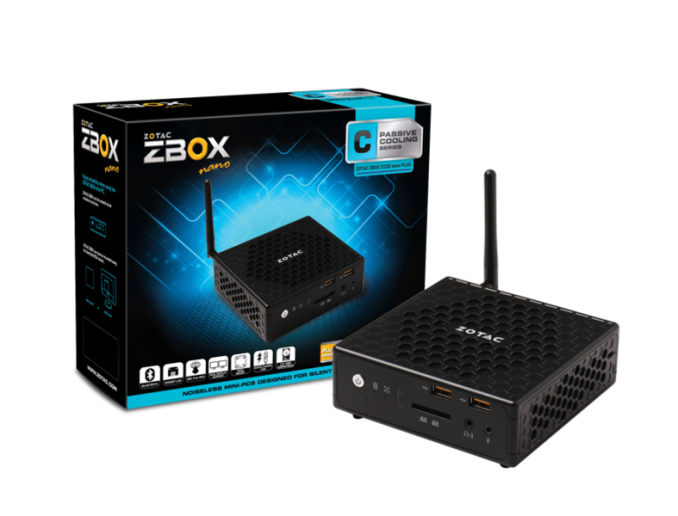 Introduction and Setup Impressions
Over the last couple of years, mini-PCs in the ultra-compact form factor (UCFF) have emerged as one of the bright spots in the troubled PC market. Zotac is no stranger to this segment. In fact, their nano xs units came to the market before the Intel NUC, even though the NUC is credited with kickstarting the UCFF trend. Intel's Bay Trail family of SoCs has proved to be an affordable and low-power candidate for UCFF PC units. We have already evaluated a couple - the actively cooled GIGABYTE BXBT-1900 and and the fanless ECS LIVA.
The low power nature of the Bay Trail SoCs makes them very amenable to passively cooled systems. Zotac introduced the C-Series passively cooled PCs last year. It also includes a Bay Trail-based unit, the ZBOX CI320 nano. We have already looked at the ZBOX CI540 nano (based on Intel Haswell-Y) and ZBOX CA320 nano (based on AMD Temash) in detail. The build and feature set of the ZBOX CI320 nano are very similar.
Even though we were sampled the barebones version, we took the RAM and SSD from our ZBOX CA320 nano PLUS to get the system up and running. The CI320 nano PLUS is also one of the popular models from Zotac to come with Windows 8.1 Plus Bing - a Microsoft initiative to cut down on licensing costs for OEMs making certain types of computing devices. Bundled with a Windows 8.1 license, the CI320 nano PLUS costs less than $260. This is much cheaper than what one would pay for a Windows 8.1 license if they were to purchase the barebones unit (around $140) and the RAM / SSD separately. The specifications of our Zotac ZBOX CI320 nano review configuration are summarized in the table below.
Zotac ZBOX CI320 nano Specifications
Processor
Intel Celeron N2930
(4C/4T x 1.83 GHz, 22nm, 2MB L2, 7.5W TDP, 4.5W SDP)
Memory
1x 4GB DDR3L-1600
Graphics
Intel HD Graphics
Disk Drive(s)
FORESEE 64 GB 2.5" SSD
Networking
1x Gigabit Ethernet, 1x1 802.11ac/Bluetooth mPCIe
Audio
Capable of 5.1/7.1 digital output with HD audio bitstreaming (HDMI)
Operating System
Retail unit is barebones, but we installed Windows 8.1 Pro x64
Pricing (Win 8.1 Plus Bing)
$257
Full Specifications
Zotac ZBOX CI320 nano PLUS with Windows 8.1 with Bing
Our Zotac ZBOX CI320 nano kit didn't come with any pre-installed OS, but it did have a CD and a read-only USB key containing the drivers. In any case, we ended up installing the latest drivers downloaded off Zotac's product support page. In addition to the main unit, the other components of the package include a 40 W (19V @ 2.1A) adapter, a US power cord, a VESA mount (along with the necessary screws), a single 2.4 GHz / 5 GHz antenna for the Wi-Fi feature, a driver CD / read-only USB key, user's manual and a quick-start guide. The gallery below takes us around the hardware in the unit.
In the table below, we have an overview of the various systems that we are comparing the Zotac ZBOX CI320 nano against. Note that they may not belong to the same market segment. The relevant configuration details of the machines are provided so that readers have an understanding of why some benchmark numbers are skewed for or against the Zotac ZBOX CI320 nano when we come to those sections.
Comparative PC Configurations
Aspect
Zotac ZBOX CI320 nano
CPU
Intel Celeron N2930
Intel Celeron N2930
GPU
Intel HD Graphics
Intel HD Graphics
RAM
Crucial CT51264BF160B (Micron 8KTF51264HZ-1G6J1)
11-11-11-28 @ 1600 MHz
1x4 GB
Crucial CT51264BF160B (Micron 8KTF51264HZ-1G6J1)
11-11-11-28 @ 1600 MHz
1x4 GB
Storage
FORESEE S600S064G
(64 GB; 2.5in SATA 6Gb/s; MLC)
FORESEE S600S064G
(64 GB; 2.5in SATA 6Gb/s; MLC)
Wi-Fi
Intel Dual Band Wireless-AC 3160
(1x1 802.11ac - 433 Mbps)
Intel Dual Band Wireless-AC 3160
(1x1 802.11ac - 433 Mbps)
Price (in USD, when built, no OS)
$240
$240