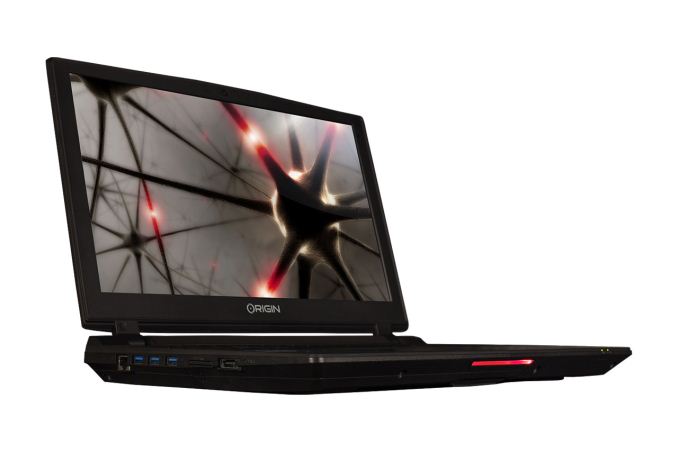 CES now over, which means for a lot of the editors we can finally sit down and write about some of the stuff we saw during the week. If you follow me on Twitter, you were able to see a bunch of the products I looked at in pseudo-real-time, but Tweet limitations mean there's often far more to be said. So rolling back to last Wednesday, let's go over my meeting with Origin PC.
This was the first time I was able to go hands on with the new Clevo laptops. The designs have been updated since the last generation, with some minor to moderate tweaks in terms of aesthetics. Perhaps more importantly, they Clevo ditched the awful (IMO) trackpads from the last generation, so there's no "tribal tattoo" this time.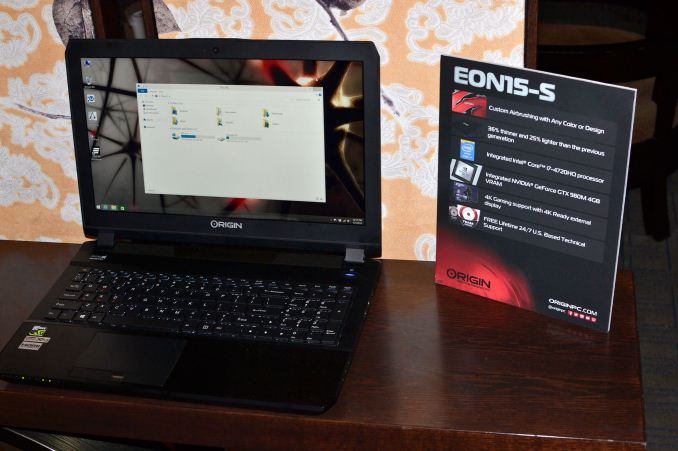 For the mainstream mobile segment, Origin was showing the Clevo P650SG, which they call the EON15-S. It's the update to the P150SM more or less, with support for up to GTX 980M. This is still running Intel's HM87 Mobile Haswell platform, but of course standard voltage and quad-core Broadwell hasn't launched yet so that's to be expected at the high-end. The CPU is the i7-4720HQ, and the chassis has support for two M.2 SATA drives (or two M.2 PCIe drives) along with two 2.5" drive bays.
Origin also says the laptop has "4K gaming support with 4K Ready external display"; 3K and 4K 15.6" displays are available on the market, but for now it doesn't appear Origin will be offering the EON15-S with those; I believe the included 1080p display was wide viewing angle at least, which is likely sufficient for most users. I didn't have a lot of time to really get a feel for the laptop, but while the keyboard looks pretty much unchanged the touchpad was much more responsive than the last P157SM that I tested, and it is using a Synaptics touchpad. The new EON15-S is also 36% thinner (1.13") and 25% lighter (5.5 lbs.) than the previous model, which is a welcome change.
For those who are looking for extreme performance, Origin PC has two new notebooks that have desktop CPUs, including support for the Devil's Canyon i7-4790K. Origin calls these the 15.6" EON15-X and the 17.3" EON17-X, and they use the Clevo P750ZM and P770ZM, respectively. Overclocking is apparently supported, but only up to 4.5 gigahertz – though that is on all four CPU cores. Of course battery life will take a hit, with or without overclocking, so these are very much transportable laptops rather than something that you could use unplugged for a long period of time.
Other features are similar to the P650SG: dual M.2 PCIe drives with dual 2.5" drives for HDD/SDD use. The laptops all support four SO-DIMMs for up to 32GB RAM, and Origin plans to ship 1080p IPS displays in these systems (though it might take a bit longer to get in sufficient supply of the 17.3" IPS displays; the model they showed was still using a TN panel). Also note that all three models have dropped support for optical drives, so if you need an optical drive you'll have to look at other options. The EON15-X measures 1.4" thick and weighs 7.49 lbs. so it's not exactly light, but it is a reduction compared to the previous model. EON17-X meanwhile sees some larger changes, reducing the thickness by 37.5% (1.52" thick now) and it weighs 8.59 lbs. All of the EON notebooks also support full color configurable RGB zoned backlighting.
Origin also carries MSI based laptops now, with Origin PC branding. They had the new GS60 based notebook on display, the EVO15-S, sporting the GTX 970M. This model was also equipped with a 4K 3840x2160 panel, which is one step up from the 2880x1620 model I reviewed last year. I don't expect cooling and battery life has improved much since the 870M MSI variant I tested, though it's possible firmware tweaks have helped. Regardless, this is still a nice looking notebook and the 970M should offer more performance with perhaps slightly lower power requirements.

All of these notebooks are available for order now and should ship in the near future. Origin PC systems tend to cost a lot of money and they list the starting price at around $1850; that includes the 980M on the new EON15-S, but that's with 8GB RAM and a 500GB HDD. A single 480GB PCIe SSD and 16GB DDR3-1600 (and no HDD) will result in a price of $2406. As for the EON15-X, the base price includes the 970M and an i5-4460S, which seems pointless as anyone after a desktop processor will probably want something significantly faster than mobile options. With a 980M, 16GB RAM, 480GB PCIe SSD, and an i7-4790K, the price jumps to $2874. The EON17-X is slightly more at $2906 with the same components, though again note that the display at this time isn't an IPS panel.
In short, Origin PC provides a premium laptop experience for dedicated gamers that have enough cash to afford the fastest systems. Origin does offer some free aesthetic alterations to their notebooks at least (multiple colors are available for the top cover) and they provide lifetime 24/7 US-based phone technical support for customers. Laptops that support overclocking also receive "free" professional tuning, though I personally am hesitant to recommend overclocking of any laptop as they already tend to run hot and loud with this level of performance; YMMV.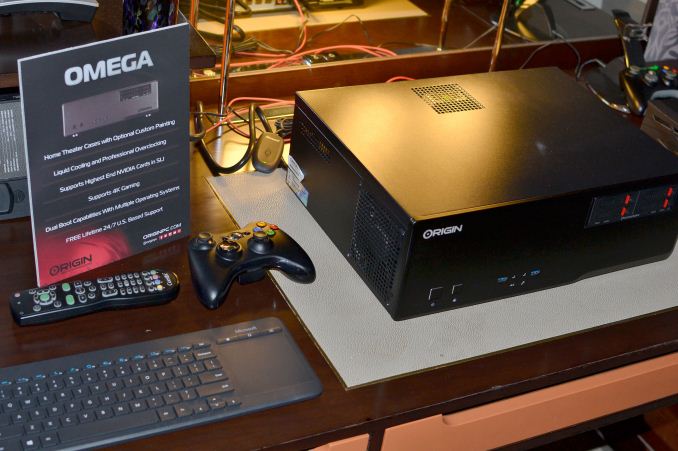 One final item to quickly mention is the upcoming Origin Omega. This was previously supposed to be a Steam Machine when Valve first launched the platform, but delays to the Steam Machine platform (ostensibly due to controller modifications) have delayed that long enough that many companies are choosing to ship the PCs with Windows. That's the situation with the Omega, a system with support for liquid cooling and up to two GTX 980 or Titan Black GeForce cards in SLI. Pricing will depend heavily on the configuration, with availability planned for this quarter.
Source: Origin PC