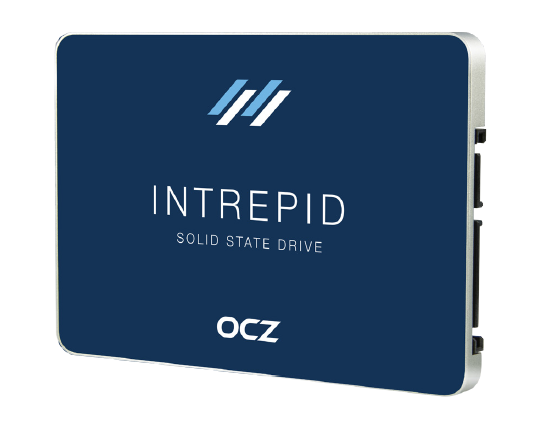 A little over a year OCZ introduced its first in-house designed enterprise SSD series called the Intrepid 3000. What separated the Intrepid from OCZ's earlier enterprise SSDs was the fact that it utilized a fully custom OCZ firmware with a Marvell silicon, whereas in the past OCZ's enterprise SSDs relied mostly on SandForce controllers with limited customization. Today OCZ is refreshing the lineup by superseding the 3600 with a new 3700 model.
OCZ Intrepid 3000 Specifications
Intrepid 3700
Intrepid 3800
Capacities (GB)
240, 480, 960, 1920
100, 200, 400, 800
Controller
Marvell 88SS9187 (OCZ Everest 2)
NAND
Toshiba A19nm 128Gbit eMLC
Toshiba 19nm 64Gbit eMLC
Steady-State 128KB Sequential Read
Up to 540MB/s
Up to 510MB/s
Steady-State 128KB Sequential Write
Up to 470MB/s
Up to 465MB/s
Steady-State 4KB Random Read
Up to 91K IOPS
Up to 92K IOPS
Steady-State 4KB Random Write
Up to 13K IOPS
Up to 40K IOPS
Endurance
1 DWPD (0.5 for 1920GB)
4 DWPD
Active Power Consumption
3.4W
3.7W
Power Loss Protection
Yes
Encryption
AES-256
Warranty
5 years
Compared to the Intrepid 3600, the biggest change in the 3700 is the switch to A19nm NAND and the addition of a 1.92TB model. The over-provisioning has also been reduced from 28% to 12%, which yields a higher usable capacity and hence lowers the cost per gigabyte. I suspect that due to the lower over-provisioning OCZ had to go with eMLC to keep the endurance the same (one drive write per day), but now that OCZ is under Toshiba the company has better access to NAND and can source eMLC parts at a much more reasonable price.
As usual to enterprise drives, the Intrepid 3700 features full power loss protection (yes, even data in flight is protected), AES-256 hardware encryption and end-to-end data path protection. There is an internal RAID-like functionality too to protect against NAND-level failures that cannot be fixed using traditional ECC methods.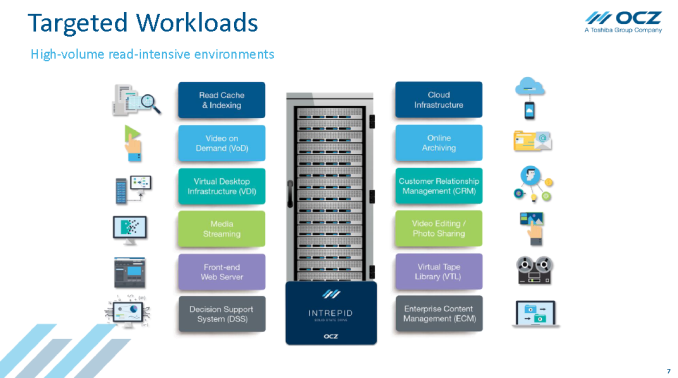 Because of the one drive write per day endurance, the Intrepid 3700 is more geared towards read-intensive workloads and the slide above includes some example use scenarios. For mixed workloads, OCZ offers the Intrepid 3800, which has more over-provisioning and larger lithography NAND to provide higher endurance that's needed for more write-centric workloads.
As guidance, OCZ told me that the MSRP for the 240GB model is about $245, but the higher capacities should retail at somewhere between $0.60 and $0.70 per gigabyte, which is fair for an enterprise SSD with full enterprise-grade feature set.
Source: OCZ Intrepid 3000 Series Product Page