Applications: Safari, Maps, & Notes
We'll start off our look at El Capitan with a look at the major application updates in the OS. The application updates generally fall into three categories: outright new features for OS X, new features that are being brought to OS X and iOS simultaneously, and finally features that are coming to OS X after already appearing in existing versions of iOS.
We'll start off with Safari, OS X's included web browser. Now up to version 8.1, Apple isn't instituting a major overhaul of Safari at this time (no more than they are the rest of the OS), but they are rolling out several new features for the browser, which like the OS itself, is essentially on a yearly cadence for feature updates.
I suspect the most popular of these features will be the tab audio functionality, a welcome addition that sees Safari pick up a pair of tab-related audio features. First, Safari can now display which tab has audio emanating from it. This is something rival Chrome has had for roughly the last year, and is extremely helpful in tracking down a noisy tab that is playing audio when you'd rather it would not, be is a video that you've forgotten about, or an audio-enabled ad that shouldn't be there. A tab with active audio is identified with a speaker icon along the tab, and a second, global icon in the URL field.
Going hand-in-hand with the ability to identify noisy tabs is the ability to put the kibosh on them. By clicking on any of the speaker icons (tab or global), you can mute the tab you've clicked on, or the currently active tab respectively. Alternatively, holding on the aforementioned global tab audio icon, a menu will come up that lists the tabs with audio and offers similar controls.
Meanwhile another major addition here is support for pinned tabs. Similar to Firefox, important tabs can now be pinned, to act as a combination of a tab and as a more powerful favorite. A pinned tab is permanent (unless removed) and will always go to the site it has been pinned to, and its size reduced to just large enough to show the favicon of a site.
Browsing within a pinned tab results in a few different behaviors. If you stay within the site, then you will stay within the pinned tab. Whereas leaving the site results in the equivalent of opening a link in a new tab, with the off-site link getting its own regular tab. Meanwhile pinned tabs are always open so long as the browser is open, and restarting the browser and going to a pinned tab will take you to the last page that tab was showing.
Finally, Apple has made a couple notable low-level tweaks to Safari. AirPlay and Safari now have the ability to hand-off unprotected HTML5 videos to the Apple TV, which under the hood works by passing the URL of the stream to Apple's media hub. Safari has also learned some of Spotlight's newest tricks (more on that later), able to show some of the same information directly, such as sports scores and weather.


Safari Search Learns Some New Tricks
Maps
Up next is El Capitan's Maps application. Like its iOS counterpart, Maps has learned how to use public transportation. With this knowledge, Maps can now provide information on public transit, and use that information to plan out routes that utilize it.
The interface for this feature is through the new Transit map option, which utilizes a pared-down version of the traditional street map with transit information such as fixed-path trains and subways. By going into this screen you can see the major routes, but also pull up information on stations by clicking on them, a feature Apple calls a station place card.
However the biggest benefit here is using Maps to plot out trips, by getting step-by-step directions from within the Transit screen. Doing that, Maps can then provide a list of different ways to go from one location to another, combining all available public transportation options with walking. The default sort is by time, with the ability to ability to select when you want to leave, all the while walking distance is helpfully listed as well in case you want to minimize walking. Finally, because iOS is getting the same upgrade, Transit information can then be sent over to iOS/Watch devices for once you're on the move.
For what it needs to do, the new Transit function works fine. As for whether that's a useful addition or not, it's going to depend on your location. Snark about the state of US public transportation aside, it's telling that the only two US cities in the current beta are San Francisco and New York, all the while over 300 Chinese cities are supported. Apple will be bringing more cities online for the full release and adding even more cities beyond that. Otherwise the value of the feature will depend on the utility of your local public transit options.
Notes
Another application that is receiving an update alongside its iOS counterpart is Notes. Apple's note-taking application is getting a rather significant upgrade here, going from a simple text organization system to a fuller-featured system capable of handling multiple data types and more complex text, along the lines of Evernote or Microsoft's OneNote.
On the text side, Notes is basically becoming a small word processor. Notes can now write out text in a number of formats, including multiple text sizes (equivalent to HTML headings) and the usual list types. Along with this, Notes can now also create checklists, making Notes an impromptu to-do application as well.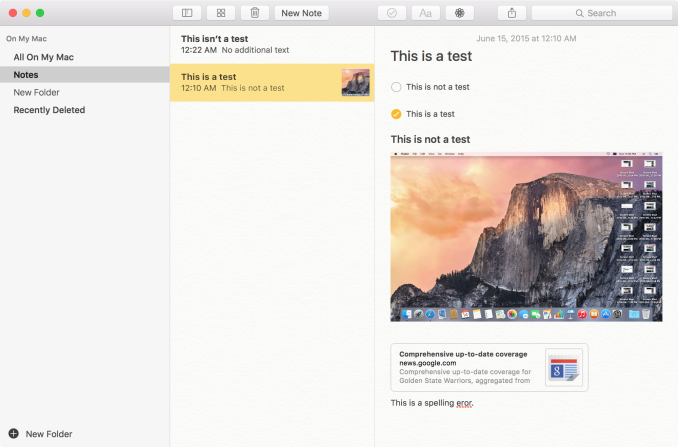 Images, Text Formatting, URLs, Folders, & More
More significant however is that Notes can now embed a great deal of other content besides text. Pictures, audio/video, map locations, sketches, websites, and even other documents from Apple's iWork suite can now all be placed in a note. A note has now essentially become a free-form container of sorts, holding a lot more than text.
In fact Apple has added a couple new features to help organize all of this data. Notes themselves can now be placed in folders, rather than being a flat list as before. Otherwise Apple has also added a whole new "attachments browser" mode just to help visualize all of this, allowing for multimedia content that has been imported into a note to be collated separately.
Getting that content into notes can be accomplished a couple of different ways. The OS X standard of drag & drop works well, however as OS X Notes is harmonized with iOS Notes, that means it also gets the ability to receive content shared from other applications via the share menu. Notes is now a share target, available in applications that utilize sharing and know how to send their content to Notes. And of course, OS X and iOS Notes share with each other; these enhanced notes can be synchronized via iCloud.