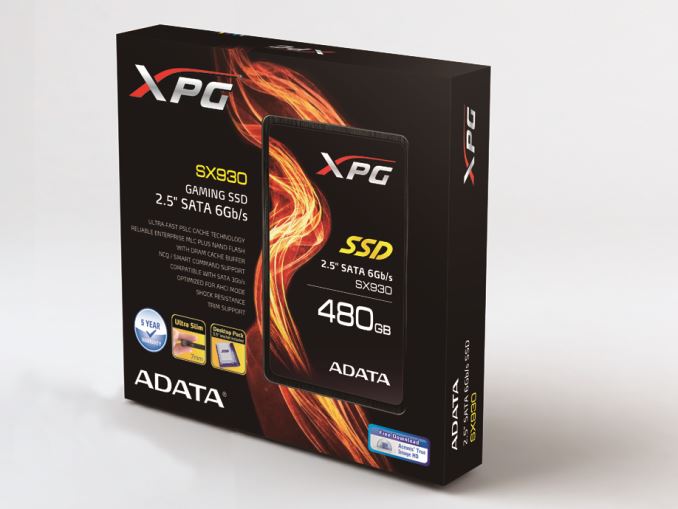 At Computex ADATA had a variety of new SSDs on display. While most were based on upcoming technologies such as TLC NAND and the PCIe/NVMe interface, the company also displayed an XPG SX930, which is an update to ADATA's high-end XPG lineup. The series was in need of a refresh because the SX900 dates back to 2012, so with the SX930 ADATA is hoping to breath new life into its enthusiast SSDs.
ADATA markets the SX930 as a gaming SSD with a five-year warranty and in order to attract more gamers the company had to reconsider its branding and design. The hummingbird logo was considered not to be very "street-proof" among gamers who are often looking for something a little flashier, hence the old logo is now gone and replaced by a new flame design. Personally I think flames are quite a cliché in gamer marketing, but I guess a portion of the gaming crowd may appreciate a design that's more than just a metal chassis. Whether the look of an SSD inside a case matters is a whole new question, but I'll let everyone use their own justification on that.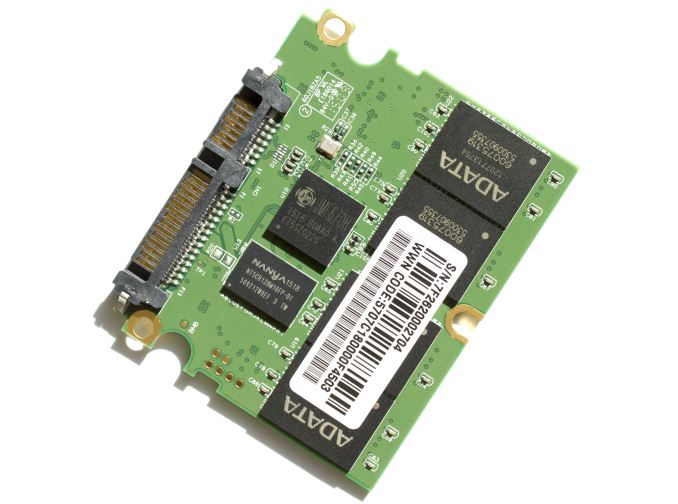 On the hardware side the SX930 uses JMicron's brand new JMF670H controller. JMicron has never really been known for high performance SSD controllers and while the JMF670H isn't aimed to take a jab at Samsung and Marvell based drives, JMicron believes it is competitive against Silicon Motion's SM2246EN and Phison's S10 controllers.
At the silicon level the JMF670H is very similar to its predecessor. JMicron employs a single 32-bit ARM968 core, which is the smallest and lowest power member of ARM's ARM9 family and is mostly aimed for embedded applications such as SSD, USB and networking controllers. JMicron prefers not to disclose the frequency, but told us that the frequency is the same in both JMF667H and JMF670H.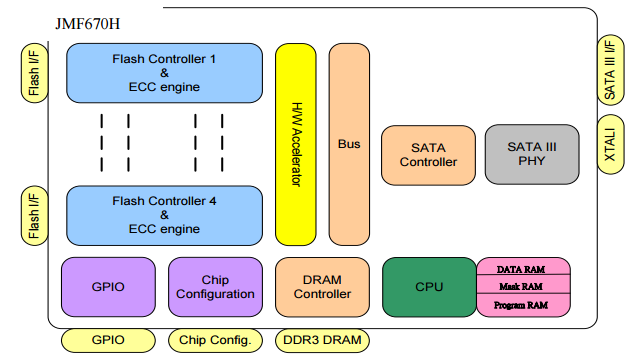 Only the ECC circuitry sees an enhancement to support BCH ECC of 72 bits per 1KB (i.e. can correct up to 72 bits in 1KB of data), whereas the JMF667H was only capable of correcting up to 40 bits. Improving ECC is necessary for supporting the latest 15nm and 16nm NAND nodes because as NAND scales down the error rate increases as cells become more vulnerable to cell-to-cell interference and electron leakage. JMicron doesn't have any RAID5-like parity scheme in the JMF670H, so the BCH ECC engine is solely responsible for error correction.
While Silicon Motion and Phison both support TLC in their latest controllers, JMicron won't be supporting TLC until next year when the JMF680H ships. That's certainly a disadvantage compared to the competition, but I'm no longer that bullish on TLC after Samsung's issues and the marginal price cuts that OEMs are promising. I'm now looking forward to 3D TLC because it will enable planar MLC-like performance and endurance, along with hopefully larger price cuts because the market in general will shift more towards TLC, meaning higher production and scale benefits. At this time, we wait for JMicron's solution in this space.
ADATA XPG SX930 Specifications
Capacity
120GB
240GB
480GB
Controller
JMicron JMF670H
NAND
Micron 16nm 128Gbit MLC
Sequential Read
550MB/s
550MB/s
540MB/s
Sequential Write
460MB/s
460MB/s
420MB/s
4KB Random Read
70K IOPS
75K IOPS
75K IOPS
4KB Random Write
45K IOPS
70K IOPS
72K IOPS
Slumber Power
140mW
140mW
140mW
Read Power
1.38W
1.39W
1.48W
Write Power
1.90W
3.05W
4.38W
Encryption
N/A
Warranty
Five years
MSRP
$80
$110
$200
The retail package includes all the typical ADATA accessories: 3.5" adapter, 9.5mm spacer and eight mounting screws (four for the drive and another four for the desktop adapter). All buyers can download a Disk Migration Utility from ADATA's website, which was co-developed with Acronis that supplies migration software to nearly all SSD vendors.
The SX930's maximum capacity is 480GB because of the JMF670H's limitations. With the DRAM controller in the JMF670H only supporting 512MB of DDR3, the NAND capacity maxes out at 512GB because modern NAND mapping table designs typically require about 1MB of DRAM per every 1GB of NAND. The next generation JMF680H will overhaul the DRAM controller and support up to 2GB of DRAM, enabling capacities as high as 2TB. While 1TB-class SSDs are certainly still a small niche, it comes across a little confusing that ADATA's high-end SX930 does not have a 1TB model, but the more value-oriented Premier SP610 and Premier Pro SP920 (with 3-year warranties) carry 1TB SKUs. For an end-user this is mostly negligible, but I'm not convinced this is the best product positioning strategy.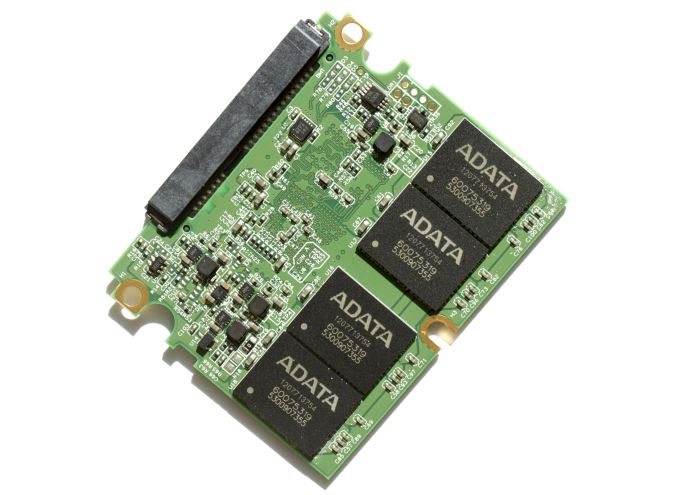 ADATA refers to the NAND in the SX930 as "Enterprise MLC+". It's certainly not eMLC, but merely higher binned normal MLC to support the five-year warranty ADATA is offering (compared to the standard 3-year). As ADATA does NAND binning and packaging in-house, it has the ability to sort dies and save the highest quality ones for SX930 and enterprise SSDs, while the lower quality dies end up in other client SSDs, USB sticks and SD cards depending on the quality level. ADATA doesn't give separate endurance rating for the SX930, but I was told the NAND endurance is at least 3,000 P/E cycles, which should give a rough idea of the expected lifetime.
| | | | |
| --- | --- | --- | --- |
| Capacity | 120GB | 240GB | 480GB |
| SLC Cache Size | 4GB | 8GB | 16GB |
While the hardware side of the new JMF670H doesn't differ much from the old JMF667H controller, the firmware has been upgraded. The JMF670H firmware carries a feature called Write Booster, which is JMicron's SLC cache implementation. Even though the JMF670H doesn't support TLC NAND, JMicron believes that an SLC cache can still improve performance for MLC, especially when combined with 15nm or 16nm NAND with higher program/erase latencies. Write Booster caches all IOs regardless of their size, and JMicron does some write optimizations when moving data from the SLC cache to MLC cache to reduce write amplification for higher endurance.
Write Booster works with both normal NAND and pseudo-SLC NAND. As many of you may know, it's possible to program just one bit per cell to MLC NAND by only using the lower page (i.e. larger voltage distribution), but NAND vendors also have special pseudo-SLC dies. Unfortunately, all vendors are relatively quiet about what exactly happens inside a pseudo-SLC die, but JMicron told us that there is an improvement in read performance when using proper pseudo-SLC instead of simply writing to lower pages. In the case of SX930, ADATA is using real pseudo-SLC NAND from Micron, which does carry a price premium over normal NAND, but given the higher-end focus of the SX930 that makes sense.
AnandTech 2015 SSD Test System
CPU
Intel Core i7-4770K running at 3.5GHz (Turbo & EIST enabled, C-states disabled)
Motherboard
ASUS Z97 Deluxe (BIOS 2205)
Chipset
Intel Z97
Chipset Drivers
Intel 10.0.24+ Intel RST 13.2.4.1000
Memory
Corsair Vengeance DDR3-1866 2x8GB (9-10-9-27 2T)
Graphics
Intel HD Graphics 4600
Graphics Drivers
15.33.8.64.3345
Desktop Resolution
1920 x 1080
OS
Windows 8.1 x64