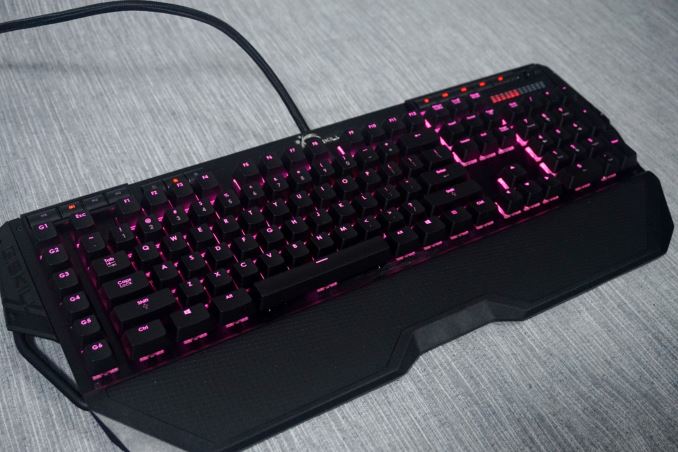 It would appear that gaming peripherals are all the rage nowadays, with more and more companies trying to grab a piece of a surprisingly resiliant PC gaming market. Many manufacturers of other PC components, such as memory and cooling products, have diversified and released gaming keyboards and mice during the past couple of years. The most prominent examples probably are Corsair and Cooler Master, who went as far as to create "gaming divisions" within their own companies.
Along those same lines, G.Skill, a company known for their memory-related products, is now diversifying as well and joining the gaming peripherals market. As part of their initial foray into gaming peripherals the company is starting small, releassing just a single mouse and a single keyboard, the Ripjaws KM780 RGB and Ripjaws MX780 RGB, respectively. Both of these are very high end products with very interesting specifications, clearly designed to compete with the cream of gaming keyboards and mice available today.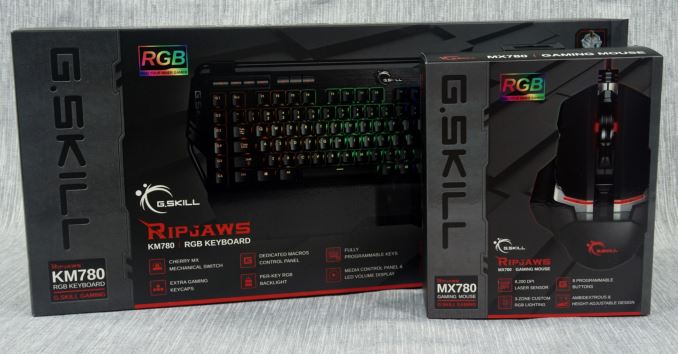 G.Skill Ripjaws KM780 Mechanical Keyboard ($160) - Key features and specifications
100% Cherry MX RGB switches (Brown or Red)
Fully Programmable Keys
Per-key RGB Backlighting
Extra Gaming Keycaps, Keycap Tool & Keycap Case
On-board Profile Storage
Full n-Key Rollover and 100% Anti-Ghosting
Dedicated Macro Control & Mode Selection Keys
Windows Lock Key
LED Backlight Toggle
Timer Key
Media Control Corner & LED Volume Display
Detachable Soft-Touch Wrist Rest
Five-Level Contoured Keycaps
G.SKILL Unified Driver System
Mouse Cable Holder
USB Pass-Through & Audio Jacks
G.Skill Ripjaws MX780 Gaming Mouse ($50) - Key features and specifications
Ambidextrous & Interchangeable Side Grips
Height-Adjustable Design
On-board Profile Storage
Adjustable Weights
Avago 8200 DPI Laser Sensor
Durable Omron Micro-Switch
8 Fully Programmable Buttons
Customizable RGB Backlighting
G.SKILL Unified Driver System
G.Skill's entrance into the peripherals market comes at an interesting time. Although I'm not sure one can claim that this market is truly saturated at this point, among the PC component companies who have diversified, G.Skill is definitely coming in behind the pack. This means they not only need to compete with the traditional vendors in this space such as Logitech, but also the companies that diversified earlier such as the afformentioned Corsair. The good news for G.Skill here is that the PC peripherals market is a lot easier to break into since it's not so strictly a commodity market - unlike RAM, mice and keyboards involve direct human interaction and are not merely a faceless chip inside a case - which gives G.Skill a fighting chance even if they are late in joining this market.
As for the products themselves, as I briefly touched upon before, G.Skill has aimed for the high-end segment of the market. The Ripjaws KM780 keyboard retails for around $160, and meanwhile the Ripjaws MX780 mouse is lighter on the wallet at $60. These prices are comparable to similar RGB mechanical keyboards and gaming mice, so G.Skill is competitive on prices, though this does mean that G.Skill needs to convince buyers that they have something that established brands do not. Otherwise the high-end market is a very small market - a definite niche in the PC space - but also a more profitable one, which for G.Skill is no doubt a welcome change from the thin margins of selling large volumes of RAM.