SATA Express
On the eve of Flash Memory Summit (August 11-13), Toshiba has announced a full range of NVMe-based PCIe SSDs using Toshiba controllers and Toshiba MLC flash. Toshiba NVMe Drive Families Drive Series PX04P XG3 BG1 Form Factors and Interface PCIe 3.0 x4 HHHL / 2.5" U.2 PCIe 3.1 x4 M.2 2280 / 2.5" SATA Express M.2 2230 / 16mm*20mm soldered module "M.2 1620" Capacities 800 GB, 1600 GB, 3200 GB Up to 1024GB Up to 256 GB QSBC Error Correction Yes Yes No TCG Pyrite Security No Yes Yes Sequential Read 3100 MB/s ? ? Sequential Write 2350 MB/s ? ? 4kB Random Read IOPS 660k ? ? 4kB Random Write IOPS 185k ? ? For the enterprise market, the PX04P series complements the SAS-based PX04S drives announced last week. The PX04P is available as a 2.5" drive with a U.2 (SFF-8639) connector, or as a PCIe expansion card. In either case, the drive supports four lanes of PCIe 3.0 and can make good...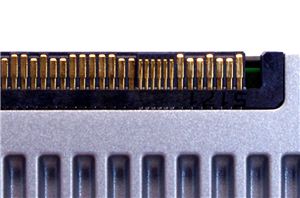 As SATA Express never took off because of the two-lane limitation, the SSD and motherboard industries have been looking for an alternative connector for connecting 2.5" SSDs over PCIe...
22
by Kristian Vättö on 6/10/2015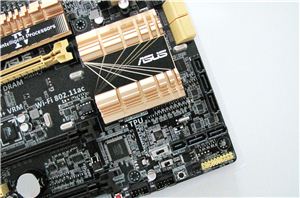 The Serial ATA International Organization didn't have much to worry about when hard drives were the primary (only) media. The laws of rotational physics ensured hard drive speeds would...
131
by Kristian Vättö on 3/13/2014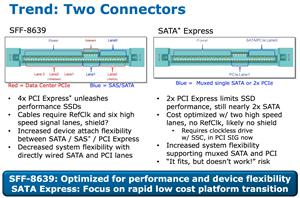 Pretty much all high-end client SSDs have no issues saturating the current 6Gbps SATA interface. We've talked about a move to PCIe based SSDs but these are the connectors...
20
by Anand Lal Shimpi on 9/13/2012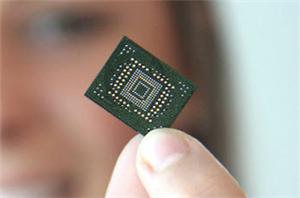 The SATA IO working group announced one new spec and that it has begun work on another: µSSD and SATA Express, respectively. These two specs span the gamut from...
15
by Anand Lal Shimpi on 8/11/2011