Test Bed and Setup
As per our processor testing policy, we take a premium category motherboard suitable for the socket, and equip the system with a suitable amount of memory running at the manufacturer's maximum supported frequency. This is also typically run at JEDEC subtimings where possible. It is noted that some users are not keen on this policy, stating that sometimes the maximum supported frequency is quite low, or faster memory is available at a similar price, or that the JEDEC speeds can be prohibitive for performance. While these comments make sense, ultimately very few users apply memory profiles (either XMP or other) as they require interaction with the BIOS, and most users will fall back on JEDEC supported speeds - this includes home users as well as industry who might want to shave off a cent or two from the cost or stay within the margins set by the manufacturer. Where possible, we will extend out testing to include faster memory modules either at the same time as the review or a later date.
Power Consumption
For our power consumption testing, we place the system under a heavy Prime95 load and then take the power consumption reading from the internal CPU sensor. This is the sensor that determines power resources on the system, as well as how fan speeds and throttling should be adjusted. On most platforms we get a breakdown of chip-wide power compared to core power and memory controller power, however the Skylake-SP platform has all that removed and we can only get full-chip power. We also test on a per-core level.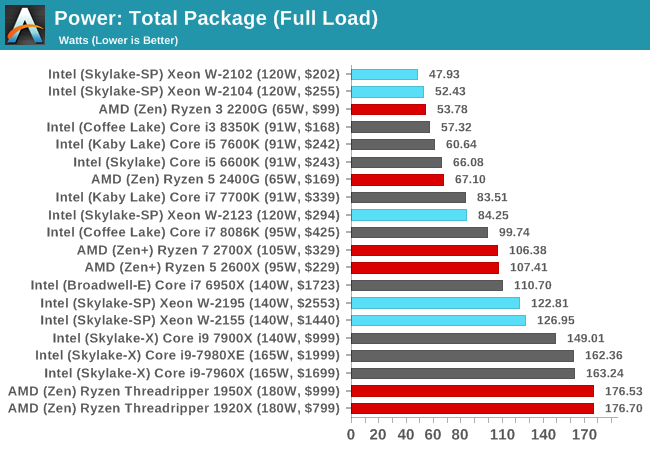 At full load, all of our Xeon W chips are underneath TDP, despite running at full core turbo. The Xeon W-2102 and Xeon W-2104 really show that these quad-core parts are certainly well below the 120W rating. When we look at the higher core count Xeon W parts, we see that the power consumption is well below the corresponding Core i9 processors - the Xeon W-2195 for example is only 123W, compared to 162W for the Core i9 version.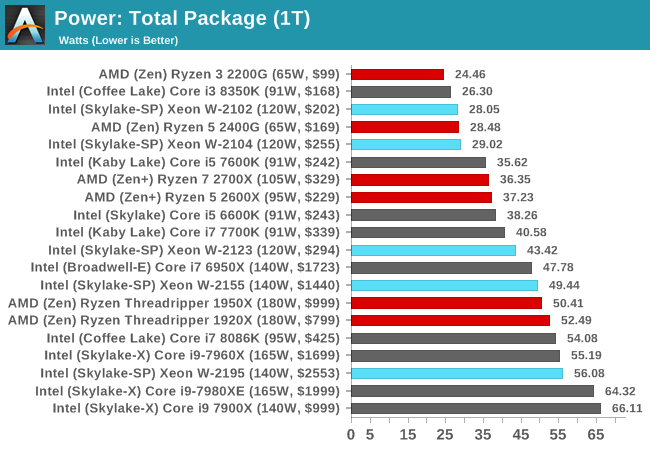 If we look at the chips when only a single thread is loaded, then the Xeon W chips spread out a bit more. The AMD parts fare better here compared to the W-2195, but the W-2195 is still below the Core i9 parts.
Many thanks to...
We must thank the following companies for kindly providing hardware for our multiple test beds. Some of this hardware is not in this testbed specifically but is used in other testing.
Thank you to ASUS for providing us with GTX 980 Strix GPUs. At the time of release, the STRIX brand from ASUS was aimed at silent running, or to use the marketing term: '0dB Silent Gaming'. This enables the card to disable the fans when the GPU is dealing with low loads well within temperature specifications. These cards equip the GTX 980 silicon with ASUS' Direct CU II cooler and 10-phase digital VRMs, aimed at high-efficiency conversion. Along with the card, ASUS bundles GPU Tweak software for overclocking and streaming assistance.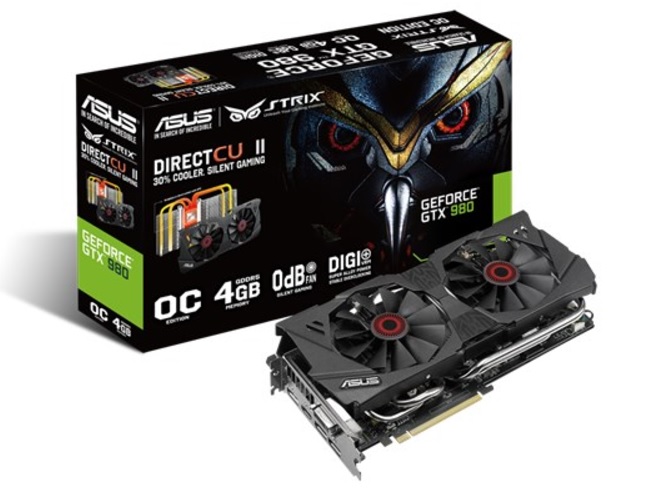 The GTX 980 uses NVIDIA's GM204 silicon die, built upon their Maxwell architecture. This die is 5.2 billion transistors for a die size of 298 mm2, built on TMSC's 28nm process. A GTX 980 uses the full GM204 core, with 2048 CUDA Cores and 64 ROPs with a 256-bit memory bus to GDDR5. The official power rating for the GTX 980 is 165W.
The ASUS GTX 980 Strix 4GB (or the full name of STRIX-GTX980-DC2OC-4GD5) runs a reasonable overclock over a reference GTX 980 card, with frequencies in the range of 1178-1279 MHz. The memory runs at stock, in this case, 7010 MHz. Video outputs include three DisplayPort connectors, one HDMI 2.0 connector, and a DVI-I.
Further Reading: AnandTech's NVIDIA GTX 980 Review
Thank you to Crucial for providing us with MX300 SSDs. Crucial stepped up to the plate as our benchmark list grows larger with newer benchmarks and titles, and the 1TB MX300 units are strong performers. Based on Marvell's 88SS1074 controller and using Micron's 384Gbit 32-layer 3D TLC NAND, these are 7mm high, 2.5-inch drives rated for 92K random read IOPS and 530/510 MB/s sequential read and write speeds.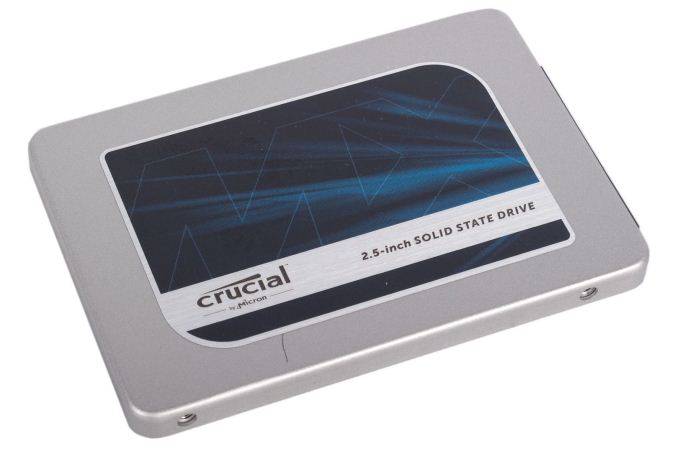 The 1TB models we are using here support TCG Opal 2.0 and IEEE-1667 (eDrive) encryption and have a 360TB rated endurance with a three-year warranty.
Further Reading: AnandTech's Crucial MX300 (750 GB) Review
Thank you to Corsair for providing us with Vengeance LPX DDR4 Memory, HX750 Power Supply, and H115i CPU Cooler.
Corsair kindly sent a 4x8GB DDR4 2666 set of their Vengeance LPX low profile, high-performance memory for our stock testing. The heatsink is made of pure aluminum to help remove heat from the sticks and has an eight-layer PCB. The heatsink is a low profile design to help fit in spaces where there may not be room for a tall heat spreader; think a SFF case or using a large heatsink. Timings on this specific set come in at 16-18-18-35. The Vengeance LPX line supports XMP 2.0 profiles for easily setting the speed and timings. It also comes with a limited lifetime warranty.
Powering the test system is Corsair's HX750 Power Supply. This HX750 is a dual mode unit able to switch from a single 12V rail (62.5A/750W) to a five rail CPU (40A max ea.) and is also fully modular. It has a typical selection of connectors, including dual EPS 4+4 pin four PCIe connectors and a whopping 16 SATA power leads, as well as four 4-pin Molex connectors.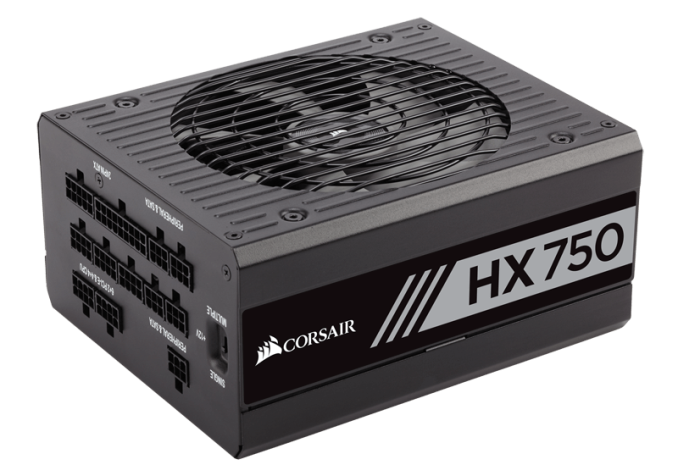 The 135mm fluid dynamic bearing fan remains off until it is 40% loaded offering complete silence in light workloads. The HX750 comes with a ten-year warranty.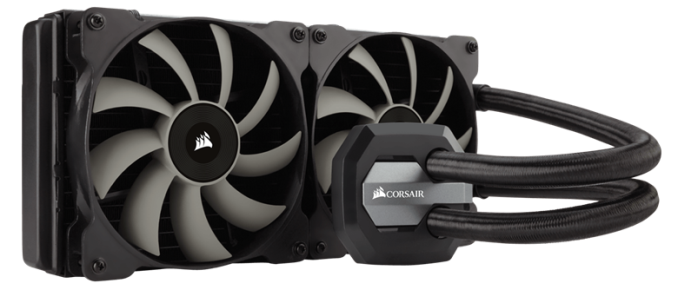 In order to cool these high-TDP HEDT CPUs, Corsair sent over its latest and largest AIO in the H115i. This closed-loop system uses a 280mm radiator with 2x140mm SP140L PWM controlled fans. The pump/block combination mounts to all modern CPU sockets. Users are also able to integrate this cooler into the Corsair link software via USB for more control and options.
Thank You to Kingston for sampling us some DDR4-2666 C19 RDIMM Memory.
Xeon W processors support RDIMM ECC memory, and our motherboard here would not accept UDIMMs, and Kingston kindly supplied the memory needed. The (KSM26RS8/8HAI) modules were faultless in our testing.