Visual Inspection
As with most workstations designed for under-the-desk operation, due to the need to power a big CPU and a big GPU (or two), the ThinkStation P620 is a sizeable machine, but smaller than you might think. The comparative dimensions are actually significantly smaller than my own personal Corsair Graphite 760T main gaming system: the P620 is 33.4 liters, while the 760T is 78 liters, more than double. A fully laden system has a max configuration of 24 kg, or 53 lbs.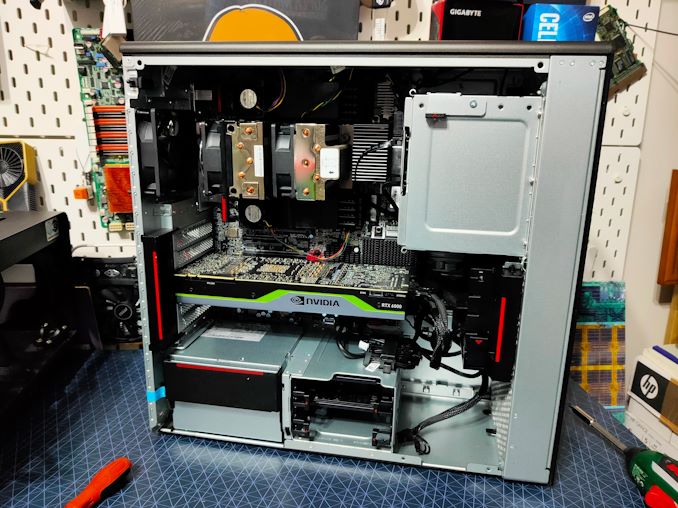 Inside this P620 chassis Lenovo has effectively put in its own custom ATX motherboard. The initial aspect of how custom it is can be seen in the sense that it has a connector for a a special custom 1000W 80 PLUS Platinum power supply. The power supply has no output cables, and this makes the whole design a lot nicer and cleaner to manage – no cables travelling up the rear of the design, making the whole unit thinner.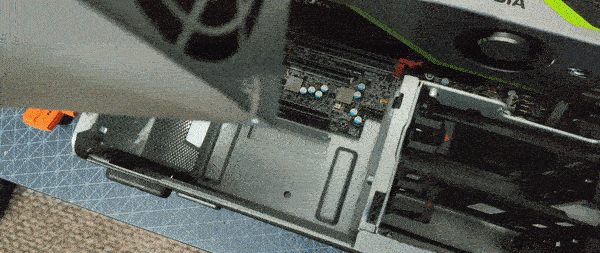 The power supply connects through a single custom finger that looks like this: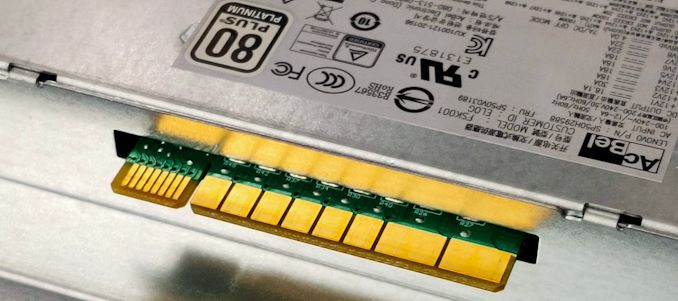 By having a power supply like this, it provides power for the CPU, the motherboard, and the PCIe slots directly. The motherboard has to be engineered to manage all this power, so we're likely looking at a 14-layer or 16-layer board, compared to the 6-8 layer regular motherboards that we see.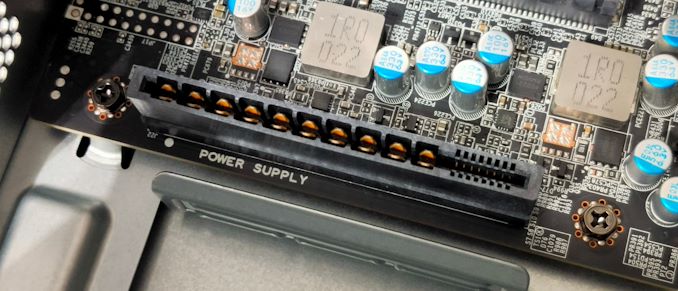 For the items that do need cables, like add-in cards and 2.5-inch/3.5-inch drives, Lenovo uses output ports on the edge of the system, where a traditional motherboard has SATA connectors, and from these the system can power the usual graphics cards ports.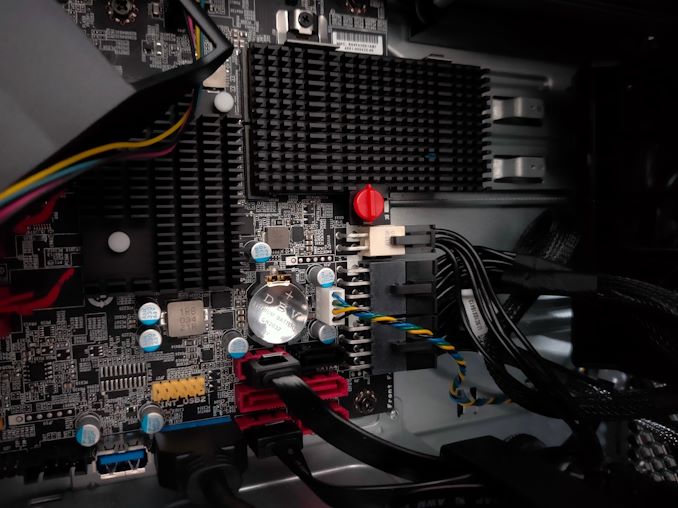 It should be noted that in this SATA port area, even though there is a full PCIe x16 slot, it looks like you can't fit a full GPU in here. This area isn't for GPUs, but more for add-in cards.
There are six PCIe 4.0 slots, in a x16/x8/x16/x16/x16/x8 configuration. The preferred slot for the first GPU is the third slot, as shown in the picture above. A second GPU is supposed to go into the first slot at the top, and then any add-in cards (such as M.2 combo cards or additional Ethernet) are meant to go in the bottom two slots.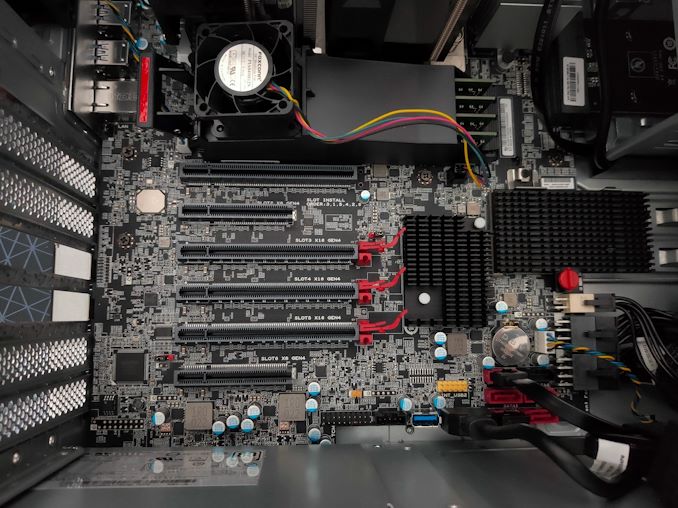 On the left of the PCIe, Lenovo has not only built a tool-less PCIe latch system, but it's a one-finger design. Someone is super smart at Lenovo, as this no doubt helps with building the system as well as maintenance and repairs. Again, this is something that every system needs to have.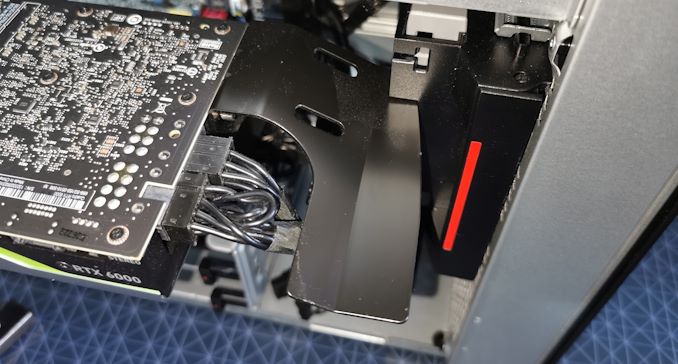 On the right hand side, Lenovo has an entry fan that can be removed very easily. Built into this housing is a rigid connector implementation, to help with holding up heavy graphics cards. Every system needs this.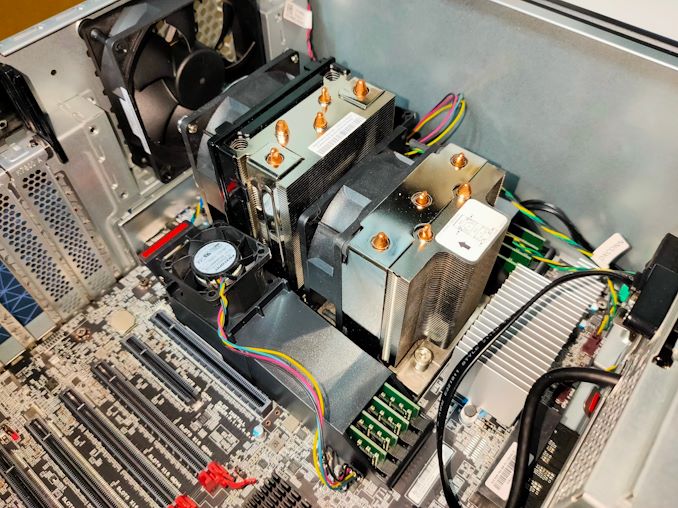 At the top of the system, we have the socket area. The power delivery for the socket would appear to be split to the left and to the right, with two smaller copper heatsinks. This design you imagine might not be sufficient cooling for the power delivery on a 280 W CPU, but Lenovo has designed the unit for baffled airflow, and at this top area of the chassis is cooled mostly by the super interesting CPU cooler.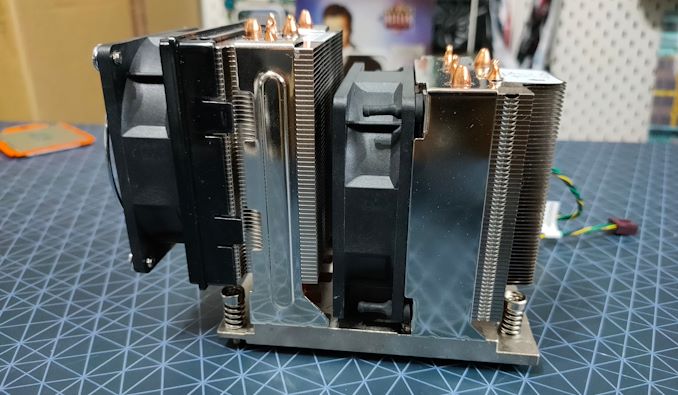 This uses what looks akin to 10 heatpipes (or five long ones) split into two batches of fins, each with its own fan, drawing air from the front of the chassis and pumping it out the rear. You might think this cooler looks a lot like the dual tower stacks available on consumer systems, but these two are at different heights, Perhaps this small design change enables a little more of the Bernoulli airflow affect to take hold, increasing the effective cooling. At any rate, this cooler is sturdy and does the job. I believe it to be a custom Foxconn design for Lenovo, and so alas not available at retail.
On the memory side of things, there are four slots above and below the socket. The processor supports eight channel memory, so we have one slot per channel here. Our system only came with two memory modules from Lenovo, but we filled the system with eight. One of the great things about this unit is the quad-channel memory fan bracket that Lenovo has put on both sets of four. These fan units are sturdily built, with a really nice spring retention mechanism. When systems like this have 64 GB of memory per slot, even at DDR4-3200, they can start using enough power that active cooling is a positive thing to have.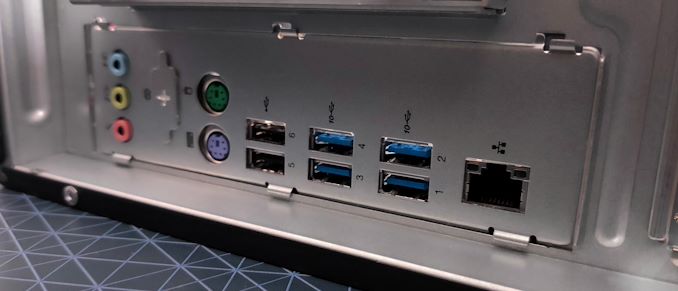 On the back of the system we have the audio outputs on the far left, just a simple 2.1 Realtek ALC462 codec here because nothing more is really needed on a compute system. There is space for a COM port (optional add-on), two PS/2 ports, two USB 2.0 ports, four USB 3.2 10 Gbps ports, and a 10 gigabit Ethernet port powered by an Aquantia AQC107.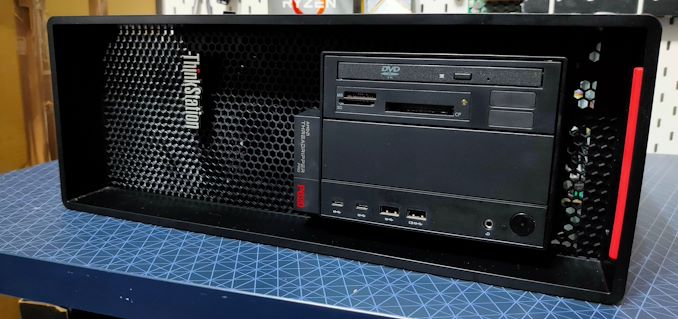 The front panel houses the DVD-RW if that option is selected, a 15-in-1 card reader (if selected), the power button, a 3.5mm audio jack, two USB 3.2 10 Gbps Type-A ports, and two USB 3.2 10 Gbps Type-C ports. One of the Type-A ports is an always-on port. There is also a four-digit POST sequencer to help debug any start-up issues.
Overall, what I like about Lenovo workstations like this is that there are a number of unique little add-ons that only a large OEM like Lenovo can provide, and I wish these add-ons were more ubiquitous:
A one output zero-cable power supply
Tool-less Fan cages removable with one-two fingers
Tool-less PCIe retention mechanism built into the chassis
Tool-less PCIe removal bracket also useable with one-two fingers
DRAM fan brackets (significantly better than what most/all DRAM vendors offer)
From this, Lenovo's design gets a gold star from me. This also leads into the system level tests.