System Performance
System performance of the Zenfone 8 should be quite good virtue of the new Snapdragon 888. On top of that, ASUS' 120Hz mode and 240Hz touch input rate should result in extremely fluid and responsive experiences.
One thing I have to make note of here is ASUS's refresh rate modes. By default, the phone comes in the "Auto" mode, which in my experience simply switches between 90 and 60Hz depending on the application. I've never actually seen 120Hz used by the phone anywhere in this mode, which is odd. Besides the Auto mode, you can also explicitly set the phone to 120Hz, 90Hz or 60Hz modes all the time. In PCMark and also many other generic applications, Auto mode will switch to 60Hz mode while browser activity will switch to 90Hz mode. I tested that, as well as the explicit 120Hz mode of the phone.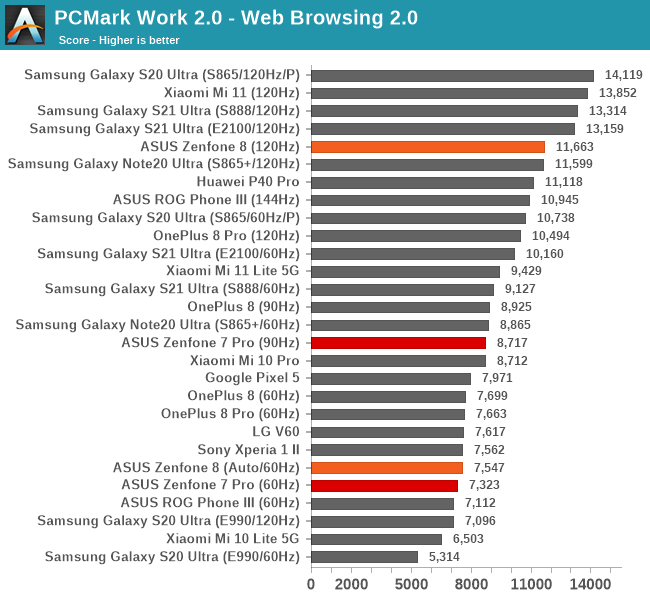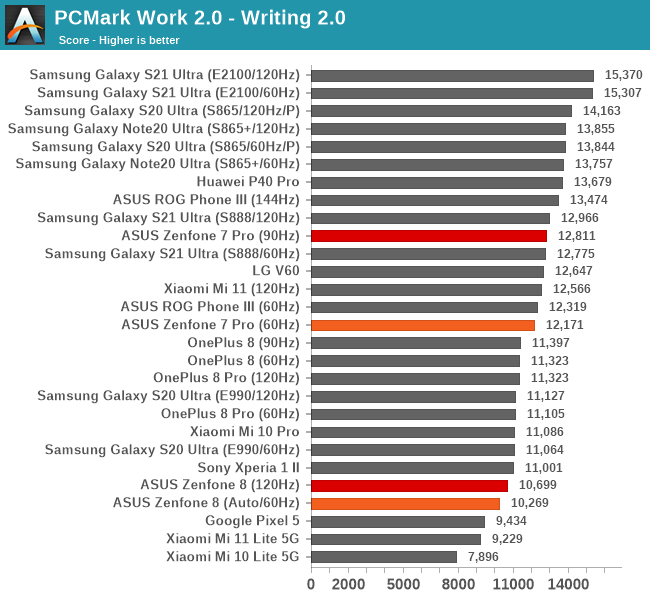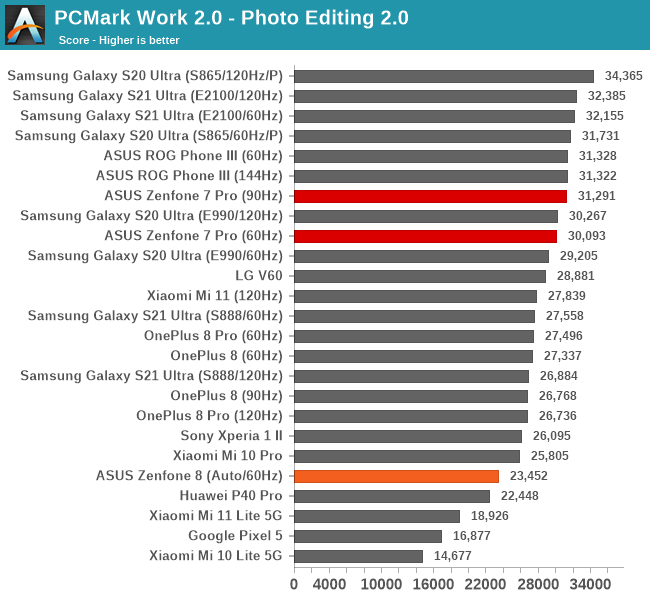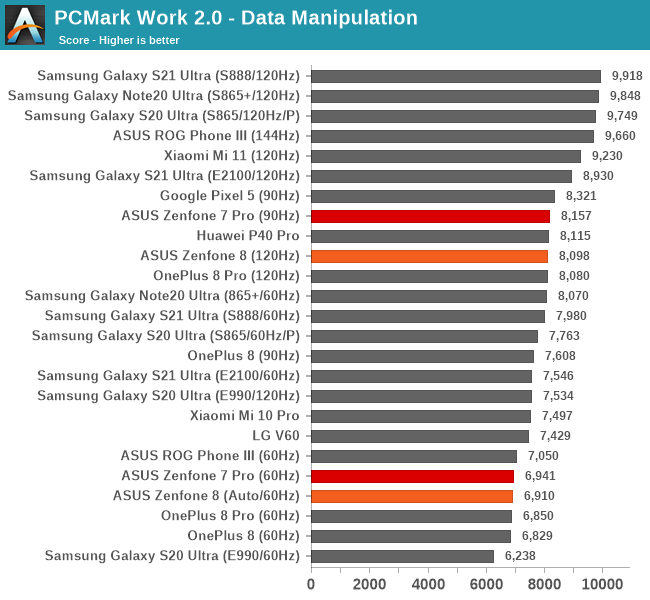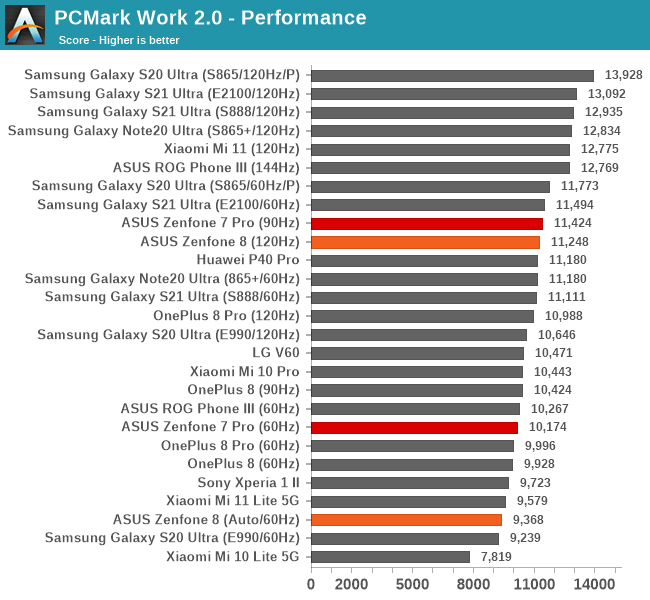 In PCMark which is a good representation of overall device responsiveness, we see that the Zenfone 8 tracks rather very closely to the performance of the Snapdragon 865 powered Zenfone 7, depending on the refresh rate. What's actually a bit weird is that at 60Hz, the ZF8 is actually a bit slower than the ZF7, a point which I'll come back to in a bit.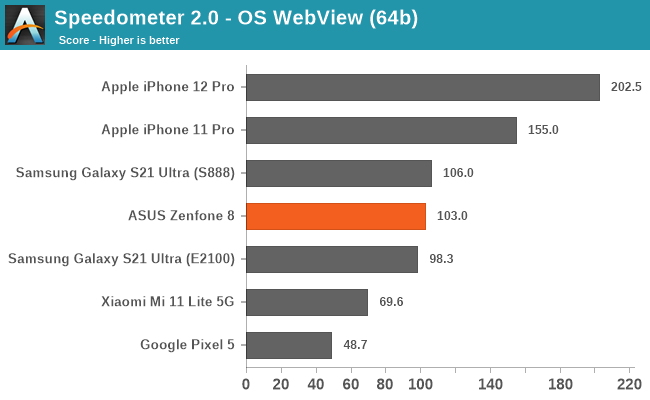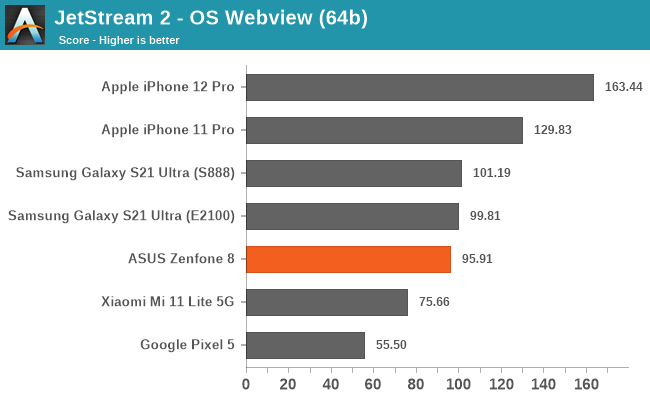 In the browser benchmark, which we've lately started from a clean slate due to the new 64-bit browser deployments on Android in the last few months which improve performance compared to past results, we see that the Zenfone 8 tracks closely to the Snapdragon 888 powered Galaxy S21 Ultra, which is expected.
Overall Device Experience - 120Hz Good, Everything Else Bad
At the 120Hz setting, the Zenfone 8 performs extremely well as is as responsive as any other device in the market. What's actually very strange and extremely concerning for the ZF8 is all the other operating modes, such as 90Hz and 60Hz. For some reason, beyond just a slower refresh rate, these modes have seemingly increased input lag as well as just overall sluggish feel for the device. The 60Hz mode in particular is quite horrible – it feels as if ASUS is also modulating the input touch response based on the refresh rate. Generally speaking, for the best experience, you want to keep the phone in 120Hz always mode and avoid the Auto as well as the lower refresh rate modes.