The memory subsystem (Linux 64-bit)
Most of the applications of the server and HPC world are well multi-threaded and scale nicely with more cores. With the exception of some rendering engines, this also means that our hard working quad-core CPUs will require quite a bit more bandwidth when they are processing these multi-threaded applications. In our previous review, we found out that:
Barcelona's L2 cache is 50 to 60% faster than the older Opteron (22xx). So each core gets at least 50% more L2 bandwidth.

Each Barcelona's L2 cache is almost as fast as the shared L2 cache of a similarly clocked 65nm Core based Xeon. The Intel Xeon has a big advantage of course: its L2 cache is 8 to 12 times larger!

Barcelona's single-threaded memory bandwidth is 26% to 50% better than the older Opteron and almost twice as good as what a similar Intel Xeon gets.
The problem is of course the word "single-threaded". Those bandwidth numbers are not telling us what we really want to know: how well does the memory subsystem keep up if all cores are processing several heavy threads?
We only had access to the Intel and GCC compilers, and we felt we should use a different compiler to create our multi-threaded stream binary. GCC would probably not create the fastest binary and Intel's compiler might give the Core architecture too many software prefetch hints (or other tricks that might artificially boost the bandwidth numbers). Alf Birger Rustad helped us out and sent us a multi-threaded, 64-bit Linux Stream binary based on v2.4 of Pathscale's C-compiler. We used the following compiler switches:
-Ofast -lm -static -mp
We tested with one, two, and four threads. "Two CPUs" means that we tested with four threads on dual dual-core and eight threads on dual quad-core. "2 CPUs" also means that we used only one CPU in the 1-4 threads setting and we only used a second CPU in the "2 CPUs" setup.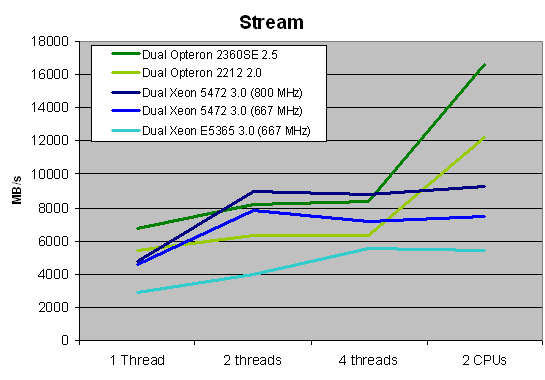 Note that clock speeds do not really matter, except for the Socket-F Opteron. Although we did not include this in the graph above (to avoid color chaos), the clock speed of the socket-F Opteron only matters for the single-threaded bandwidth numbers. Look at the table below:
AMD vs. AMD Multi-threaded Stream
 
1 Thread
2 threads
2 CPUs
Dual Opteron 2212 2.0
5474
6330
12220
Dual Opteron 2222 3.0
6336
6472
12664
Difference 3GHz vs. 2GHz
16%
2%
4%
Dual Opteron 23xx
6710
8232
16614
Difference Opteron 23xx vs. Opteron 22xx
23%
30%
36%
With one thread, the 2GHz Opteron 2212 is clearly not fast enough to take advantage of the bandwidth that DDR2-667 can deliver. However, once you make both cores work, this is no longer the case. The Opteron 23xx numbers make clear that the deeper buffers really help: each quad-core has about 30% more bandwidth available than the dual-core. That should be more than enough to keep twice as many cores happy.
The graph above also quantifies the platform superiority that many ascribe to AMD. Likewise, it confirms that the new Intel platform has a much better memory subsystem thanks to the Seaburg chipset. To understand this we calculated the bandwidth numbers, with the "Bensley + Clovertown" platform representing our baseline 100%.
AMD vs. Intel Multi-threaded Stream
 
1 Thread
2 threads
4 threads
2 CPUs
Opteron 23xx
232%
207%
150%
308%
Xeon 54xx + Seaburg + 800MHz RAM
164%
225%
158%
172%
Xeon 54xx + Seaburg + 667MHz RAM
159%
196%
128%
138%
If you use two CPUs, the Opteron 23xx has no less than 3 times the amount of bandwidth compared to the "old" 65nm Xeon. However, it is much less likely that bandwidth will be a bottleneck for the "new" Xeon 45nm as it has 40% to 60% more bandwidth (with the same kind of memory) compared to the "old" Xeon. If necessary, you'll be able to use 800MHz FBDIMMs that will offer more bandwidth (9GB/s versus 7.7GB/s).
It becomes clear why even a 3GHz Xeon 5365 is not able to beat AMD in SPECFP2006rate: running eight instances of SPECFP2006 is bandwidth limited.
The memory subsystem, latency
To understand the memory subsystem of the different CPUs, we also need to look at latency. We have noticed that many latency measurement benchmarks are inaccurate when you have two CPUs running, so we tested with only one socket filled. Below you can see the numbers for a stride of 128 Bytes, measured with the CPU-Z 1.41 latency test.
CPU-Z Memory Latency
Data size (kB)
Opteron 2212 2.0
Opteron 2350
Opteron 2360SE
Dual Xeon 5472
(DDR2-667)
Xeon E5365
4
3
3
3
3
3
8
3
3
3
3
3
16
3
3
3
3
3
32
3
3
3
3
3
64
3
3
3
15
14
128
12
15
15
15
14
256
12
15
15
15
14
512
12
15
15
15
14
1024
12
44
48
15
14
2048
114
44
48
15
14
4096
117
111
121
15
14
8192
117
113
126
242
215
16384
117
113
125
344
282
32768
117
113
126
344
282
The quad-core Opteron had to make a compromise or two. As the 463 million transistor chip is already 285 mm² in size, each core only gets a 512 KB L2 cache. That means that in some situations (>512 KB) the old 90nm Opteron 22xx is better off as it has access to a very fast 12 cycle L2 cache while the Opteron 23xx has to access a rather slow 44-48 cycle L3 cache.
Note also that the 2.5GHz Opteron 2360 "sees" a slower L3 cache than the 2350: 48 cycles versus 44. The memory controller seems to be ok: the slightly higher latency compared to the Opteron 22xx series is a result of the fact that the Opteron 23xx cores have to check the L3 cache tags, while the Opteron 22xx doesn't have to do that. Notice that memory latency of the on-die memory controller is still far better (+/- 60 ns) than what the Seaburg or Blackford chipset (+/- 70-90 ns) can offer to the Xeon Cores. We have encountered situations where Barcelona's memory controller accesses the memory with much higher latencies (86 ns and more) than the Opteron 22xx but we have to study this in more detail to understand whether this has a realworld impact or not.
Native quad-core versus dual dual-core, part 2
Cache2Cache measures the propagation time from a store by one processor to a load by the other processor. The results that we publish are approximately twice the propagation time.
We noticed that running our Cache2Cache benchmark (see here and here) gives results that are more accurate if you measure the results on the same die with only one CPU, and then measure the results from one CPU die to another one with two CPUs. Cache2cache quantifies the delay that a "snooping" CPU encounters when it tries to get up-to-date data from another CPU's cache.
Cache coherency ping-pong (ns)
 
Same die,
same package
Different die,
same package
Different die,
different socket
Opteron 2350 - Stepping B1
127
N/A
199
Opteron 2360SE - Stepping B2
107
N/A
199
Xeon E5472 3.0
53
150
237
Xeon E5365 3.0
53
150
237
The Xeon syncs very quickly via its shared L2 cache (26.5 ns), but a bit slower from the first CPU to the third one (75 ns). AMD's native quad-core design is a bit faster in the latter case (53.5 ns with the 2360 SE). The difference is slightly less when you have to sync between two sockets (99.5 ns versus 118.5).