ERP & OLTP Benchmark 2: Oracle Charbench (32-bit Windows 2003 EE)
We are happy to announce our first Oracle benchmark. The Oracle 10G database has a somewhat mythical status in
our Belgian Lab
. We have been steadily improving our MySQL tuning and this has allowed us to improve the number of queries per second on a Barcelona 2.3GHz from 500-600 queries per second to an impressive 1600 queries in the decision support benchmark (see further). However, when we tried out Oracle 10G with exactly the same database without any tuning, it produced a staggering 6000 queries per second while we could not get the CPU above 40% load! So we can't say we fully understand how Oracle works.
We used the following optimizations:
Memory: Custom, SGA size =1536MB, PGA size = 512MB.
Sizing: Processes = 300.
Connection Mode: Dedicated Server Mode
Although Oracle Swingbench is freely available, it has not been easy to get repeatable benchmarks. Oracle tunes itself constantly, and as Swingbench is somewhat similar to TPC-C, it requires a heavy disk subsystem to avoid being completely disk I/O bottlenecked. That is why we test with only one CPU: the combination of a superfast Intel SLC SSD taking care of the logs and a six disk RAID-0 set for the data is good enough to ensure that one quad-core CPU can reach up to 80% CPU load. We also repeat the test four times and only report the average of the last three tests to measure with "warm caches".
Here is a look in our lab. First, we plug the Intel X25-E Extreme SATA drive into the 3.5" drive case of our Colfax/Supermicro servers. This disk contains all the logs. This setup looks like this: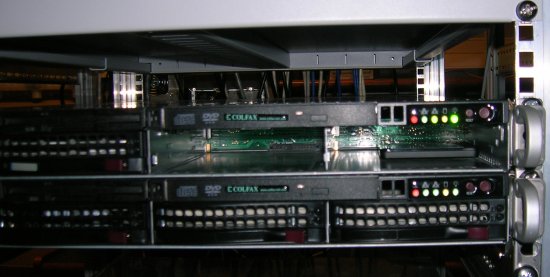 An SSD drive completely lost in a 3.5 inch hard disk cage.
The data is stored on a Promise J300s that is connected by a 12Gbit/s Infiniband to an Adaptec 5805 RAID controller, which is plugged into our servers. The Promise J300S contains a RAID-0 set of six 15000RPM Seagate SAS 300GB disks (one of the fastest hard disks you can get). The Adaptec 5805 is a pretty fast RAID card, as it is equipped with a dual-core Intel IOP 348 at 1.2GHz and 512MB of DDR2. This RAID controller won't quickly become a bottleneck. Below you see the fast Infiniband x4 wideport SAS connection from the Promise DAS to our servers.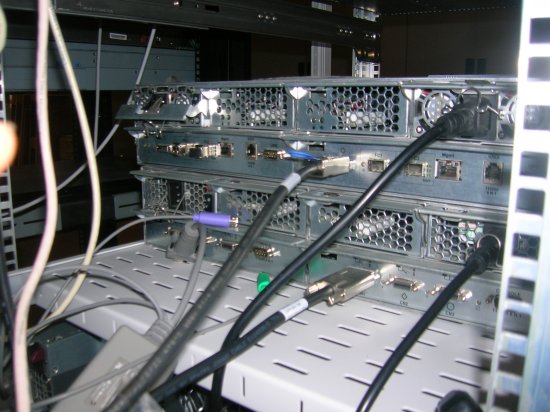 The only way to get the necessary disk spindles for our 1U servers…
Only then can we get results that are not I/O bound but CPU bound… unless we use more than one CPU.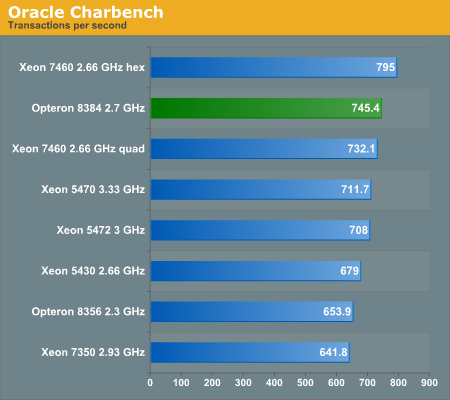 The 45nm quad-core Opteron gets relatively close to the mighty Xeon 7460, which has a huge L3. It is remarkable how even the 3.33GHz Xeon is not able to defeat the latest Opteron.