Testing in the Real World
As interesting as the SQLIO and IOMeter results are, those benchmarks focus solely on the storage component. In the real world, we care about the performance of our database, mail, or fileserver. The question is: how does this amazing I/O performance translate into performance we really care about like transactions or mails per second? We decided to find out with 64-bit MySQL 5.1.23 and SysBench on SUSE Linux SLES 10 SP2.
We utilize a 23GB database and carefully optimized the my.cnf configuration file. Our goal is to get an idea of performance for a database that cannot fit completely in main memory (i.e. cache); specifically, how will this setup react to the fast SLC SSDs. The Innodb buffer pool that contains data pages, adaptive hash indexes, insert buffers, and locks is set to 1GB. That is indeed rather small, as most servers contain 4GB to 32GB (or even more) and MySQL advises you to use up to 80% of your RAM for this buffer. Our test machine has 8GB of RAM, so we should have used 6GB or more for this buffer. However, we really wanted our database to be about 20 times larger than our buffer pool to simulate a large database that can only partially fit within the memory cache. With our 32GB SLC SSDs, using a 6.5GB buffer pool and a 130GB large database was not an option. Hence, the slightly artificial limitation of our buffer pool size.
We let SysBench perform all kinds of inserts and updates on this 23GB database. As we want to be fully ACID compliant our database is configured with:
innodb_flush_log_at_trx_commit = 1
After each transaction is committed, there is a "pwrite" first followed by an immediate flush to the disk. So the actual transaction time is influenced by the disk write latency even if the disk is nowhere near its limits. That is an extremely interesting case for SSDs to show their worth. We came up with four test configurations:
"Classical SAS": We use six SAS disks for the data and two for the logs.

"SAS data with SSD logging": perhaps we can accelerate our database by simply using very fast log disks. If this setup performs much better than "classical SAS", database administrators can boost the performance of their OLTP applications with a small investment in log SSDs. From an "investment" point of view, this would definitely be more interesting than having to replace all your disks with SSDs.

"SSD 6+2": we replace all of our SAS disks with SSDs. We stay with two SSDs for the logs and six disks for the data.

"SSD data with SAS logging": maybe we just have to replace our data disks, and we can keep our logging disks on SAS. This makes sense as logging is sequential.
Depending on how many random writes we have, RAID 5 or RAID 10 might be the best choice. We did a test with SysBench on six Intel X25-E SSDs. The logs are on a RAID 0 set of two SSDs to make sure they are not the bottleneck.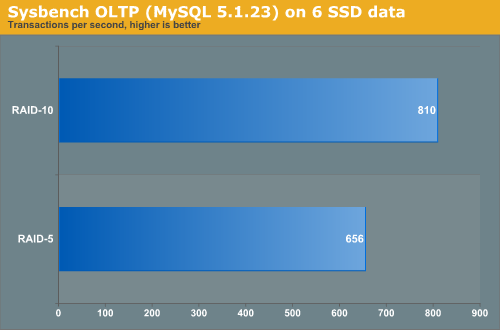 As RAID 10 is about 23% faster than RAID 5, we placed the database on a RAID 10 LUN.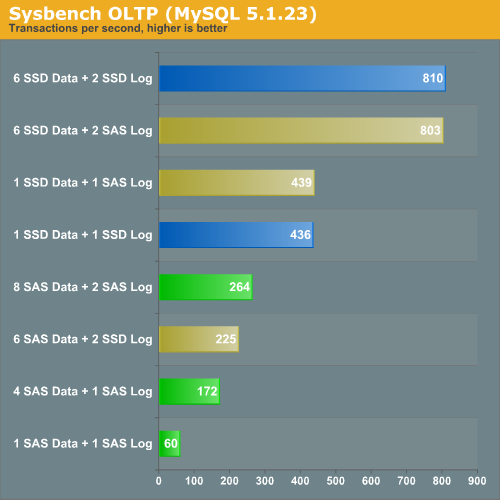 Transactional logs are written in a sequential and synchronous manner. Since SAS disks are capable of delivering very respectable sequential data rates, it is not surprising that replacing the SAS "log disks" with SSDs does not boost performance at all. However, placing your database data files on an Intel X25-E is an excellent strategy. One X25-E is 66% faster than eight (!) 15000RPM SAS drives. That means if you don't need capacity, you can replace about 13 SAS disks with one SSD to get the same performance. You can keep the SAS disks as your log drives as they are a relatively cheap way to obtain good logging performance.