Configuration and Benchmarking Setup
First, a word of thanks. The help of several people was crucial in making this review happen:
My colleague Tijl Deneut of the Sizing Server Lab, who spend countless hours together with me in our labs. Sizing Servers is an academic lab of Howest (University Ghent, Belgium).

Roel De Frene of "Tripple S" (Server Storage Solutions), which lent us a lot of interesting hardware: the Supermicro SC846TQ-R900B, 16 WD enterprise drives, an Areca 1680 controller and more. S3S is a European company that focuses on servers and storage.

Deborah Paquin of Strategic Communications, inc. and Nick Knupffer of Intel US.
As mentioned, S3S sent us the Supermicro SC846TQ-R900B, which you can turn into a massive storage server. The server features a 900W (1+1) power supply to power a dual Xeon ("Harpertown") motherboard and up to 24 3.5" hot-swappable drive bays.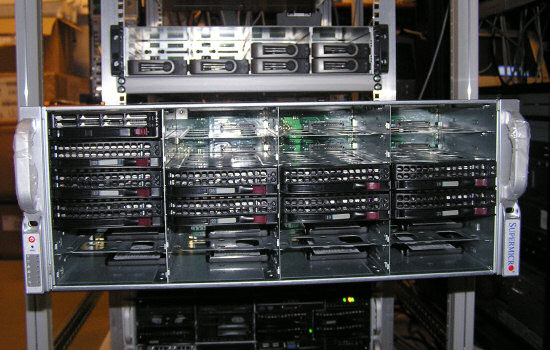 We used two different controllers to avoid letting the controller color this review too much. When you are using up to eight SLC SSDs in RAID 0, where each disk can push up to 250 MB/s through the RAID card, it is clear that the HBA can make a difference. Our two controllers are:
Adaptec 5805 SATA-II/SAS HBA
Firmware 5.2-0 (16501) 2009-02-18
1200MHz IOP348 (Dual-core)
512MB 533MHz/ECC (Write-Back)
ARECA 1680 SATA/SAS HBA
Firmware v1.46 2009-1-6
1200MHz IOP348 (Dual-core)
512MB 533MHz/ECC (Write-Back)
Both controllers use the same I/O CPU and more or less the same cache configuration, but the firmware will still make a difference as you will see further. Below you can see the inside of our Storage server, featuring:
1x quad-core Harpertown E5420 2.5GHz and X5470 3.3GHz

4x2GB 667MHz FB-DIMM (the photo shows it equipped with 8x2GB)

Supermicro X7DBN mainboard (Intel 5000P "Blackford" Chipset)

Windows 2003 SP2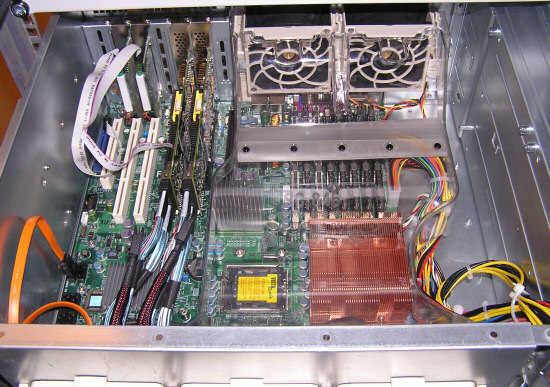 The small 2.5" SLC drives are plugged in the large 3.5" cages: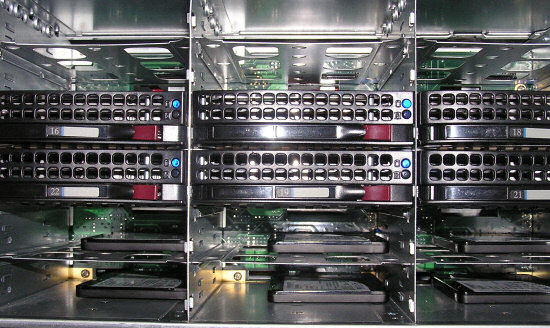 We used the following disks:
Intel SSD X25-E SLC SSDSA2SH032G1GN 32GB

WDC WD1000FYPS-01ZKB0 1TB (SATA)

Seagate Cheetah 15000RPM 300GB ST3300655SS (SAS)
Next is the software setup.