Collaboration and infrastructure software: MS Exchange 2007
Operating System
Windows 2008 Enterprise RTM (64-bit)
Software
MS Exchange 2007 SP1 (64-bit)
Benchmark software
LoadGen 08.02.004
Typical error margin
1-2%
Collaborative and infrastructure servers are good for about 50% of the server market. Even if we subtract the fileservers and print servers (which rarely demand a lot of processing power), it is still the most important market for servers. Today we're introducing MS Exchange 2007 in our server CPU benchmark suite.
For our Exchange 2007 test we used Microsoft LoadGen in stress mode. This means instead of actually simulating a business day, LoadGen will fire as many actions at the server as it can handle for the specified duration of the test, which in our case is slightly more than 1 hour. We limited the mailbox for each of the 2000 users to 30MB instead of the default 750MB to reduce the load on our storage system. All users are logged on before the actual test started.
The LoadGen test results tend to vary wildly when you use the default settings. Even when we tested for 8 hours, the results were not within an acceptable margin of error. To remedy this, we limited the different actions to just SendMail, ReadAndProcessMessages, BrowseContacts, and BrowseCalendar. It is not perfect, but at least we get very repeatable results. As we are relative newbies when it comes to benchmarking the Exchange groupware, expect some improvements to this benchmark in the future.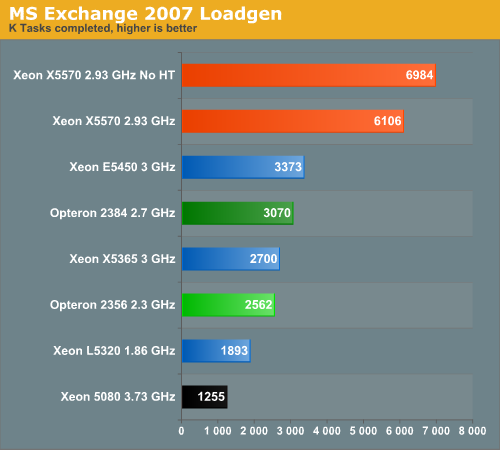 Our testing shows that the Opteron 2384 achieves the same initial throughput as the Xeon 5472, but for some reason the testing breaks off or slows down to an incredibly slow pace. That is why we cannot give you the final results right now; we'll update the results when we solve this problem. Nevertheless, there is little doubt in our minds that the newest Xeon X5570 is running circles around everyone else: it is capable of performing twice as many operations as its older brother.